Whether you have a milk allergy, follow a plant-based lifestyle, or you happen to be in the 65 percentile of the population that experience lactose intolerance, the thing you most likely miss is cheese. Oh, the power of cheese.
Over the past few years, with allergies rising and veganism growing, some pretty awesome food manufacturers have committed to making plant-based cheese.
We've road-tested our favorites and are here to share the winners.
There are various dairy-free types of cheese available today, but not all of them are equal. Some dairy-free cheeses taste great, and some don't taste like cheese at all. Some melt but don't stretch, and some wouldn't even melt if a blow torch was put to them.
Our top picks come from Daiya, Follow Your Heart, and Violife:
Daiya
Cheddar Style Shreds
Mozzarella Style Shreds
Pepperjack Style Shreds
Classic Blend Shreds
Medium Cheddar Style Farmhouse Block
Mozzarella Style Deluxe Cheeze Sticks
Follow Your Heart
American Style Slices
Provolone Style Slices
Smoked Gouda Style Slices
Pepperjack Style Slices
Violife
just like Parmesan
just like Feta
just like Mature Cheddar Slices
just like Smoked Provolone Slices
just like Cheddar Shreds
just like Mozzarella Shreds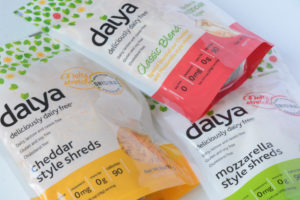 Daiya has a complete line of cheese products. All of their dairy substitutes are vegan and free of gluten and the top 8 allergens.
Not all of their products fared well. We found that their sliced cheese takes way too long to melt, making it not a good choice for grilled cheese sandwiches.
Mozzarella Style Shreds
For pizzas, quesadillas, and baked pasta dishes, these shreds do the job well! They melt, stretch, and bubble.
Cheddar Style Shreds
These shreds are great for making sauces, topping bowls, tacos, nachos and so much more.
Mozzarella Style Deluxe Cheeze Sticks
These cheeze sticks are fun and a perfect addition to the lunch box. They make a delicious snack.
Medium Style Cheddar Farmhouse Block
Cut this block up in cubes for a cheese tray, or slice for crackers. This block is also fabulous grated over bowls and tacos.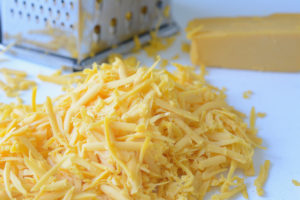 We love buying local! Follow Your Heart is here in Southern California. We find their products at Sprouts, Whole Foods Market, and of course, Follow Your Heart's health food store in Canoga Park. If you have trouble finding their products in your area, check out their website.
They have so many great allergy-friendly products, from eggs to breads to salad dressings. They also have Soy-Free Vegenaise, which we agree is better than mayo!
Oh, we can't forget to mention their allergy-friendly flour tortillas. Yes, that's right! Their tortillas rock! I miss not being able to make and eat flour tortillas. But everything's okay, because Follow Your Heart's flour tortillas are here and they are unbeatable!
Okay, so their cheese alternatives that top our list are their slices. However, their cheese shreds just aren't there yet.
American Style Slices, Smoked Gouda Style Slices, Provolone Style Slices, and Pepper Jack Style Slices
For the easiest and best-ever grilled cheese sandwiches, Follow Your Heart Slices are the key. These slices also make a great snack. They're our first pick for slices.
How about slapping them on your favorite burger? A winner!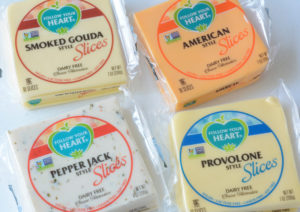 From Greece comes Violife, and we are so happy!
To date, we have only found Violife at Whole Foods Market. Check out their website for availability in your area.
Their website shows products that our local market does not carry, such as just like Cream Cheese Original and just like Cream Cheese Chilli Peppers. Hopefully they'll be in our area soon.
just like Parmesan
What's pasta or caesar salad without grated parmesan cheese? You won't have to ask this question again. The answer is, Violife just like Parmesan! It's our go to parmesan for pasta and our plant-based caesar salad.
just like Feta
It's not exactly just like feta, however when paired with watermelon or added to a greek salad, you'll start believing.
just like Cheddar Slices, just like Mature Cheddar Slices, and just like Smoked Provolone Slices
These slices are great as a snack and of course, a great cheese for a grilled sandwich. They have the best meltability of sliced cheeses that we have found.
Violife also has just like Cheddar Shreds and just like Mozzarella Shreds. While they have great meltability, their stretchability is not as good as the Daiya shreds. However, you can still enjoy these tasty shreds on tacos, salads, and baked potatoes.
Their coconut oil based cheese alternatives are all vegan, allergy-friendly, and GMO-free.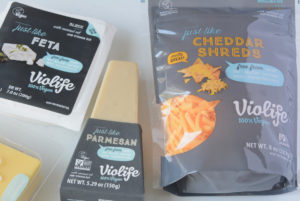 Wait, there's more!
There are other amazing plant-based cheeses out there that we didn't talk about because they contain nuts and some contain soy. If nuts or soy are not an issue, check out these other fantastic picks:
Treeline Aged Artisanal Nut Cheese
Fresh VeganMozz by Miyoko's Creamery
Miyoko's Cheese Wheels (Smoked English Farmhouse, Classic Chive, Garlic Herb, Sundried Tomato Garlic)
Kite Hill Cream Cheese Style Spreads
Heido Ho plant-based cheeze (Portland, Oregon)
Vtopian dairy-free, vegan and handmade cheeses (Eugene, Oregon)
Vegan Chao Cheese Slices by Field Roast
Cheesy recipes you might enjoy:
Watermelon, Feta & Summer Fruit Salad
The power of cheese is here to stay.
Hooray…Cheese for everyone!