As we mentioned in a recent post for our Southwestern Wedge Fully Loaded, the ingredients of most store bought ranch dressings include not only lots of dairy, but MSG, high fructose corn syrup, modified food starch, less than 2% of natural flavor
It just makes sense to make our own!
You could skip the step of soaking the seeds, but you won't want to. Let's talk about why.
Nuts and seeds have high amounts of enzyme inhibitors which protect these foods from sprouting prematurely, but which also give nuts and seeds a bitter flavor and make digesting them difficult.
It's important to only soak nuts and seeds that are raw, as those that have been roasted or heated at high temperatures loose many of their enzymes and nutrients.
Also, it's good to choose organic nuts and seeds when possible, simply because if not they are likely to have been treated with chemicals.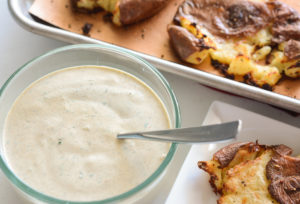 This creamy ranch dressing is so special that it deserves its own post.
America's favorite dressing goes beyond salads and raw veggies. From baked cauliflower to chicken nuggets, and from pizza, potato skins and smashed potatoes to replacing mayo in potato salad, the possibilities are endless.
Ranch dressing that's oh so delicious and oh so good for you!…