Today, grilled cheese sandwiches are found on menus in both delis and in five-star restaurants.
One thing is certain, grilled cheese sandwiches remain an all-time favorite for kids, but also comfort food for adults.
Want to know how to make your grilled cheese into a culinary masterpiece, a healthier version that is free from gluten and the top 8 allergens?
A Snapshot of the First Grilled Cheese
Although no one can pinpoint the exact creation of grilled cheese in America, the sandwich became popular in the 1920s. Open face in origin, popular toppings included tomatoes, eggs, pineapple and bacon.
In addition, it's worth noting that the actual term "grilled cheese" did not make an appearance in print until the 1960s. Before then it was referred to as "toasted cheese", "melted cheese" or "toasted sandwiches".
In fact, I found a recipe for "Melted Cheese" in Mrs. Rorer's New Cook Book, a reprint of the 1898 Ladies' Home Journal Cookbook Club.
Check out this recipe for the early makings of what we now call the grilled cheese.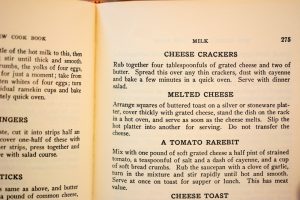 Cooking Methods Evolve
1902 – "Melted Cheese" is cooked in hot oven. Source: Mrs. Rorer's New Cook Book.
1929 – "Toasted Cheese" calls for broiling the ingredients. Source: Seven Hundred Sandwiches, by Florence A. Cowles.
1939 – "Toasted Sandwich" suggests the ingredients be broiled or sautéed in a frying pan coated with butter. Source: The Boston Cooking School Cookbook.
1953 – Bread and cheese should be heated in a commercial waffle iron. Source: Irma S. Rombauer's, The Joy of Cooking.
1993 – In the film Benny & Joon, the character Sam, played by Johnny Depp, cooks a stack of grilled cheese sandwiches using a clothes iron.
Inspiration from Jessica Seinfeld
Jerry Seinfeld's wife, Jessica, is the author of 4 cookbooks. Her early books contain strategies for making healthy food appealing to young children. She gave recipes a nutritional boost by incorporating vegetable purees.
We're doing just that to our simple, but tasty grilled cheese.
The Margarine vs. Mayo Taste Test
Have you ever heard of grilling your grilled cheese in mayo? I've heard of it, but never gave it consideration, until this week. Wednesday, I was talking to my brother, Dan about this week's grilled cheese post. He said he just made a grilled cheese last week and grilled it with mayo and said it was outrageous.
For that reason, let the taste test begin.
We made 2 sandwiches, one grilled with allergy-friendly margarine and the other with Just Mayo. Follow Your Heart makes several varieties of "Vegenaise." We love their soy-free version that is free from the top 8, but have trouble finding it in our area.
Though you can't go wrong with either sandwich, here's what we found:
The allergy-friendly mayo spreads better than margarine. This is helpful when you're using a softer bread.
The sandwich with mayo browned nicely and didn't burn as easily.
The mayo provided a crisp outside, with the bread underneath remaining soft.
The sandwich spread with margarine seemed a bit drier and overly crisp.
In conclusion, our pick for the best allergy-friendly grilled cheese goes to……the sandwich grilled in mayo.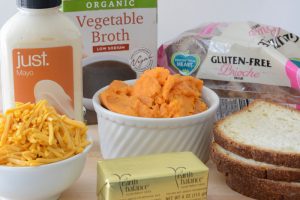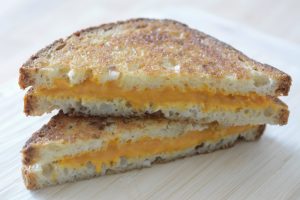 Try this cheezy wonder with its classic side. Yes, that's right, tomato soup!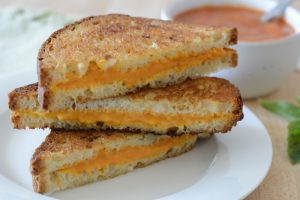 Print
Cheezy Grilled Cheese
Yield 8-10 Sandwiches
Free of: gluten and top 8 allergens.
Grilled cheese sandwiches remain an all-time favorite for kids and adults alike. Try this cheezy wonder with a healthy twist.
Ingredients
1 pound baked sweet potatoes
1/4 cup low-sodium vegetable broth
8 ounces cheddar-style cheeze shreds, such as Daiya (approximately 2 cups)
5 tbsp allergy-friendly mayonnaise (see recipe note)
16 - 20 slices allergy-friendly bread
Instructions
Cut cooled sweet potatoes in half. Scoop out flesh, mash and measure 1-1/2 cups and place in food processor or blender. Add broth and cheeze shreds and blend for 30 seconds to 1 minute. Scrape down as needed. There will still be small pieces of cheeze in the filling. Set aside.
Preheat cast iron, nonstick skillet or electric griddle over medium-low heat.
Line up bread on your work surface, reserving top slices. Evenly spread a heaping 1/4 cup filling on each slice. Top each with a slice of the remaining bread. Generously spread top with allergy-friendly mayo or margarine, such as Earth Balance soy-free buttery sticks.
Gently place sandwich, mayo-side-down onto hot skillet bottom and press slightly. Grill until golden brown, approximately 3 - 4 minutes. Spread top side with mayo and flip over; continue grilling until cheeze is melted and bread is crisp and golden, approximately 3 - 4 minutes. Repeat with remaining sandwiches.
Notes
Follow Your Heart makes a Soy-Free Vegenaise free from the top 8 allergens. If you have trouble sourcing it, Just Mayo is also an allergy-friendly mayo.
The filling can be made in advance and refrigerated.
Courses Kids Kuisine, Mains