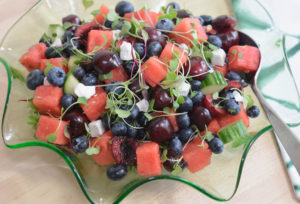 Easy, healthy, and colorful, this watermelon, feta and summer fruit salad is beyond delicious!
Watermelon and cucumbers are one of the most refreshing combos of all time. Throw in some cherries, blueberries, mint, and feta and toss with a simple dressing, and you've got yourself the perfect summer salad.
We made the salad with Violife's 'just like Feta'…amazing, plant-based and free from the top 8 allergens.
Starting with the dressing, in a small bowl whisk together honey (or pure maple syrup), lime juice, a dash of extra virgin olive oil, and a pinch of sea salt. Set aside while preparing the fruit.
The dressing is optional, but it does bring everything together beautifully.
We cut the seedless watermelon into cubes because it's quick and easy, and we like the contrast in shapes. However, you can use a melon baller for a more elegant presentation.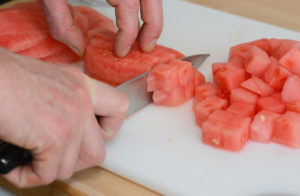 In a large bowl, combine watermelon cubes, fresh cherries (pitted and halved), fresh blueberries, diced English cucumber, micro greens or baby arugula, and mint. Drizzle with honey vinaigrette, tossing gently to combine. Top with feta cheese.
We love Violife's 'just like Feta!' However, an alternative mozzarella block would also work.
Choosing the Best Watermelon
Sadly, at one time or another, we've probably all cut into a watermelon only to be disappointed.
Here are some tips in choosing that perfect melon.
Give the watermelon a nice tap or knock. It should have an almost hollow sound and the surface should be firm.
Pick it up. The melon should be heavy for its size. If not, it could be lacking in water/moisture. Be sure to pick the one that is the heaviest for its size.
Look for the field spot. There should be a creamy yellow spot where the watermelon rested on the ground to ripen. If the field spot is white, this indicates an underripe melon.
A shiny appearance also indicates an underripe melon, so pick one that's dull looking.
Lastly, the watermelon should have a nice uniform shape.
What's the difference between English and regular cucumbers?
English cucumbers are the longer ones that are typically wrapped in plastic. They are nice in this salad because they have thinner skin that is not waxy and they're seedless.
You can use any cucumber in the salad, but you may need to peel and seed first.
This salad is best prepared and enjoyed on the same day.
However, if you need to do some advance prepping the night before, cube the watermelon and cucumber and prepare the remaining ingredients. Store each in the fridge in separate containers.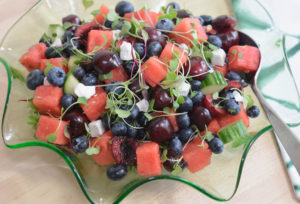 Just before serving, add the dressing and gently toss the salad together. Garnish with feta and enjoy the bounty of summer!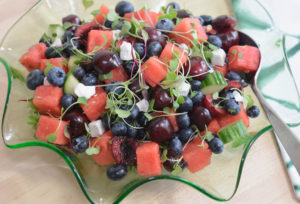 Print
Watermelon, Feta and Summer Fruit Salad
Yield 4-6 Servings
Free of: gluten and top 8 allergens.
Easy, healthy and colorful, this is the perfect summer salad!
Ingredients
1-1/2 tbsp honey (or pure maple syrup)
2 tbsp lime juice
1 tbsp extra virgin olive oil
1/8 tsp sea salt
2 cups cubed seedless watermelon
2 cups fresh cherries, pitted and halved
1 cup fresh blueberries
3/4 cup cubed English cucumber
1/2 cup micro greens or 2 cups baby arugula
4 fresh mint leaves, thinly sliced
2/3 cup crumbled feta cheese, such as Violife's 'just like Feta'
Instructions
In a small bowl, whisk together honey, lime juice, olive oil, and salt. Set aside.
Combine the watermelon, cherries, blueberries, cucumber, and micro greens or arugula, and mint in a large bowl. 
Drizzle the salad with the honey vinaigrette and gently toss to combine.
Top with feta and enjoy!
Courses Soups & Salads