Join us as we kickoff our series of the Mother Sauces with Creamy Macaroni and Cheese. Yes, mac 'n cheese all started with the mother sauce, béchamel.
Loved for centuries by children and adults, mac 'n cheese is a family favorite and the ultimate comfort food.
We will also be announcing the winner of last week's "Sauces and Such" crossword puzzle contest…
As talked about last week, there are 5 mother sauces. These mother sauces each serve as the base for a host of small sauces. Let's start with béchamel, the simplest mother sauce and one of our favorites.
Béchamel is the mother of cream sauces. To really understand how important béchamel is in the culinary world, check out these examples of dishes stemming from this classic mother sauce:
fettucini alfredo
creamed spinach
cream soups and chowders
cream chipped beef
artichoke dip
chicken pot pie
tuna mornay casserole and many other casseroles
scalloped potatoes
queso dip
moussaka
tomato cream sauce, creamy pumpkin sauce, garlic cream sauce and so many more
and of course, macaroni and cheese!
Also known as white sauce, béchamel is made from a white roux and milk. A roux is simply a cooked mixture of fat and flour used to thicken sauces and soups.
This creamy macaroni and cheese casserole is fun and easy to make from scratch. Making the sauce is as simple as incorporating cheese into a béchamel.
The first modern recipe for macaroni and cheese appeared in Elizabeth Raffald's 1770 book, The Experienced English Housekeeper. Raffald's recipe calls for a béchamel sauce with the addition of cheddar cheese. The sauce is mixed with macaroni, sprinkled with parmesan, and baked until bubbly and golden.
From Classic To Ultimate
Our allergy-friendly macaroni and cheese recipe serves as the perfect classic version. Use the recipe as a base to build your own ultimate mac 'n cheese following these steps.
Pasta other than macaroni noodles are often used. Most shorter and decoratively cut pasta will do, particularly those with folds and pockets to hold the cheesy sauce. Several great choices are fusilli, medium shells, rotini and rotelle.
Cook 16 ounces of your favorite pasta according to package directions. Drain, rinse with cold water, and set aside.
Whether you're trying to eat healthier or you must eliminate gluten from your diet, there are many gluten-free pastas on the market. However, they are not all created equal.
Our favorite is Andean Dream Organic Quinoa Pasta, which is free from gluten, the top 8 food allergens and corn. They also have a dedicated manufacturing facility.
Whole Foods Market carries Andean Dream. We have a small Whole Foods in our area, and oftentimes because of high demand, they are out of some of the Andean Dream pastas. This week for this post, we used another allergy-friendly pasta because of that reason.
Prepare the Sauce
Add Cheese
Combine Sauce with Cooked Pasta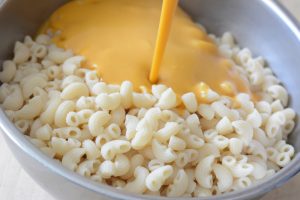 Plain mac 'n cheese is perfect deliciousness, but why not stir in some extra goodness? Add 1 to 2 cups of precooked vegetables such as broccoli, asparagus or mushrooms. Fresh spinach can be stirred right in. Or add your favorite precooked protein.
Cover your casserole with allergy-friendly panko, corn chips, onions rings or additional cheese, if you want.
Bake and enjoy! We'd love to hear about your ultimate mac 'n cheese.
And the Winner Please
The winner of last week's crossword puzzle contest is…
Maria Tucker from Hawaii!
Maria will receive a gift basket which includes a recipe packet, an assortment of pastas, garbanzo bean flour, sweet white rice flour, kala namak (the black salt used in making the allergy-friendly and vegan hollandaise), Eat Dairy Free (a new cookbook by Alisa Fleming with dairy-free and allergy-friendly recipes) and a gift card for $25.00 for Whole Foods Market.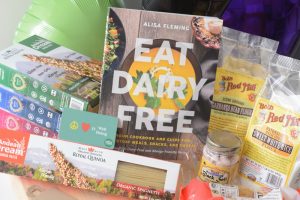 Congratulations, Maria!
A big thanks to all who participated!
Answers to Last Week's Crossword Puzzle
Across
2. espagnole  4. poutine  7. béchamel  9. eggs benedict  11. food allergy  13. tomato sauce  14. mother  16. soubise
Down
1. velouté  3. mirepoix  5. tomato  6. plant based  8. alfredo  10.romanesco  12. Escoffier  15. toss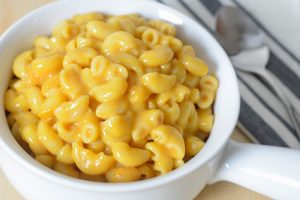 Print
Creamy Macaroni and Cheese
Yield 6 Servings
Free of: gluten and top 8 allergens.
Loved for centuries by children and adults, mac 'n cheese is a family favorite and the ultimate comfort food.
Ingredients
16 ounces elbow macaroni
5 cups rice milk beverage, such as Organic Rice Dream Rice Drink
1/4 of a medium yellow onion
1 whole clove
2 bay leaves
4 tbsp dairy-free, soy-free margarine or buttery sticks, such as Earth Balance
4 tbsp sweet white rice flour
2-1/2 tsp smoked paprika
Pinch cayenne
2-1/2 cups cheddar-style cheeze shreds (10 ounces)
3/4 tsp sea salt
Pinch white pepper
Instructions
Cook pasta according to package directions. Drain, rinse with cold water and set aside.
In a medium saucepan, bring milk, onion, cloves and bay leaves to a boil. Reduce heat and simmer 10 minutes, stirring frequently. Strain and reserve liquid, discarding onion, cloves and bay leaves.
Make a roux. Using the same saucepan, melt margarine over low heat. Add flour, paprika and cayenne and cook for one minute, stirring constantly.
Increase heat to medium. Add half of the reserved rice milk and whisk until smooth. Add remaining rice milk. Increase heat to medium high. With a spoon, go around edges of pan to incorporate any roux. When the sauce comes to a simmer, reduce heat to low and simmer gently for 10 minutes. Add the cheddar shreds and cook another 5 minutes, whisking until the cheese is melted. Remove from heat and season with salt and pepper.
Preheat the oven to 350-degrees F.
In a large bowl, combine the pasta and cheese sauce.
Pour into a 2-quart casserole baking dish. Bake for about 30 minutes, until casserole is bubbling. Let stand for 10 minutes before serving.
Notes
Sometimes, cooking directions for packaged specialty pastas are not accurate. This could have to do with how rapidly the water is boiling and also different stoves. To ensure your pasta does not overcook, check for doneness several minutes before package directions specify, and then every minute or so.
Courses Mains