Although strongly associated with Mexico and Latin America, Agua de Jamaica is known around the world under a variety of names.
Here are just a few: Australia calls it Rosella, U.S. – Hibiscus Tea or Agua de Jamaica, Caribbean – Sorrel or Red Sorrel, Italy – Cascadé or Italian tea, Thailand – Roselle or Karkady, Panama – Saril, Africa – Karkadé, Zobo or Bissap
"We are just amazed by the numerous health benefits! Hibiscus tea: Manages Blood Pressure, Lowers Cholesterol, Protects the Liver and helps in treating liver diseases.
Relieves Menstrual Pain and helps in restoring hormonal balance. Acts as an Antidepressant Agent: Calms the nervous system, and may reduce anxiety and depression by creating a relaxed sensation in the mind and body. Improves Digestion
Since the health benefits of hibiscus tea include lowering blood pressure, it is not recommended for people who already have hypotension, or low blood pressure.
It may cause faintness, dizziness and other health problems if consumed by anyone with low blood pressure.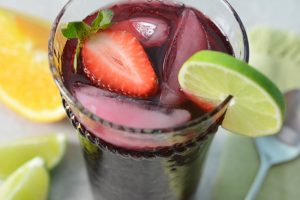 You may know hibiscus tea as agua de jamaica. My weekly routine for years included several stops at a favorite Mexican restaurant in Portland to get my fix of this nourishing drink.
Hibiscus tea is enjoyed around the world and is one of the healthiest drinks imaginable. We found ourselves asking, what health benefits doesn't it offer?
Refined sugars are often used to sweeten hibiscus tea. Eliminating those sugars and offering several healthier substitutions makes it even better!
…