Welcome to Your Allergy Chefs and our first post. We developed a recipe for one of our favorite foods…mushrooms. We are excited to share it with you and hope you stick around.
Mushrooms are magical and one of the most versatile foods on the planet. They come in all shapes, sizes, and flavor profiles. As a result, chanterelles, cremini, maitake, oyster, portobello, shiitake and porcini, just to name a bunch can all be breaded and fried or baked. But which one will be best for our mushroom strips? You have probably guessed it, the Mighty Portobello because of its size and meaty texture. Whether you spell it portobello, portobella or portabella… you've spelled it right.
Did you know that button, cremini (a.k.a. baby bella) and portobello mushrooms are of the same variety? The difference between these popular mushrooms is age. While the white button is the baby, the more mature cremini is the middle mushroom and the adult portobello is the most mature of the three, as they are left to grow for longer periods of time. Apparently in the early 1980's when whole foods and natural foods became popular, some ingenious marketer discovered there was a market for these overgrown creminis and that a higher price could be fetched.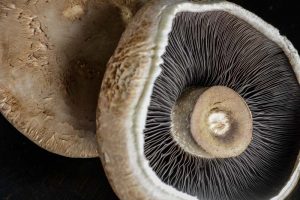 Shopping for the Perfect Mushroom
We love shopping for mushrooms and picking the right mushroom is extremely important in creating the perfect strip. So what do we look for when shopping for portobellos? If possible, we buy loose mushrooms rather than pre-packaged so we can closely examine them. By the same token, loose or 'bulk' mushrooms are not always fresher or of higher quality than packaged mushrooms. If the package in question shows a fair amount of condensation, keep on searching. We check for firm caps and stems, while avoiding shriveled, bruised or soft caps. The gills should be dry. If they are wet looking or intensely black, the mushrooms are past their prime. In addition, mushrooms store well in the refrigerator as long as they have proper ventilation, hence being stored in a paper bag, which holds on to some moisture while allowing air to pass through.
Proper Technique for Cleaning a Portobello
Even though it is not necessary to remove the gills from portobello mushrooms before using, we usually do. While gills can discolor a sauce, they can also hide sand, dirt and even insects. Therefore, scooping out the gills prevents any grittiness in your finished dish. To remove the gills, first break away the stem by bending it back and forth. It should break off where it joins the cap. The key to removing the gills is to scrape the inside of the cap with the tip of a spoon as Joel is doing here. Finally, wipe the inside of the mushroom cap with a paper towel.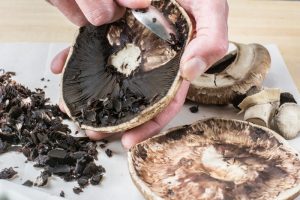 To Brush or to Bathe
We couldn't resist commenting about brushing and bathing. Haven't you heard never to wash mushrooms in water because they are porous and will become waterlogged? Most authorities will say a brush is the way to remove dirt and "compost" from mushrooms. Have you ever used a mushroom brush? We have. As a result we just give them a quick rinse under cold water. The key is not to give them a leisurely soak, as that would drown the magnificent fungus.
The Secret Ingredient
The key seasoning that will make these strips everyone's favorite is Montreal Steak Seasoning. But why would we want to use a steak seasoning on vegetables? Much as it sounds outrageous, this seasoning is good on just about anything. If you've ever had the allergen-free chicken tenders at Walt Disney World you'll agree, as the secret ingredient in these chicken tenders is Montreal Steak Seasoning.
Keeping these Secrets can be Dangerous!
Many grocers carry the seasoning blend, however  the ingredient list on the brand we found read "spices (including black and red pepper)". This manufacturer is keeping their spice blend a secret, which could be deadly for someone with a spice allergy. We are confident that one day soon we will have complete transparency of ingredients on labels and of recipe ingredients in all restaurants.  Until then, there are many copycat recipes for Montreal seasoning that use slight variations on spices. Search for a recipe that works for you. It will be worth it! These baked mushrooms outshine any fried mushrooms because they are guilt free with all the taste and texture you and your family will enjoy.
The recipe takes you through the breading process, making the best crispy portobello strips!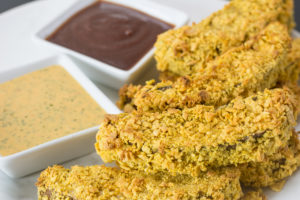 Print
Crispy Baked Portobello Strips
Yield 4 Servings
Free of: gluten and top 8 allergens.
Crispy on the outside and deliciously meaty on the inside, these strips make an irresistible appetizer or entree.
Ingredients
4 large portobello mushrooms
1 cup garbanzo bean flour
1 tbsp Montreal Steak Seasoning, crushed
1/4 cup flaxseed meal
1 cup lukewarm water
4 cups gluten-free cornflakes
Instructions
Preheat oven to 425 degrees F.
To prepare the mushrooms, first clean by wiping each mushroom cap with a damp paper towel or rinse cap quickly under cool running water and dry with paper towel. To remove the gills, break away the stem by bending it back and forth. It should break off where it joins the cap. With the tip of the spoon, scrape out the dark gills from underneath each mushroom and discard. Wipe the inside of the mushroom cap with a dry paper towel.
Cut each mushroom into 1/2 to 3/4-inch strips. Stack on a plate and set aside.
Sift garbanzo bean flour into a small bowl. Mix in Montreal Seasoning. Transfer to a shallow dish or pie pan. Set aside.
In another small bowl, whisk together the flaxseed meal and water. Let sit for 5 minutes. Whisk again. After another 5 minutes, whisk vigorously; it will be gelatinous. Transfer to a shallow dish or pie pan. Set aside.
Place cornflakes in a food processor. Process until coarse crumbs remain. You will have approximately 2 cups. Place the crumbs into a shallow dish or pie pan.
To set up breading station, start with the plate of mushrooms on the far left. To the right of the mushrooms, place the flour followed by the flaxseed mixture. Next to the flaxseed mixture place the cornflakes and end with a baking sheet lined with aluminum foil and a screen.
One by one, dredge the mushroom slices with seasoned flour. Place in flaxseed mixture to coat, gently shaking off any excess and finally place into the crumbs and coat so that each slice is well breaded. If the flaxseed mixture gets too thick, add 1 tbsp water as needed.
Arrange breaded mushrooms on the screen. Bake for 8 - 10 minutes, until golden brown and crispy. If you do not have a screen, bake directly on baking sheet lined with foil and turn once during cooking. 
Serve with your favorite dipping sauce.
Notes
We love these served with barbecue sauce and honey mustard. They also are good with ketchup or a sweet and sour sauce.
Courses Mains, Starters