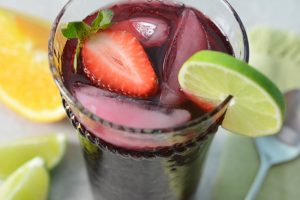 You may know hibiscus tea as agua de jamaica. My weekly routine for years included several stops at a favorite Mexican restaurant in Portland to get my fix of this nourishing drink.
Hibiscus tea is enjoyed around the world and is one of the healthiest drinks imaginable. We found ourselves asking, what health benefits doesn't it offer?
Refined sugars are often used to sweeten hibiscus tea. Eliminating those sugars and offering several healthier substitutions makes it even better!
With a contested origin between Africa and India, jamaica (hibiscus) flowers are now deeply rooted in many cuisines.
Although strongly associated with Mexico and Latin America, Agua de Jamaica is known around the world under a variety of names. Here are just a few:
Australia calls it Rosella
U.S. – Hibiscus Tea or Agua de Jamaica
Caribbean – Sorrel or Red Sorrel
Italy – Cascadé or Italian tea
Thailand – Roselle or Karkady
Panama – Saril
Africa – Karkadé, Zobo or Bissap
Did you know, this wonder tea was also consumed by the Pharaohs in ancient Egypt?
The roselle plant is a species of hibiscus thought to be native to West Africa. Pictured below are dried calyces used to make the drink, though fresh flowers can also be used.
Health Benefits of Hibiscus Tea
We are just amazed by the numerous health benefits!
Hibiscus tea:
Manages Blood Pressure
Lowers Cholesterol
Protects the Liver and helps in treating liver diseases.
Has Anti-cancer Properties: Has anti-tumor and antioxidant properties. A study conducted by the Department and Institute of Biochemistry at the Chung Shan Medical and Dental College, in Taichung, Taiwan suggests that hibiscus slows down the growth of cancerous cells by inducing apoptosis, commonly known as programmed cell death.
Relieves Menstrual Pain and helps in restoring hormonal balance.
Acts as an Antidepressant Agent: Calms the nervous system, and may reduce anxiety and depression by creating a relaxed sensation in the mind and body.
Improves Digestion
Helps Lower Inflammation
Helps strengthen the Immune System
Satiates Thirst: It is also used as a sports drink and has the ability to cool down the body quickly.
Promotes Weight Loss: Speeds up metabolism and helps in healthy, gradual weight loss.
Rich in Vitamin C, Minerals and Antioxidants 
Summer & Winter Drink, great iced or hot.
Other Effects of Hibiscus Tea to be Mindful of…
Since the health benefits of hibiscus tea include lowering blood pressure, it is not recommended for people who already have hypotension, or low blood pressure. It may cause faintness, dizziness and other health problems if consumed by anyone with low blood pressure.
Hibiscus tea is also not recommended for pregnant women because of its effects of stimulating menstruation or blood flow in the pelvic region.
Time for Punch
What an easy tea to make, or call it a punch. And look, there are not a lot of ingredients.
Water is brought to a boil and poured over dried hibiscus flowers and other fun stuff. We use a cinnamon stick and orange peel. Fresh ginger is another great healthy addition. Covered and allowed to steep for 20 minutes, it's then strained into a pitcher. A sweetener and a little fresh orange juice are added, or if you prefer, you can add fresh lime juice.
That's all there is to it. We like to keep a large mason jar of hibiscus tea in the fridge. A glass jar is preferable, because plastic containers seem to give the tea an off taste as well as the tea tends to stain the plastic.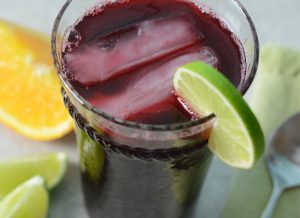 Cheers to a delicious and healthy drink!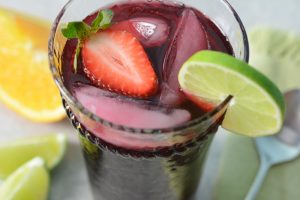 Print
Hibiscus Tea
Yield 10 Cups
Free of: gluten and top 8 allergens.
This tea is enjoyed around the world and is one of the healthiest drinks imaginable. The question should almost be, what health benefit doesn't it offer?
Ingredients
10 cups water
1/2 cup coconut sugar (see recipe notes)
1 cinnamon stick
1 cup dried hibiscus flowers (flor de jamaica), rinsed
2 (2-inch) strips of fresh orange peel
1/2 cup fresh orange juice
Lime wedges, optional
Strawberry halves, optional
Instructions
Bring the water to a boil in a large pot over high heat. Turn off heat and remove pot from stovetop.
Immediately add sugar, cinnamon stick, hibiscus flowers and orange peel. Stir to dissolve sugar. Cover and let steep for 20 minutes. Strain into a pitcher and discard the cinnamon stick, hibiscus flowers and orange peel.
Add the orange juice. Let cool and place in refrigerator and chill until cold. Serve with lime wedges and fresh strawberries. Enjoy!
Notes
You can use a variety of sweeteners.
Coconut sugar causes much less of a blood sugar spike than regular white sugar because it has a lower glycemic index. It's also healthy for the gut.
Raw honey is quite different from supermarket honey, which is often blended from a lot of different sources. Store bought has a higher glycemic index and does not have the raw, healing properties of honey from nature. It's best to buy local, raw and organic. If using honey in this recipe, replace the 1 cup coconut sugar with 3/4 cup honey.
Stevia is processed from an herb, with zero calories and a glycemic index number (its effect on blood sugar) of 0. There have been almost 400 scientific studies done on Stevia actually healing the body in many ways. To use Stevia, omit the coconut sugar. Add Stevia to taste when serving or with the addition of the orange juice. There are both liquid and powder forms. Follow manufacturer's recommendation for replacing sugar with Stevia. 
Piloncillo is an unrefined Mexican sugar usually molded into cones or sticks and traditionally used to sweeten agua de jamaica.
Courses Beverages