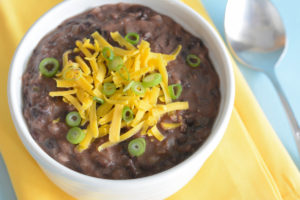 Homemade lime infused refried black beans come in an easy recipe that includes piece of mind knowing that these beans are healthy and made with real ingredients.
Lime juice adds freshness and a complexity to these beans that are so versatile.
A nutritious side dish to serve with any Mexican meal. You can also use these beans inside tacos, enchiladas and burritos. Spread in a quesadilla or on a tostada. Scoop onto a chip, or turn these refried beans into a dip.
The options are endless!…