Lemon curd is deliciously tangy, creamy, sweet, and so much better when it's homemade.
Our friends brought us some meyer lemons from their tree. With social distancing, Harriet and Roger dropped off some real beauties. We thank you both and look forward to getting together soon.
Our first thought…when life gives you lemons, make lemon curd!
Traditional lemon curd consists of egg yolks, butter, lemon juice, and sugar.
Converting this to an allergy-friendly and healthier curd is easy and we think even better than the traditional, and with just 5 ingredients. Honestly, we could just eat spoonfuls of it straight from the jar.
Don't worry. If you don't have meyer lemons, any fresh lemons will make a great curd.
Lemon juicers make juicing lemons so easy, squeezing out every bit of juice. Our juicer is one of our most used kitchen tools. The best thing is that they are very affordable and can be found online or at kitchen specialty stores, such as Williams Sonoma.
Okay, so all you have to do is:
Whisk together lemon juice and cornstarch in a small saucepan.
Add coconut cream, sugar, and turmeric.
Turn heat to medium and keep whisking and alternatively stirring until it thickens. Once it starts to thicken, whisk vigorously for 2 minutes more.
Remove from heat and pour into a heat safe container and let it cool before storing in the fridge.
Lemon curd is perfect for meringue cookies, and this cookie recipe will be posted soon.
Lemon curd is also perfect for:
scones, muffins, cinnamon raisin toast, and waffles
a filling for crepes, lemon cupcakes, and cakes
a topping for pavlova, ice cream, or pound cake
tart or pie filling
fresh berries
triffles
and so much more!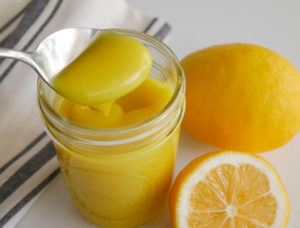 Chef Mary's Tips
Reactive cookware (aluminum, unlined copper, iron, and non-stainless steel) is an excellent heat conductor for cooking. However, it's also highly reactive with acidic foods such as citrus, tomatoes, and vinegar. Acidic foods pull atoms of metal from reactive pans. So when making lemon curd, these pans can react with the acid in the lemons, discoloring the curd and leaving a metallic aftertaste.
Always use fresh lemon juice, not the bottled stuff. The results are so much better!
Your Allergy Chefs are participants in the Amazon Associates Program, an affiliate advertising program designed to provide a means for sites to earn advertising fees by advertising and linking to Amazon.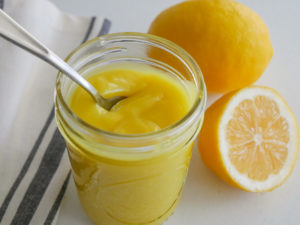 Print
Lemon Curd
Yield 1-3/4 cups
Free of: gluten and top 8 allergens.
Lemon curd is deliciously tangy, creamy, sweet, and so versatile.
Ingredients
1/2 cup fresh lemon juice
2 tbsp cornstarch
1 cup coconut cream
3/4 cup granulated sugar
1/4 tsp turmeric powder
Instructions
In a small saucepan, whisk together lemon juice and cornstarch.
Add coconut cream, sugar, and turmeric powder. Whisk together.
Turn on heat to medium and continue to whisk and alternately stir. When the mixture thickens, vigorously whisk over medium-low heat for another 2 minutes.
Remove from heat and let it rest for 15 minutes. Then whisk once more and transfer to a heatproof container. Allow lemon curd to cool before placing in the fridge for storage.
It will thicken as it cools.
Notes
Turmeric powder gives this curd its brilliant yellow color. It could be omitted. However, we strongly suggest keeping it in the recipe. After all, turmeric is good for you...and we do eat with our eyes!
Before storing, classic lemon curd is covered with plastic wrap, with the plastic wrap touching the curd. This prevents a film from forming. However, with this recipe it's not necessary to cover the curd directly. Simply give the curd a stir before using.
Courses Sauces & Condiments