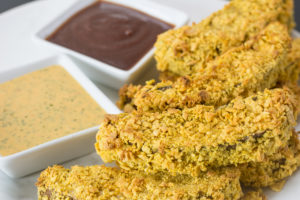 Crispy Baked Portobello Strips
Yield 4 Servings
Free of: gluten and top 8 allergens.
Crispy on the outside and deliciously meaty on the inside, these strips make an irresistible appetizer or entree.
Ingredients
4 large portobello mushrooms
1 cup garbanzo bean flour
1 tbsp Montreal Steak Seasoning, crushed
1/4 cup flaxseed meal
1 cup lukewarm water
4 cups gluten-free cornflakes
Instructions
Preheat oven to 425 degrees F.
To prepare the mushrooms, first clean by wiping each mushroom cap with a damp paper towel or rinse cap quickly under cool running water and dry with paper towel. To remove the gills, break away the stem by bending it back and forth. It should break off where it joins the cap. With the tip of the spoon, scrape out the dark gills from underneath each mushroom and discard. Wipe the inside of the mushroom cap with a dry paper towel.
Cut each mushroom into 1/2 to 3/4-inch strips. Stack on a plate and set aside.
Sift garbanzo bean flour into a small bowl. Mix in Montreal Seasoning. Transfer to a shallow dish or pie pan. Set aside.
In another small bowl, whisk together the flaxseed meal and water. Let sit for 5 minutes. Whisk again. After another 5 minutes, whisk vigorously; it will be gelatinous. Transfer to a shallow dish or pie pan. Set aside.
Place cornflakes in a food processor. Process until coarse crumbs remain. You will have approximately 2 cups. Place the crumbs into a shallow dish or pie pan.
To set up breading station, start with the plate of mushrooms on the far left. To the right of the mushrooms, place the flour followed by the flaxseed mixture. Next to the flaxseed mixture place the cornflakes and end with a baking sheet lined with aluminum foil and a screen.
One by one, dredge the mushroom slices with seasoned flour. Place in flaxseed mixture to coat, gently shaking off any excess and finally place into the crumbs and coat so that each slice is well breaded. If the flaxseed mixture gets too thick, add 1 tbsp water as needed.
Arrange breaded mushrooms on the screen. Bake for 8 - 10 minutes, until golden brown and crispy. If you do not have a screen, bake directly on baking sheet lined with foil and turn once during cooking. 
Serve with your favorite dipping sauce.
Notes
We love these served with barbecue sauce and honey mustard. They also are good with ketchup or a sweet and sour sauce.
Courses Mains, Starters
Recipe by Allergy Chefs at https://www.yourallergychefs.com/crispy-baked-portobello-strips/