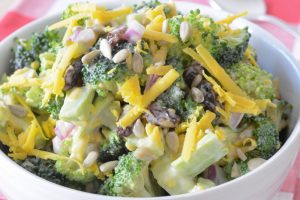 If you're looking for the perfect potluck or barbecue friendly salad, this is it. It's crisp, crunchy and absolutely the best broccoli salad ever!
The inspiration for making this salad came after eating a broccoli salad at Bob's Red Mill Whole Grain Store in Oregon. That salad was so delicious, that I saved the ingredient label so I could hopefully replicate it at home. The ingredients were broccoli, celery, vegenaise, red onion, sunflower seeds, raisins, cane sugar, and red wine vinegar. Sounds easy, huh?
So we duplicated the salad using the same ingredients, but adding allergy-friendly shredded cheddar cheese. Wow!
If you know someone who doesn't like broccoli, have them try this salad. It's a winner!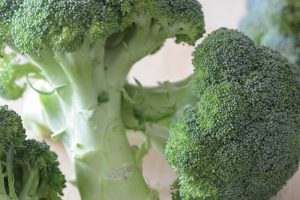 In the recipe we use raw broccoli.
"Goitrogenic" Fear
Cruciferous vegetables, including broccoli, cauliflower, kale, and cabbage, have gotten a bad rap lately. The hype is that these cruciferous wonders contain so-called goitrogens that are harmful to the thyroid.
Having Hashimoto's Thyroiditis and hearing that cruciferous vegetables are goitrogenic in their raw state, created a recent panic where for awhile I only ate cooked cruciferous vegetables. I learned that cooking deactivates the glucosinolates, thus diminishing the goitrogenic activity.
Who Do You Believe?
Like so many foods, I constantly heard conflicting stories about these vegetables. Frustrated, I set out to learn all I could.
I found multiple studies and research revealing that none of these foods contain enough goitrogens to be a health concern. Secondly, the goitrogens present in these foods are bonded to phytochemicals and amino acids that stop the goitrogens from doing harm.
Even if you ate 100 pounds of raw broccoli in a day, which is impossible, the goitrogens still wouldn't be a problem for your health. I found this in Thyroid Healing, by Anthony William.
Broccoli contains some of the nutrients that our thyroids need most.
So if you're like me with Hashimoto's or other thyroid issues, try not to pay this goitrogenic food fad any mind!
However, if you just don't care for raw broccoli, we urge you to try it in this salad. Besides, it doesn't taste completely raw, since it marinates in the dressing.
Okay, if your thyroid is compromised, I truly do understand any hesitation about eating raw cruciferous veggies!
Or, if you really, really, and truly don't like it raw, go ahead and blanch or steam the broccoli. To blanch, bring a large saucepan of water to a boil. Add the broccoli and blanch until crisp tender, about 2 minutes. Drain well and transfer to an ice bath to stop the cooking process. You can also steam the broccoli in a steamer basket for about 2 minutes, immediately shocking in ice water.
Making this salad is a snap when you have your mise en place or all of your ingredients prepared and ready to go before assembling.
Let's go!
Chop broccoli into bite size florets. In a large bowl, combine the broccoli with raisins, sunflower seeds, celery, onion, and cheese.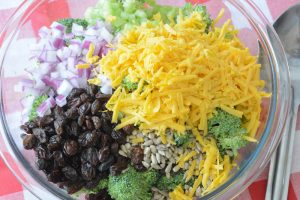 Allergy-friendly vegan mayonnaise is whisked together with cane sugar and red wine vinegar and then poured over the broccoli mixture and tossed to coat evenly.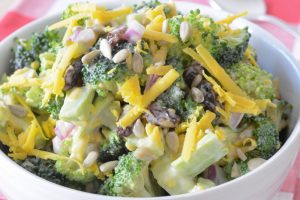 The best part of this salad? Besides the health benefits of broccoli, it's hard to believe that it's even better the next day.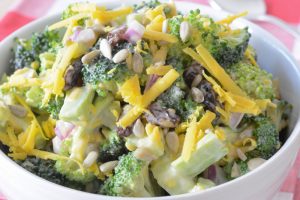 Print
Broccoli Salad
Yield 6 Servings
Free of: gluten and top 8 allergens.
If you're looking for a potluck or BBQ friendly salad, this is it. It's crisp, crunchy and absolutely the best broccoli salad!
Ingredients
7 cups fresh broccoli florets, about 2 1/2 medium heads
1 1/2 cups grated allergy-friendly cheddar cheese block, shredded, such as Daiya Medium Cheddar Style Farmhouse Block
1/2 cup dark raisins
1/4 cup raw sunflower seeds
1/4 cup diced celery
1/4 cup diced red onion, soaked in ice water for at least 10 minutes & drained (see recipe notes)
1 cup allergy-friendly mayonnaise, such as Follow Your Heart Soy-Free Vegenaise
1/4 cup organic cane sugar (see recipe notes)
2 1/2 tbsp red wine vinegar
Instructions
Chop broccoli florets into bite size pieces. This should a little less than 1 pound of florets, or approximately 2 1/2 heads, depending on their size.
In a large bowl, combine broccoli, cheese, raisins, sunflower seeds, celery, and onion. Set aside.
In a small bowl, whisk together mayonnaise, sugar, and vinegar until smooth and the sugar is dissolved. Pour over broccoli mixture and toss to coat evenly.
Refrigerate until ready to serve. Enjoy!
Notes
Onions are soaked in cold water to mellow their flavor. The cold water keeps the onions super crunchy, while the sulfur compounds that give onion its pungent, harsh flavor will dissipate in the water.
Cane sugar can be replaced with 2-3 tbsp of honey or 2-3 tbsp pure maple syrup. 
Courses Soups & Salads