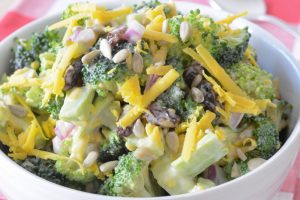 If you're looking for the perfect potluck or barbecue friendly salad, this is it. It's crisp, crunchy and absolutely the best broccoli salad ever!
The inspiration for making this salad came after eating a broccoli salad at Bob's Red Mill Whole Grain Store in Oregon. That salad was so delicious, that I saved the ingredient label so I could hopefully replicate it at home. The ingredients were broccoli, celery, vegenaise, red onion, sunflower seeds, raisins, cane sugar, and red wine vinegar. Sounds easy, huh?
So we duplicated the salad using the same ingredients, but adding allergy-friendly shredded cheddar cheese. Wow!
If you know someone who doesn't like broccoli, have them try this salad. It's a winner!…