Cruciferous vegetables, including broccoli, cauliflower, kale, and cabbage, have gotten a bad rap lately. The hype is that these cruciferous wonders contain so-called goitrogens that are harmful to the thyroid.
Having Hashimoto's Thyroiditis and hearing that cruciferous vegetables are goitrogenic in their raw state, created a recent panic where for awhile I only ate cooked cruciferous vegetables.
I found multiple studies and research revealing that none of these foods contain enough goitrogens to be a health concern.
Secondly, the goitrogens present in these foods are bonded to phytochemicals and amino acids that stop the goitrogens from doing harm.
Broccoli contains some of the nutrients that our thyroids need most.
So if you're like me with Hashimoto's or other thyroid issues, try not to pay this goitrogenic food fad any mind!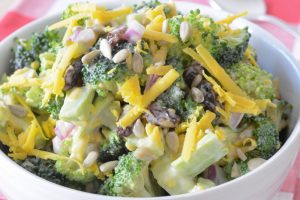 If you're looking for the perfect potluck or barbecue friendly salad, this is it. It's crisp, crunchy and absolutely the best broccoli salad ever!
The inspiration for making this salad came after eating a broccoli salad at Bob's Red Mill Whole Grain Store in Oregon. That salad was so delicious, that I saved the ingredient label so I could hopefully replicate it at home. The ingredients were broccoli, celery, vegenaise, red onion, sunflower seeds, raisins, cane sugar, and red wine vinegar. Sounds easy, huh?
So we duplicated the salad using the same ingredients, but adding allergy-friendly shredded cheddar cheese. Wow!
If you know someone who doesn't like broccoli, have them try this salad. It's a winner!…