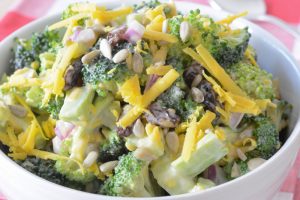 Broccoli Salad
Yield 6 Servings
Free of: gluten and top 8 allergens.
If you're looking for a potluck or BBQ friendly salad, this is it. It's crisp, crunchy and absolutely the best broccoli salad!
Ingredients
7 cups fresh broccoli florets, about 2 1/2 medium heads
1 1/2 cups grated allergy-friendly cheddar cheese block, shredded, such as Daiya Medium Cheddar Style Farmhouse Block
1/2 cup dark raisins
1/4 cup raw sunflower seeds
1/4 cup diced celery
1/4 cup diced red onion, soaked in ice water for at least 10 minutes & drained (see recipe notes)
1 cup allergy-friendly mayonnaise, such as Follow Your Heart Soy-Free Vegenaise
1/4 cup organic cane sugar (see recipe notes)
2 1/2 tbsp red wine vinegar
Instructions
Chop broccoli florets into bite size pieces. This should a little less than 1 pound of florets, or approximately 2 1/2 heads, depending on their size.
In a large bowl, combine broccoli, cheese, raisins, sunflower seeds, celery, and onion. Set aside.
In a small bowl, whisk together mayonnaise, sugar, and vinegar until smooth and the sugar is dissolved. Pour over broccoli mixture and toss to coat evenly.
Refrigerate until ready to serve. Enjoy!
Notes
Onions are soaked in cold water to mellow their flavor. The cold water keeps the onions super crunchy, while the sulfur compounds that give onion its pungent, harsh flavor will dissipate in the water.
Cane sugar can be replaced with 2-3 tbsp of honey or 2-3 tbsp pure maple syrup. 
Courses Soups & Salads
Recipe by Allergy Chefs at https://www.yourallergychefs.com/broccoli-salad/