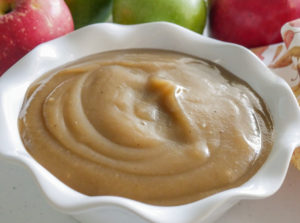 Got lots of apples? Try this apple butter, bursting with the flavors of fall's harvest and warm spices.
Don't let the name fool you. There's no actual butter in this delicious jam-like spread. The name comes from its smooth and buttery texture. In addition to fresh apples, you'll need a little apple juice, some pure maple syrup, cinnamon, allspice, and a touch of cloves.
Just a few ingredients needed for delicious apple butter that tastes sooooooo much better than the store-bought stuff and with fractions of the sugar!
More versatile than ketchup, Apple Butter and…
…