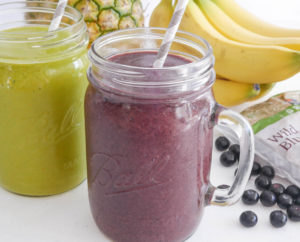 Smoothies are a great way to pack in extra fruit and veggies to your diet! We're excited to share 2 of our favorites that we call the Green Machine and Berry Blast.
Get a head start on those New Year's resolutions with these delicious blend-and-go healthy breakfast smoothies.
How much fruit is too much? Read more as we share a short video from Dr. Michael Greger. We also share the surprising facts about cinnamon and turmeric…
For 2 delicious smoothies, all you need is a high speed blender, 2 large glasses or Ball Mason Jars and…
16 ounces coconut water
4 cups (about 2 ounces) power greens
3 cups frozen fruit
1 tsp turmeric powder
1 tsp Ceylon cinnamon
You don't necessarily need the newest or most powerful blender on the market. You just need a good blender for smoothies, one that can cut through frozen fruits and pulverize even the stringiest produce into a smooth liquid.
If we had to choose a favorite appliance, it would be our vitamix. It is worth the investment and we use it for so many things, from our morning smoothies to nut milks and from soups to sauces.
Coconut Water
Loaded with health benefits, coconut water is the perfect beverage for restoring hydration and replenishing electrolytes lost during exercise.
The Greens
Greens are one of the healthiest foods. About 2 cups of mixed power greens go into each smoothie. For convenience, we buy the pre-packaged greens that contain spinach, mizuna, chard, and kale.
We don't even taste the greens. However, if you've never had a smoothie with greens, start by just adding a handful of baby spinach. You may hardly even taste the greens. As you add more and more greens, your taste buds will adapt and your body will love you.
The Fruit
It's important to use whole fruits rather than just their juice. This is because, when juicing, the fiber and all the phytonutrients bound to it are lost.
For our Berry Blast, we chose blueberries, strawberries, cherries, and bananas.
The Green Machine is loaded with pineapple, mango, strawberries, and banana.
Switch up your smoothies a bit, depending on what fruits are in season. Aim for 1-1/2 cups of fruit per smoothie. Frozen fruit is the best since it blends up thicker than fresh.
We always have bananas and pineapples on hand. When the bananas are ripe, they are peeled, cut and frozen in large ziplocks. The fresh pineapple is trimmed, cut into cubes, and stored in the freezer. We prefer to freeze our own pineapples since we don't have much luck in getting tasty store bought frozen ones.
As far as the berries and other fruit, most of the year we buy blueberries, strawberries, cherries, and mango frozen.
Add-Ins
To the batch of smoothies, add 1 teaspoon of turmeric powder (or fresh turmeric) and 1 teaspoon of Ceylon cinnamon.
Sometimes we'll also add chia or flax seeds, or top our smoothies with hemp seeds.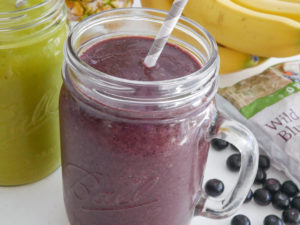 How Much Fruit is Too Much?
Some people have concerns about the sugar content of fruit, thus restricting their fruit intake. Dr. Michael Greger puts fruit to the test in this short video (just under 4 minutes), how much fruit is too much?
The Truth About Cinnamon and Turmeric
Cinnamon and turmeric are two of the healthiest spices on the planet! That's a fact, but there are things to be aware of.
-Cassia (known as regular cinnamon) and Ceylon (known as true cinnamon) are the 2 types of cinnamon. Most cinnamon available on the market is Cassia. Cassia cinnamon contains high amounts of coumarin, which has been linked to conditions like liver damage and cancer.
Ceylon cinnamon only contains trace amounts of coumarin, so when possible purchase Ceylon. Cinnamon is loaded with antioxidants, anti-inflammatory properties, is linked to a reduced risk of heart disease, lowers blood sugar levels, fights various infections, helps protect against cancer, and has beneficial effects on Alzheimer's and Parkinson's.
-Be sure to purchase high quality turmeric, as there can be a danger of lead contamination. Bangladesh is one of the leading turmeric-growing regions in the world. Some spice processors in Bangladesh use an industrial lead chromate pigment to infuse turmeric with a bright yellow color. Lead can also come from soil contamination.
Turmeric is used in Ayurvedic medicine to treat inflammation. Uses include cancer prevention and treatment as well as treatment of rheumatoid arthritis and infections.
A few years ago, Joel suffered from severe inflammation that almost forced him to quit work. Months after taking turmeric supplements and going on a plant-based diet, his inflammation was gone. Today, he's in the best shape ever!
Chef Joel's Tips
To save time in the morning, pick a day to make smoothie kits. Measure 3 cups of your favorite fruit combinations and place into ziplock quart freezer bags (3 cups of fruit makes 2 smoothies). Prepare enough fruit kits for the week ahead and freeze. In the morning, all you'll have to do is add liquid, greens, and add-ins to your blender. Then dump in the frozen fruit and blend for about 30 seconds.
If you add lemon or other acidic fruits or vegetables to your smoothie, the enamel on your teeth may soften temporarily. Be sure to rinse your mouth with water after drinking a sour smoothie.
Your Allergy Chefs are participants in the Amazon Associates Program, an affiliate advertising program designed to provide a means for sites to earn advertising fees by advertising and linking to Amazon.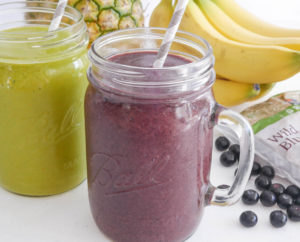 Print
Superfood Smoothies
Yield 2 Servings
Free of: gluten and top 8 allergens.
Delicious blend-and-go breakfast smoothies!
Ingredients
Berry Blast
16 ounces chilled coconut water
4 cups (about 2 ounces) power greens (see recipe notes)
1 cup frozen blueberries
3/4 cup frozen strawberries
3/4 cup frozen banana slices
1/2 cup frozen cherries
1 tsp turmeric powder (or about a 3/4-inch piece of peeled fresh turmeric)
1 tsp Ceylon cinnamon
Instructions
Pour coconut water into a high-speed blender.
Add power greens, frozen fruit, turmeric, and cinnamon.
Start blender on low speed and gradually increase to high speed, blending for about 30 seconds until smooth. If the smoothie is too thick, add 1/4 cup or so of distilled water and continue blending.
Notes
Most markets sell a mix of power greens especially for making smoothies. Mix up your favorite greens, from spinach to kale, or mizuna to chard.
Use 3 cups of your favorite fruits. Frozen fruit is best since it blends up thicker than fresh.
For the Green Machine, use 3 cups of a combination of pineapple, mango, strawberries, and banana.
Courses Beverages