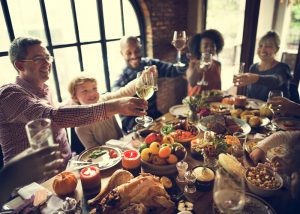 Thanksgiving is about tradition. It's a time to give thanks, a time for family, friends, and food.
We all have our recipes and traditions that can be very different. This can make celebrating the holiday with family and friends challenging and stressful if you live with food allergies or special diets.

You probably have had to change your food traditions because of food allergies and special diets. We sure have and definitely understand the challenges and frustrations you face.
Read more for helpful tips for a safe and healthy Thanksgiving. Dazzle your guests with a little turkey trivia, and let's definitely talk leftovers.
Turkey Mornay Casserole, or will it be Veggie Mornay Casserole? We'll show you both.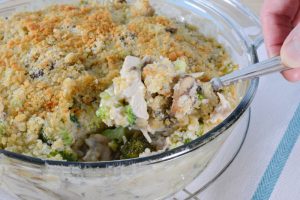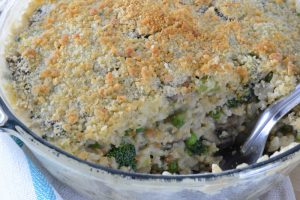 Tips for a Safe and Healthy Thanksgiving
Consider hosting the celebration.
If you're not hosting the gathering, bring a safe meal for your child or maybe it's you with allergies and a special diet. You may arrive to feel the meal is not safe enough.
Prepare your plate or your child's plate first. Buffet tables present cross contact issues. Serving spoons may be used for more than one dish, possibly transferring an allergen from one food item to another.
Anything made by others at their home is at risk of cross contact.
Educate friends and family about the allergy or special diet, cross contact and consequences if you or your child has a reaction to the allergen. But don't count on others to completely understand. They don't live in your world.
Cranberry sauce is a must on any table, but most store-bought varieties contain more than 30% sugar. Make your sauce from scratch and opt for organic cranberries if you can. Conventional berries are heavily treated with pesticides.
Homemade gravy is quick and delicious. Store-bought gravy often contains trans fats and too much sodium.
Dazzle Your Guests with Turkey Trivia
On Thanksgiving day, Americans consume 736 million pounds of turkey, the weight of the Empire State Building. That's heavy!
Benjamin Franklin wanted the turkey to be the national bird, not the eagle.
Going shopping on Black Friday? Not if you're a plumber. Black Friday is the busiest day of the year for them, according to Roto-Rooter, the nation's largest plumbing service. Kitchen drains, garbage disposals and, yes, toilets, require more attention the day after Thanksgiving than any other day of the year.
TV dinners have Thanksgiving to thank. In 1953, someone at Swanson's over ordered frozen turkeys…260 TONS, to be exact. Salesman Gerry Thomas came up with a brilliant plan: why not slice up the meat and repackage with some sides? Thus, the first TV dinner was born! They were priced at 98 cents, and within one year over ten million were sold.
Ironically, the name "Black Friday" was supposed to keep people from NOT shopping on the day after Thanksgiving. In 1966, the Philadelphia Police Department started referring to the day of shopping deals as Black Friday in hopes that it would deter people from adding to the traffic and commotion before the Army-Navy football game that same weekend. I wonder what the Philadelphia Police Department think of the traffic now? LOL!
According to the National Turkey Federation, only 88% of Americans chow down on turkey. This begs the question, what interesting dishes are the other 12% cooking up? If you're in the 12%, let us know in the comments. Our favorite main dish is cauliflower steaks prepared a different way each year. And we love the traditional sides made allergy friendly.
Much Ado About Leftovers
Did you know that approximately a third of the meat on every turkey goes right into the garbage? 🙁
Make the most of leftovers by transforming them into satisfying sandwiches, pasta, soups, salads, pizza, fried rice, pot pies, tacos, enchiladas and so much more. So much more includes the "Moist Maker".
The Moist Maker?
We still love to watch the sitcom, Friends. Monica's secret to Ross's favorite Thanksgiving leftover sandwich is an extra slice of gravy-soaked bread in the middle. In season 5 of Friends, the episode is appropriately titled, "The One with Ross's Sandwich." In this episode, Ross is enraged when someone at work steals his Thanksgiving leftover sandwich.
How would you feel is someone took your sandwich made with toasted bread, turkey, a slice of gravy-soaked bread, stuffing, and cranberry sauce?
The Catchall Casserole
We created the following casserole using Thanksgiving leftovers. We made a Turkey Mornay Casserole and a Veggie Mornay Casserole.
Customize this recipe to suit your tastes and with whatever leftover meat and veggies you've got in your fridge. Check out the recipe for substitutions.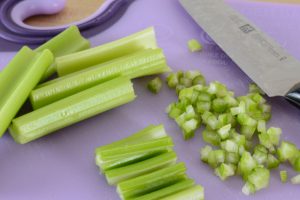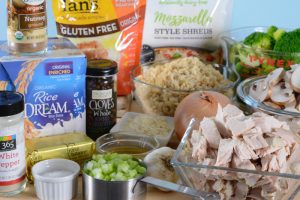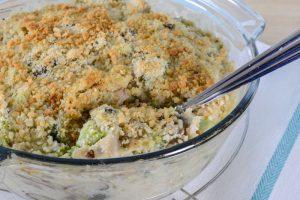 From Your Allergy Chefs, may you and your family have a safe and blessed Thanksgiving!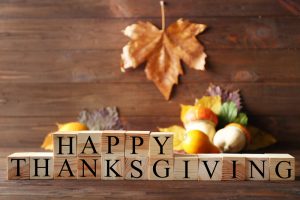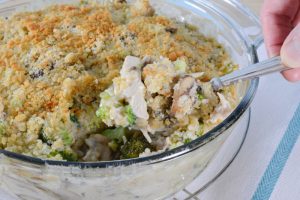 Print
Roasted Turkey Mornay Casserole
Yield 6 Servings
Free of: gluten and top 8 allergens.
Let's talk leftovers with this casserole. Turkey & vegetables or just vegetables rock the dish! Take your pick.
Ingredients
2 tbsp vegetable oil
1/2 cup diced onions
1/2 cup diced celery
1/8 + 1/2 tsp salt, divided
12 ounces sliced button or cremini mushrooms, approximately 5 cups
6 tbsp dairy-free, soy-free margarine, such as Earth Balance, divided (4 tbsp plus 2 tbsp)
1/4 cup garbanzo bean flour
1 cup alternative milk, such as unsweetened rice milk
1 cup vegetable broth
4 ounces mozzarella style shreds, such as Daiya
1/4 tsp nutmeg
1/8 tsp white pepper
1/2 tsp salt
3 cups cooked brown rice
4 cups steamed broccoli, cooled and chopped
2 cups cooked turkey, shredded
1/2 cup gluten-free breadcrumbs or panko, such as Ian's
Instructions
Preheat oven to 350 degrees F.
In a medium saucepan, heat oil over medium heat. Add onions, celery and 1/8 teaspoon salt. Cook 3 minutes, stirring occasionally. Add mushrooms and cook until soft, an additional 4-5 minutes. Set aside.
In a small saucepan, melt margarine over medium heat. Add flour and cook for 1 minute, stirring constantly.
Add milk and whisk until smooth. Whisk in broth. Simmer 5 minutes, whisking frequently.
Add mozzarella shreds. Cook an additional 5 minutes, whisking frequently.
Add nutmeg, pepper and 1/2 teaspoon salt. Combine and set aside.
In a large bowl, combine rice, broccoli, turkey and mushroom mixture. Fold in sauce.
Transfer mixture to a 2-quart casserole dish. Top with breadcrumbs. Cut remaining 2 tablespoons cold margarine into small pieces. Sprinkle over the breadcrumbs.
Bake uncovered for approximately 25 minutes, until heated through and bubbling. 
Place under a broiler for a couple of minutes to brown the crumbs.
Notes
Make Mine Veggie!
For the veggie casserole pictured in the post, we replaced turkey with 1 cup frozen peas, thawed.
You can substitute broccoli with any vegetables you have onhand that are cooked until crisp tender, such as small cauliflower florets, chopped carrots, halved Brussels sprouts, cut green beans, or chopped zucchini. Use one or a variety of leftover vegetables.
To make it vegan with an assortment of veggies, replace the broccoli (or a portion of it) and turkey with equal portion measures of your favorite veggies.
Courses Mains, Starters