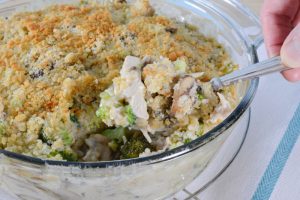 Roasted Turkey Mornay Casserole
Yield 6 Servings
Free of: gluten and top 8 allergens.
Let's talk leftovers with this casserole. Turkey & vegetables or just vegetables rock the dish! Take your pick.
Ingredients
2 tbsp vegetable oil
1/2 cup diced onions
1/2 cup diced celery
1/8 + 1/2 tsp salt, divided
12 ounces sliced button or cremini mushrooms, approximately 5 cups
6 tbsp dairy-free, soy-free margarine, such as Earth Balance, divided (4 tbsp plus 2 tbsp)
1/4 cup garbanzo bean flour
1 cup alternative milk, such as unsweetened rice milk
1 cup vegetable broth
4 ounces mozzarella style shreds, such as Daiya
1/4 tsp nutmeg
1/8 tsp white pepper
1/2 tsp salt
3 cups cooked brown rice
4 cups steamed broccoli, cooled and chopped
2 cups cooked turkey, shredded
1/2 cup gluten-free breadcrumbs or panko, such as Ian's
Instructions
Preheat oven to 350 degrees F.
In a medium saucepan, heat oil over medium heat. Add onions, celery and 1/8 teaspoon salt. Cook 3 minutes, stirring occasionally. Add mushrooms and cook until soft, an additional 4-5 minutes. Set aside.
In a small saucepan, melt margarine over medium heat. Add flour and cook for 1 minute, stirring constantly.
Add milk and whisk until smooth. Whisk in broth. Simmer 5 minutes, whisking frequently.
Add mozzarella shreds. Cook an additional 5 minutes, whisking frequently.
Add nutmeg, pepper and 1/2 teaspoon salt. Combine and set aside.
In a large bowl, combine rice, broccoli, turkey and mushroom mixture. Fold in sauce.
Transfer mixture to a 2-quart casserole dish. Top with breadcrumbs. Cut remaining 2 tablespoons cold margarine into small pieces. Sprinkle over the breadcrumbs.
Bake uncovered for approximately 25 minutes, until heated through and bubbling. 
Place under a broiler for a couple of minutes to brown the crumbs.
Notes
Make Mine Veggie!
For the veggie casserole pictured in the post, we replaced turkey with 1 cup frozen peas, thawed.
You can substitute broccoli with any vegetables you have onhand that are cooked until crisp tender, such as small cauliflower florets, chopped carrots, halved Brussels sprouts, cut green beans, or chopped zucchini. Use one or a variety of leftover vegetables.
To make it vegan with an assortment of veggies, replace the broccoli (or a portion of it) and turkey with equal portion measures of your favorite veggies.
Courses Mains, Starters
Recipe by Allergy Chefs at https://www.yourallergychefs.com/roasted-turkey-mornay-casserole/