We can't get enough of fall. From the colors to the holidays, weather, football and the food, it's all so magical. And 'tis the season of pumpkins!
Last week we discovered that pumpkin whoopie pies were a favorite at Camp Blue Spruce and we promised to share this fun-to-eat dessert, which is guaranteed to be the center of attention at any Halloween party.
We just adore the happiness in the name itself. No doubt these sweet treats are the ultimate comfort dessert. They're soft and squishy, cakey and creamy, and absolutely a reason for celebration.
Therefore, with Halloween right around the corner, it's time for a whoopie party!
What's a Whoopie Pie?
It's certainly not a pie, but neither is a Boston cream pie. It's considered to be either a cake, cookie or pie, depending on who you talk to. A traditional whoopie pie consists of two saucer-shaped rounds of chocolate cake, with a fluffy vanilla filling sandwiched between them.
Two Schools of Thought
Whoopie aficionados argue over which ingredients make up the "original" filling. Many traditionalists insist that marshmallow creme or fluff is the main ingredient. Others demand that the original filling is made of vegetable shortening. We say, why argue? Let's just enjoy them both ways.
For this recipe, we have chosen the shortening method. To make the filling simple and safe, we are using Spectrum Organic Vegetable Shortening. We've created a super simple version of the filling. Not to undermine the classic, but we love how creative we can be with whoopies. As a result, this variation with pumpkin is a winner.
Fillings and Frills
Along with the filling you can spread jam, sunbutter, apple butter or allergen-free chocolate ganache between the cakes. You can also pile fresh berries or sliced bananas between the layers.
Jazz them up by rolling them in allergen-free mini chocolate chips, dried cranberries, pumpkin seeds, raisins, crushed candy or nonpareils. There are lots of sprinkles out there, but be sure to read the labels carefully to find one that's safe for you and your family. We chose 3 frills that work for us.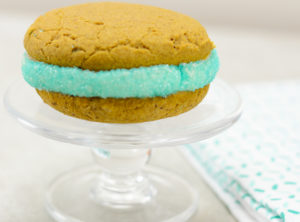 Teal Sanding Sugar
Yes, we found "teal" sanding sugar at a local market. How awesome is that? The color of Food Allergy Awareness! It's apparent with the labeling that this product does not contain the top 8 allergens. However, there is no mention on the label about being produced in a facility free from allergens. For this reason, we went online and searched to see if the product claimed to be allergen-free. Kroger has great manufacturing and labeling information online. They even provide the number for their "Dietitian Hotline", so you can call and get all the information you need.
We are also decorating with Betty Crocker Nonpareil Decorating Decors. This particular Betty Crocker decorating product does not contain a top allergen. In any case, is there a chance of cross-contact in the production facility? The website for this particular product came back with "allergy information not available". In searching further, we found that at this time Betty Crocker decorations are gluten free, dairy free and nut free. Some of their decorations contain soy and egg white solids. Read labels carefully and don't hesitate to reach out to manufacturers for additional allergen information.
Our third frill are Enjoy Life Mini Chips, free from the top 8 and then some.
To decorate or not to decorate is all up to you. However, it's perfect party fun for the kids.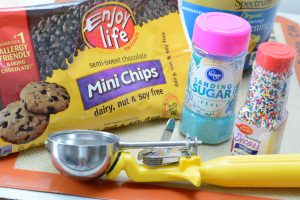 Da Scoops
You don't need fancy equipment to make whoopie pies. By the same token, we use one of our favorite kitchen tools, the scoops, a.k.a. portion scoops or dishers. We use these for measuring out the batter for making uniformly sized whoopies every time.
Here's how it works. Scoops are sold in over 16 different sizes. Each scoop has a universal number. The number of the scoop determines the number of servings in a quart of a mixture or product. For example, with a No. 16 scoop, one quart of alternative ice cream will yield 16 scoops. With a #20 scoop, one quart of alternative ice cream will yield 20 scoops. Isn't that cool?
All scoops have a corresponding number. Not all, but many companies that manufacture these scoops also designate the scoop with a color that appears on the handle or at the tip of the handle. For example, we use a yellow scoop for both the batter and filling in this recipe. Yellow scoops are #20 scoops. Lastly, each scoop has a level measure. The #20 scoop holds 3-1/2 tablespoons, which is a scant 1/4 cup. So don't worry if you don't have a scoop, just portion out a scant 1/4 cup.
We absolutely love to use scoops for making muffins, pancakes, cookies, crepes, portioning filling for sandwiches, making truffles and so much more. Click on the link above to learn more about dishers, which is the name these scoops are referred to in professional kitchens.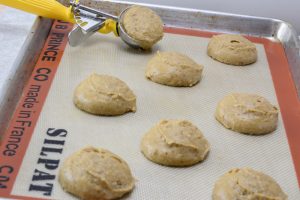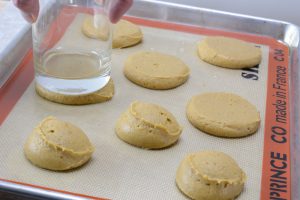 Now the Unsolved Mystery
We won't bother debating the origin of the whoopie pie. We'll let the folks in Maine, Pennsylvania, New Hampshire and the Bostonians duke it out for the claim to fame. Ultimately, with no proof of birthplace, the mystery remains unsolved.
The "Flax Eggs"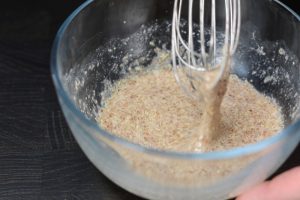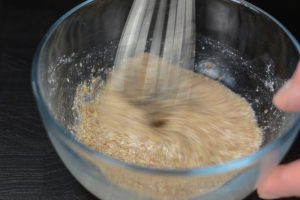 Finally, it's time to throw on your apron and let's make whoopies!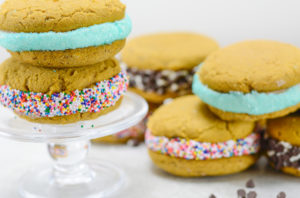 Print
Pumpkin Whoopie Pies
Yield 8 whoopies
Free of: gluten and top 8 allergens.
These sweet treats are the ultimate comfort dessert. They're squishy, cakey and creamy, and are absolutely a reason for celebration. No wonder they are a favorite at Camp Blue Spruce, the worry free camp for kids with food allergies.
Ingredients
For the cakes:
2 tbsp flaxseed meal
6 tbsp lukewarm water
2 cups gluten-free flour blend
1/2 tsp xanthan gum (omit if using a flour blend with xanthan gum)
1-1/2 tsp baking powder
1/2 tsp baking soda
1-1/2 tsp ground cinnamon
1/4 tsp ground nutmeg
1/4 tsp ground ginger
1/2 tsp salt
1-1/4 cups canned pumpkin puree (not pumpkin pie filling)
1/2 tsp apple cider vinegar
1/3 cup pure maple syrup or light agave nectar
1-1/2 tsp vanilla extract
1/3 cup rice milk
2 tbsp canola oil or grapeseed oil
For the filling:
3 cups powdered sugar
3/4 cup shortening, such as Spectrum Organic Vegetable Shortening
3/4 tsp vanilla extract
2 - 3 tbsp non-dairy milk, divided, such as Rice Dream original
Instructions
For the cakes, preheat oven to 350 degrees F. Line two baking sheets with parchment paper or silpats. Set aside.
In a small bowl, whisk together flaxseed meal and water. Set aside for 5 - 10 minutes.
In a large bowl, sift together the flour, xanthan gum, baking powder and baking soda. Add the cinnamon, nutmeg, ginger and salt. Whisk well to combine. Set aside.
In a medium bowl, combine the pumpkin, vinegar, maple syrup, vanilla, milk and oil.
Return to the flaxseed mixture and vigorously whisk. It will be gelatinous. Add to wet ingredients and whisk until combined.
With a rubber spatula, scrape the wet ingredients into the dry. Whisk thoroughly to combine.
Using a level #20 (yellow) scoop, portion batter onto prepared baking sheets. A yellow scoop is equivalent to a scant 1/4 cup. Flatten slightly to a 1/2-inch thickness with the bottom of a large glass that has been dipped or rinsed under water. You will need to rinse the bottom of the glass in water each time you flatten a cake.
Bake until done, approximately 12 - 14 minutes. Let cool completely in pan on a rack for about 30 - 45 minutes.
For the filling, sift the powdered sugar if it contains lumps. Set aside.
Place shortening in a mixing bowl fitted with a paddle attachment. Start mixing on low speed. Gradually add the sugar, vanilla, and 2 tbsp of the rice milk. Once all the ingredients are well combined, increase your mixing speed to medium high.
After a minute or so, stop the mixer and check the consistency and taste. At this point the filling may be a little dry. Add remaining 1 tbsp milk if needed. Mix until light and fluffy, an additional 1 - 2 minutes. 
To assemble, flip 8 cakes over so the flat side is up. With the #20 (yellow) scoop, portion a level scoop of filling in the center on the flat side of the 8 cakes. Top with the remaining cakes, flat side towards the filling. Gently press down to make a sandwich. You should have a small amount of filling leftover.
If not serving right away, store in the refrigerator. These whoopies are best eaten within 2 days.
Notes
Da Scoop: Don't worry if you don't have a #20 (yellow) scoop. Portion a scant 1/4 cup of batter for each cake and a scant 1/4 cup of filling for each whoopie.
The cakes don't spread during baking, so if you don't flatten slightly they will be dome shaped. If you prefer them dome shaped, the cooking time increases to 15 - 18 minutes. Flattening slightly to 1/2-inch thick will yield a baked cake that is 3-inches in diameter.