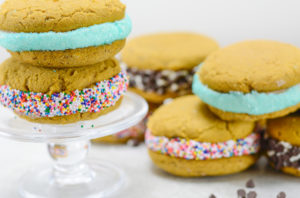 Pumpkin Whoopie Pies
Yield 8 whoopies
Free of: gluten and top 8 allergens.
These sweet treats are the ultimate comfort dessert. They're squishy, cakey and creamy, and are absolutely a reason for celebration. No wonder they are a favorite at Camp Blue Spruce, the worry free camp for kids with food allergies.
Ingredients
For the cakes:
2 tbsp flaxseed meal
6 tbsp lukewarm water
2 cups gluten-free flour blend
1/2 tsp xanthan gum (omit if using a flour blend with xanthan gum)
1-1/2 tsp baking powder
1/2 tsp baking soda
1-1/2 tsp ground cinnamon
1/4 tsp ground nutmeg
1/4 tsp ground ginger
1/2 tsp salt
1-1/4 cups canned pumpkin puree (not pumpkin pie filling)
1/2 tsp apple cider vinegar
1/3 cup pure maple syrup or light agave nectar
1-1/2 tsp vanilla extract
1/3 cup rice milk
2 tbsp canola oil or grapeseed oil
For the filling:
3 cups powdered sugar
3/4 cup shortening, such as Spectrum Organic Vegetable Shortening
3/4 tsp vanilla extract
2 - 3 tbsp non-dairy milk, divided, such as Rice Dream original
Instructions
For the cakes, preheat oven to 350 degrees F. Line two baking sheets with parchment paper or silpats. Set aside.
In a small bowl, whisk together flaxseed meal and water. Set aside for 5 - 10 minutes.
In a large bowl, sift together the flour, xanthan gum, baking powder and baking soda. Add the cinnamon, nutmeg, ginger and salt. Whisk well to combine. Set aside.
In a medium bowl, combine the pumpkin, vinegar, maple syrup, vanilla, milk and oil.
Return to the flaxseed mixture and vigorously whisk. It will be gelatinous. Add to wet ingredients and whisk until combined.
With a rubber spatula, scrape the wet ingredients into the dry. Whisk thoroughly to combine.
Using a level #20 (yellow) scoop, portion batter onto prepared baking sheets. A yellow scoop is equivalent to a scant 1/4 cup. Flatten slightly to a 1/2-inch thickness with the bottom of a large glass that has been dipped or rinsed under water. You will need to rinse the bottom of the glass in water each time you flatten a cake.
Bake until done, approximately 12 - 14 minutes. Let cool completely in pan on a rack for about 30 - 45 minutes.
For the filling, sift the powdered sugar if it contains lumps. Set aside.
Place shortening in a mixing bowl fitted with a paddle attachment. Start mixing on low speed. Gradually add the sugar, vanilla, and 2 tbsp of the rice milk. Once all the ingredients are well combined, increase your mixing speed to medium high.
After a minute or so, stop the mixer and check the consistency and taste. At this point the filling may be a little dry. Add remaining 1 tbsp milk if needed. Mix until light and fluffy, an additional 1 - 2 minutes. 
To assemble, flip 8 cakes over so the flat side is up. With the #20 (yellow) scoop, portion a level scoop of filling in the center on the flat side of the 8 cakes. Top with the remaining cakes, flat side towards the filling. Gently press down to make a sandwich. You should have a small amount of filling leftover.
If not serving right away, store in the refrigerator. These whoopies are best eaten within 2 days.
Notes
Da Scoop: Don't worry if you don't have a #20 (yellow) scoop. Portion a scant 1/4 cup of batter for each cake and a scant 1/4 cup of filling for each whoopie.
The cakes don't spread during baking, so if you don't flatten slightly they will be dome shaped. If you prefer them dome shaped, the cooking time increases to 15 - 18 minutes. Flattening slightly to 1/2-inch thick will yield a baked cake that is 3-inches in diameter.
Recipe by Allergy Chefs at https://www.yourallergychefs.com/pumpkin-whoopie-pies/