Yes, we absolutely love risotto!
In a recent post, we got the scoop on demystifying the process of making authentic risotto from an Italian Chef, Carlo Persia.
Many of you wanted the recipe for Chef Carlo's favorite, Pumpkin Risotto with Biscotti Amaretti and Lemon. We've adapted his recipe for you so it's an easy amount to make at home and free of the top 8 allergens.
Hands down, it's now our favorite risotto!
It's the perfect fall entree or side for your holiday feast. We see this becoming a new Thanksgiving tradition in our household.
And never fear! This creamy restaurant favorite is easier to make than you think. Once you start cooking, it's done in just 20 minutes.
If this is your first time making risotto, or it didn't turn out like you'd hoped for, we invite you to read our recent post for great tips and techniques for the authentic way of making risotto.
When you have the risotto basics down, you can make any recipe your own. So that's just what we did.
The Original Ingredients
There were several ingredients we removed from the original recipe, not because they were bad ingredients, but because they were top allergens…parmesan, cream cheese and butter. The garnish, Biscotti Amaretti traditionally contains almonds, eggs, gluten, wheat and butter.
At first, we weren't sure about cookie crumbs and risotto. But, it was amazing! To make it convenient, we crumbled and oven-toasted several Enjoy Life Gingerbread Spice Cookies, giving them the same texture as biscotti. If you have a plain biscotti that is safe for you and your family, give it a try.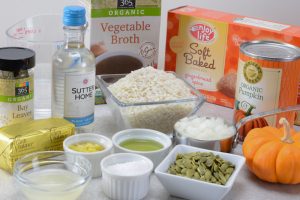 The Starch
The goal is to cook the rice just until it's tender while drawing enough starch out into the cooking liquid. This starch is what gives the creamy consistency. To accomplish this, the rice kernels must remain surrounded with hot liquid but not too much. There needs to be room for constant rubbing or friction between the kernels for the starches to be released. That's why we add small amounts of the hot broth in stages and stir frequently.
Who needs butter and heavy cream? Creaminess comes from within the rice.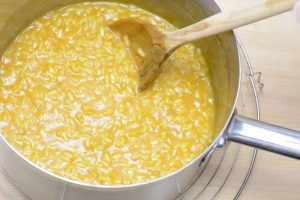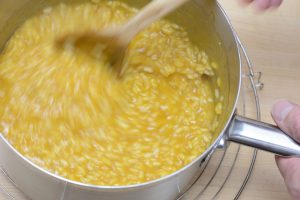 The Rice Choice
Arborio is considered synonymous with risotto in the U.S. However, in Italy Carnaroli and Vialone Nano are considered to be excellent risotto rices as well. Carnaroli and Vialone Nano are not readily available in most U.S. markets, but can be purchased online. We can't wait to try them all!
The 3 Steps for Success
The rice is cooked for approximately 18 minutes. Check rice for doneness by biting into it. It should be slightly al dente, but not hard in the center. Al dente literally means "to the teeth". In cooking rice it means it should not be too soft but firm to the bite.
To ensure a creamy consistency from the first bite to the last, a small quantity of broth is reserved and stirred into the finished risotto.
For healthier eats, we use minimal fat than is customarily called for in risotto recipes.
Once you become familiar with the basic technique for preparing risotto, you will see that it is not an exact science. You'll be able to get a feel for the exact amount of liquid you need. By the same token, you'll know when to reduce if the risotto has too much liquid or when to add water if the broth should run out.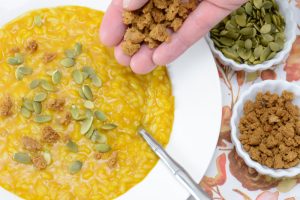 Have you made risotto? We'd love to hear what ingredients are in your favorite recipe. And of course, please comment with any questions.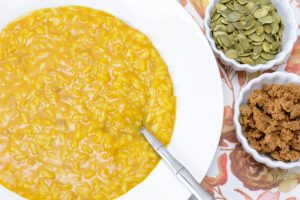 Print
Pumpkin Risotto
Yield 4 Servings
Free of: gluten and top 8 allergens.
This creamy pumpkin risotto will make a perfect accompaniment to any holiday meal. If you've never made risotto before, this easy recipe is a great place to start.
Ingredients
1 quart vegetable broth
1 cup water
1 bay leaf
2 tbsp grapeseed or vegetable oil
1/2 cup diced yellow or white onion
1-1/2 cups Arborio rice, unrinsed
1/2 tsp salt
1/2 cup dry white wine, such as Pinot Grigio or Sauvignon Blanc
1 cup canned unsweetened pumpkin puree
2 tsp finely zested lemon
1 tbsp fresh lemon juice
1 tbsp dairy-free, soy-free margarine, such as Earth Balance
1/4 cup pumpkin seeds, toasted
1/4 cup allergen-free biscotti crumbs - optional (See Recipe Notes)
Instructions
In a medium saucepan, bring broth, water and bay leaf to a simmer. Turn heat to low to keep the broth hot.
Heat oil in a large heavy duty saucepan, in the 3- to 4-quart range. Add onions and saute over medium heat for 4 minutes until onions begin to soften, being careful not to brown them.
Add Arborio and salt. Stir with a wooden spoon for 2 minutes until all the grains are slightly toasted and well coated with oil. Set your timer for 18 minutes. This is the approximate time it takes to make a perfect risotto. 
Add wine and stir until completely absorbed. Begin to add hot broth, 1/2 cup at a time, stirring frequently. The risotto should be simmering throughout the cooking process. Depending on your stove, it will be over medium-high or medium heat. Wait until each addition is almost completely absorbed before adding the next half cup. 
After approximately 15 minutes, add pumpkin. Stir to combine and cook for an additional 3 minutes, adding broth as necessary.
When risotto is cooked, add lemon zest, lemon juice and 1/4 cup broth. Remove from heat and stir in margarine.
Plate and garnish with pumpkin seeds and cookie crumbs, if desired. Serve immediately, as grains will continue to cook.
Notes
If you have a plain biscotti that meets your family's dietary needs, crush a couple biscotti into small chunks by placing in a strong ziplock bag. Proceed to crush with a rolling pin.
We used Enjoy Life Soft Baked Gingerbread Spice cookies. To give the same texture as crumbled biscotti, we crumbled 4 cookies and toasted in a 300 degree oven for 5 minutes. We had extra crumbs that were delicious on Vanilla Coconut Bliss!
Courses Mains, Starters