No peanut butter in the cookies? No, and they're the best ever!
Peanut butter cookies are always a hit, unless you're sensitive or have an allergy to peanuts. The great news is, you don't have to be left out!
Easy to make, our version is sure to become a family favorite. They're made with sunflower butter and other allergy-friendly ingredients so everyone can enjoy.
These no-peanut butter cookies have a melt-in-your-mouth goodness, and they pair perfectly with…
Yes, a glass of strawberry milk.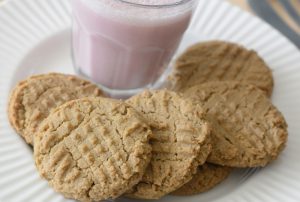 Last week we made a refreshing strawberry milk featuring the abundance of this strawberry season. We promised a perfect match, and here you have it, no-peanut butter cookies.
These cookies take little time from start to finish. Earth Balance, or your favorite allergy-friendly margarine, is creamed together with granulated and light brown sugars. Flax eggs, vanilla, and sunflower butter are added. When the mixture is smooth, gluten-free flour blend, xanthan gum, baking powder, baking soda, and salt are gradually mixed in and a stiff dough is formed.
That's all there is to these fabulous cookies!
What's with the Criss-Cross?
Pillsbury popularized using the fork marks on peanut butter cookies in the 1930s. There was no explanation given in their recipe as to why the fork hash marks, but bakers continue to include them on their cookies to this day.
Better Baking
When sunflower seed butter is added to the dough it makes it denser, which in turn makes it harder to bake though evenly.
Putting the criss-cross marks in the dough flattens them for more even baking. What an ingenious idea!
Peanut Allergies
Just as cool, the peanut butter cookie was thought to have been given the fork marks to warn those with a sensitivity or allergy that these cookies contained peanuts.
We are firm believers that food made free from allergens can taste as good and even better than their counterparts.
When we do splurge for sugar, this is a favorite!
Celebrating foods free!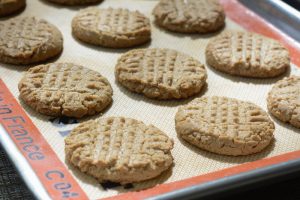 Print
No-Peanut Butter Cookies
Yield 15 Cookies
Free of: gluten and top 8 allergens.
These no-peanut butter cookies have a melt-in-your-mouth goodness, and they're made with sunflower seed butter and other allergy-friendly ingredients so everyone can enjoy.
Ingredients
1 tbsp ground flaxseed meal
3 tbsp lukewarm water
1-1/2 cups gluten-free flour blend
1/4 tsp xanthan gum (omit if using a flour blend containing xanthan)
1/2 tsp baking powder
1/4 tsp baking soda
1/2 tsp salt
1 tsp vanilla extract
1/3 cup dairy-free, soy-free margarine, such as Earth Balance, at room temperature
1/2 cup granulated sugar
1/4 cup light brown sugar
3/4 cup creamy sunflower seed butter, such as Sunbutter
Instructions
Preheat oven to 375-degrees F. Line two baking sheets with a silicone mat or parchment paper.
In a small bowl, whisk together flaxseed meal and water. Set aside.
In a medium bowl, sift xanthan gum, baking powder, and baking soda over flour blend. Add salt. Whisk together to combine well. Set aside.
Return to flaxseed mixture, and vigorously whisk; it will be gelatinous. Add vanilla and set aside.
In a deep bowl using a hand held mixer, blend margarine and both sugars on low speed until smooth, about 1-2 minutes. Scrape the bowl.
Add flaxseed mixture and blend until thoroughly combined. Add sunflower seed butter and mix until combined.
Gradually add dry ingredients, mixing just until blended and a stiff dough forms.
Using a #30 portion scoop (equivalent to about 3 tbsp), portion the dough onto prepared pans. If you don't have a portion scoop, form balls that are about 2-inches in diameter. Using a wet fork to make a criss-cross pattern, flatten slightly. Cookies should be about 1/2-inch to 3/4-inch thick.
Bake until done, about 16-18 minutes. 
Courses Sweets