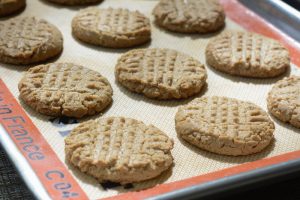 No-Peanut Butter Cookies
Yield 15 Cookies
Free of: gluten and top 8 allergens.
These no-peanut butter cookies have a melt-in-your-mouth goodness, and they're made with sunflower seed butter and other allergy-friendly ingredients so everyone can enjoy.
Ingredients
1 tbsp ground flaxseed meal
3 tbsp lukewarm water
1-1/2 cups gluten-free flour blend
1/4 tsp xanthan gum (omit if using a flour blend containing xanthan)
1/2 tsp baking powder
1/4 tsp baking soda
1/2 tsp salt
1 tsp vanilla extract
1/3 cup dairy-free, soy-free margarine, such as Earth Balance, at room temperature
1/2 cup granulated sugar
1/4 cup light brown sugar
3/4 cup creamy sunflower seed butter, such as Sunbutter
Instructions
Preheat oven to 375-degrees F. Line two baking sheets with a silicone mat or parchment paper.
In a small bowl, whisk together flaxseed meal and water. Set aside.
In a medium bowl, sift xanthan gum, baking powder, and baking soda over flour blend. Add salt. Whisk together to combine well. Set aside.
Return to flaxseed mixture, and vigorously whisk; it will be gelatinous. Add vanilla and set aside.
In a deep bowl using a hand held mixer, blend margarine and both sugars on low speed until smooth, about 1-2 minutes. Scrape the bowl.
Add flaxseed mixture and blend until thoroughly combined. Add sunflower seed butter and mix until combined.
Gradually add dry ingredients, mixing just until blended and a stiff dough forms.
Using a #30 portion scoop (equivalent to about 3 tbsp), portion the dough onto prepared pans. If you don't have a portion scoop, form balls that are about 2-inches in diameter. Using a wet fork to make a criss-cross pattern, flatten slightly. Cookies should be about 1/2-inch to 3/4-inch thick.
Bake until done, about 16-18 minutes. 
Courses Sweets
Recipe by Allergy Chefs at https://www.yourallergychefs.com/no-peanut-butter-cookies/