Christmas Eve is National Eggnog Day. What a perfect time to celebrate this popular drink enjoyed between Thanksgiving and New Year's Day.
It's one of those traditions we enjoy as adults because we remember it so vividly as children. Besides, the holidays would not be the same without it.
Eggnog's innovative culinary delights charm the holiday season, from bread pudding and French toast, to cookies and cake.
At Whole Foods Market in Portland, Oregon we made an eggnog Bundt cake with rum icing that was so popular we could barely keep up with production.
We formulated our holiday nog to include coconut milk and replaced all but one ingredient in traditional eggnog to make this treat free of the top 8 allergens. Yes, we replaced all but the nutmeg and came up with this delicious holiday nog.
Replacement for the Eggs
We made several batches, testing out various alternative milks and thickening agents. The biggest challenge is replacing the eggs, yet keeping the "custardy" texture and flavor alive.
By adding just a small amount of xanthan gum to the first batch, the nog had a traditional eggnog-like consistency immediately after blending.
For the second batch, we went with chia seeds and found this to froth up better than the batch with xanthan gum but not as thick. However, as it chilled overnight in the refrigerator, it thickened to a nice consistency.
Which one did we like better? We loved 'em both. However, we'd probably choose the chia for the health benefits chia brings.
Taking Holiday Nog to Another Level
Thinking about what to have for brunch today, we looked in the freezer and found some Follow Your Heart gluten-free brioche. How about French toast using our holiday nog as the soaking liquid? We diced and cooked down some fresh strawberries with a little coconut sugar, which made a yummy compote for our Holiday Nog French Toast. We took a picture for you.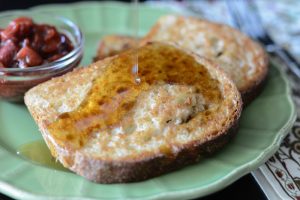 It was the quickest brunch ever. We put two cups of holiday nog in a shallow dish and soaked each side of the bread for about ten seconds. Soaking time will depend on the bread you use. Cooking time on our electric griddle took longer than our standard French toast recipe. In any case, it was a winner and a great way to use the holiday nog!
So easy to make, all the ingredients are put in a blender and processed until smooth.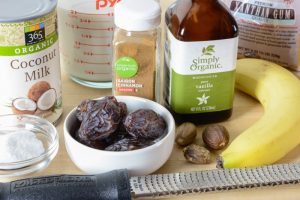 Spirits Unlimited
We prefer ours plain. On the other hand, when alcohol is added, it's a milk punch. Coquito, a Puerto Rican Christmas drink that shares many of the same ingredients, uses coconut milk and white rum.
Eggnog has been enjoyed by many in history, including Edgar Allan Poe, George Washington and Dwight D. Eisenhower. Take a look at what they enjoyed in their nog.
Edgar Allen Poe was an American writer best known for his poetry and short stories, particularly his tales of mystery. His extracurricular activity of choice while attending the University of Virginia in the 1820's was drinking eggnog and apple toddies, according to paperandsalt.org. The Poe family eggnog recipe was supposedly passed down from generation to generation, from 1790 until today. The recipe was published in the cookbook, A Second Helping of Murder and also by The New York Times. Poe's nog calls for a mix of brandy and Jamaican rum, counting on the abundant amounts of liquor to "cook" the eggs.
Even America's first President, George Washington had a fondness for eggnog with a kick during the holidays. The source of his original recipe is the Old Farmer's Almanac, and includes a pint each of brandy, rye whiskey, Jamaican rum, sherry and finally, we can't forget the eggs, sugar, milk and cream.
In addition to all his military and political accomplishments, America's 34th President, Dwight D. Eisenhower loved his bourbon, especially in eggnog. His nog calls for 1 dozen egg yolks, 1 pound granulated sugar, 1 quart bourbon, 1 quart coffee creamer and 1 quart whipping cream. In Eisenhower's original recipe, it states that the process just for mixing the yolks and sugar would take 30 minutes…with a good mixer. Wow! We would love to check out that mixer.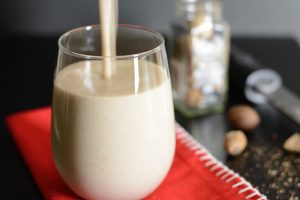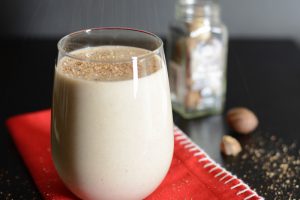 Enjoy your holiday nog with or without spirits.
We wish you, your families and friends a very Merry Christmas!
Cheers!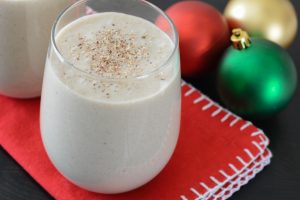 Print
Holiday Nog
Yield 8 Servings
Free of: gluten and top 8 allergens.
The holidays would be incomplete without eggnog. Enjoy a variation of the traditional eggnog recipe. Holiday Nog is a beverage that everyone can enjoy. 
Ingredients
1 (13.5 ounce) can full-fat coconut milk
2 cups alternative milk of choice
3 tbsp pure maple syrup OR 4-6 Medjool dates, pitted and soaked (see recipe notes)
1-1/2 tsp ground cinnamon
1/2 tsp freshly zested nutmeg, using a microplane zester (see recipe notes)
Pinch fine sea salt
1 tsp pure vanilla extract
1 large banana
1/4 tsp xanthan gum OR chia egg (see recipe notes)
Instructions
Place all ingredients in a high speed blender. Start blender on low speed and gradually increase to high. Blend until smooth, approximately 60 seconds.
Transfer to a clean container. Cover and refrigerate for at least 1 hour. 
Serve as is or add rum, brandy, bourbon or whiskey, for a spirited holiday version.
Top it off with a pinch of freshly ground nutmeg.
Notes
To soak the dates, place in a small bowl and fill with very hot water. The soak time is in the 5 to 30 minute range, depending on the softness of the dates. An older date that is no longer soft will need a longer soak time.
If you can get whole fresh nutmeg, the end result will be well worth it.
We made two batches, one with xanthan gum and the other with chia seeds. We used white organic chia seeds that we ground. To use chia in place of xanthan gum, in a small bowl combine 1 tablespoon chia seeds or 2 teaspoons ground chia seeds with 3 tablespoons boiling water. Stir well and allow the mixture to set for about 5 minutes before adding to blender with other ingredients.
Nutrition facts are based on full-fat coconut milk. If you replace full-fat coconut milk with light coconut milk, calories per serving are reduced to 196. Total fat shrinks from 58% to 21%. 
Courses Beverage
Nutrition Facts
Serving Size 1/2 cup
Amount Per Serving

Calories 432

% Daily Value

Total Fat 37.5 g

58%

Saturated Fat 29.6 g

148%

Unsaturated Fat 1.8 g

Sodium 137.5 mg

6%

Total Carbohydrates 21.4 g

7%

Dietary Fiber 1.7 g

7%

Sugars 14.8 g

Protein 1 g

2%
* Percent Daily Values are based on a 2,000 calorie diet. Your daily values may be higher or lower depending on your calorie needs.