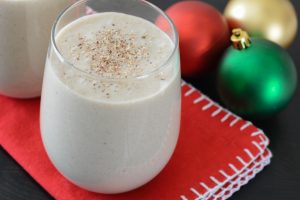 Holiday Nog
Yield 8 Servings
Free of: gluten and top 8 allergens.
The holidays would be incomplete without eggnog. Enjoy a variation of the traditional eggnog recipe. Holiday Nog is a beverage that everyone can enjoy. 
Ingredients
1 (13.5 ounce) can full-fat coconut milk
2 cups alternative milk of choice
3 tbsp pure maple syrup OR 4-6 Medjool dates, pitted and soaked (see recipe notes)
1-1/2 tsp ground cinnamon
1/2 tsp freshly zested nutmeg, using a microplane zester (see recipe notes)
Pinch fine sea salt
1 tsp pure vanilla extract
1 large banana
1/4 tsp xanthan gum OR chia egg (see recipe notes)
Instructions
Place all ingredients in a high speed blender. Start blender on low speed and gradually increase to high. Blend until smooth, approximately 60 seconds.
Transfer to a clean container. Cover and refrigerate for at least 1 hour. 
Serve as is or add rum, brandy, bourbon or whiskey, for a spirited holiday version.
Top it off with a pinch of freshly ground nutmeg.
Notes
To soak the dates, place in a small bowl and fill with very hot water. The soak time is in the 5 to 30 minute range, depending on the softness of the dates. An older date that is no longer soft will need a longer soak time.
If you can get whole fresh nutmeg, the end result will be well worth it.
We made two batches, one with xanthan gum and the other with chia seeds. We used white organic chia seeds that we ground. To use chia in place of xanthan gum, in a small bowl combine 1 tablespoon chia seeds or 2 teaspoons ground chia seeds with 3 tablespoons boiling water. Stir well and allow the mixture to set for about 5 minutes before adding to blender with other ingredients.
Nutrition facts are based on full-fat coconut milk. If you replace full-fat coconut milk with light coconut milk, calories per serving are reduced to 196. Total fat shrinks from 58% to 21%. 
Courses Beverage
Amount Per Serving

Calories 432

% Daily Value

Total Fat 37.5 g

58%

Saturated Fat 29.6 g

148%

Unsaturated Fat 1.8 g

Sodium 137.5 mg

6%

Total Carbohydrates 21.4 g

7%

Dietary Fiber 1.7 g

7%

Sugars 14.8 g

Protein 1 g

2%
Recipe by Allergy Chefs at https://www.yourallergychefs.com/holiday-nog/