Who doesn't love french toast? It's the perfect weekend comfort food. Traditional french toast consists of slices of bread dipped in a batter of eggs, milk, a little sugar, and flavorings. How can you make a really good french toast without these major food allergens? Here's our allergen-free version.
We've developed several allergen-friendly recipes for french toast that we simply adore. However, this one was created by sheer accident. Last week we set out to make toad in a hole, a.k.a. one-eyed jack, a hole in one, donut egg, popeye eggs, eggs in a basket, or as Joey Tribbiani from our favorite sitcom Friends, refers to it as "Eggs with the bread with the hole in the middle, a la me!" We'd love to hear what you call it!
When developing recipes, it's not often they come out perfect on the first try. Some recipes may take up to a week of testing and some are born by accident as was this one. We are happy our development brought about this recipe. Even though we are putting toad in the hole back on the development table, we look forward to sharing it down the road.
Choosing the Bread
There are many types of bread perfect for french toast. White pullman bread is a standard. However, French bread, challah, Texas toast, cinnamon and whole-grain breads are also popular. French toast in its essence is all about using up old, stale bread.
Day old bread has had a chance to firm up, which makes the slices hold up better when dipped in batter. Keep in mind that some gluten-free and allergen-free breads have a short shelf life if not stored in the freezer, as the bread from New Cascadia, our favorite bakery in Portland, Oregon. Look for a loaf with a soft, tight crumb.
The ideal thickness of the bread are one-inch slices. Thin slices of bread tend to fall apart and get mushy when soaked too long. Therefore, if using pre-sliced bread on the thinner side or fresh bread, it is best to oven-dry first. This delivers a toasty outside that yields to a moist, but not soggy center.
Bake bread slices on a wire rack at 275 degrees F for six minutes on each side. This prevents excess moisture in the bread while keeping the breads flavor. Some crusty artisan loaves are better fresh or just slightly stale. Fully stale loaves of crusty artisan breads lack fresh flavor and have a hard time soaking up liquid, making the french toast less creamy.
Keep in mind that soaking times will vary from bread to bread, and the most common fault in making french bread is not soaking the bread long enough to allow the batter to penetrate. Therefore, experiment with your favorite bread to find the perfect soaking time.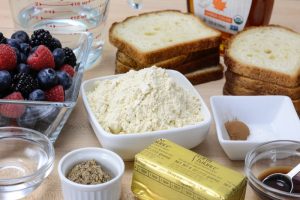 Batter Up
Milk is the traditional liquid, mixed with eggs in various proportions. Some versions include cream or sour cream. This version takes french toast to a whole new level, free from the top 8 allergens.
Flaxseed meal and water are a great substitution for eggs. Below are two pictures of the flaxseed meal and water being combined. Garbanzo bean flour and water are then added to the flax eggs to complete the liquid.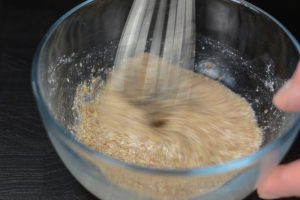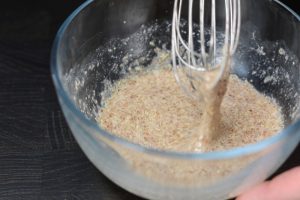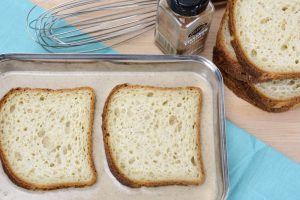 Yummy Flavorings
Vanilla extract and cinnamon bring out a richness of flavor in french toast. Other yummy ingredients include nutmeg, grated lemon or orange zest, rum or brandy.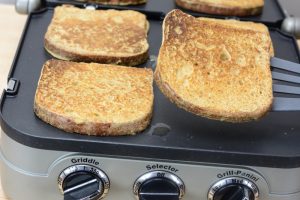 We just love how something so simple can be so scrumptious. This recipe is perfect with all sorts of toppings. We chose seasonal berries with pure maple syrup.
Other winners are sliced bananas and sunflower butter or simply peaches. It's a perfect recipe for adding whatever seasonal fruits you want to make it your own.
Cooking times will vary depending on the equipment used. For example, when we cook in our cast iron skillet over medium heat, it only takes a minute on each side. Yet it takes 2 minutes on each side on our electric griddle set at medium-high heat. Enjoy!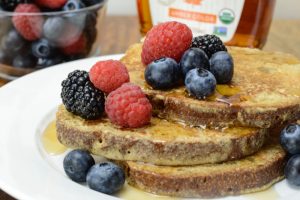 Print
French Toast
Yield 4 Servings
Free of: gluten and top 8 allergens.
French toast is the perfect comfort food for a weekend breakfast or brunch. Choose your favorite toppings to make it your own.
Ingredients
Ingredients
1 tbsp flaxseed meal
3 tbsp lukewarm water
1 cup garbanzo bean flour
1/2 tsp ground cinnamon
1/2 tsp kosher or sea salt
1/2 tsp vanilla extract
1 cup water
8 slices allergen-friendly bread
1 pint fresh berries
4 tbsp dairy-free, soy-free margarine, optional
1/2 cup pure maple syrup or agave nectar
Instructions
Preheat a skillet or nonstick griddle over medium-high heat.
In a small bowl, whisk together the flaxseed meal and water. Let stand for 5 minutes and whisk again; it will be gelatinous. Set aside.
In a medium bowl, combine the flour, cinnamon and salt.
Again whisk the flaxseed mixture and add to the flour mixture along with vanilla.
Whisk in water 1/3 cup at a time. The batter will be thick.
Pour batter into a shallow pan.
Dunk each slice of bread into batter, soaking each side. Gently shake off excess batter and place bread slices onto hot, lightly greased skillet. Cook until golden, about 1 - 2 minutes. Flip bread over and cook until other side is golden, approximately 1 - 2 minutes. Repeat with remaining bread slices. Batter will thicken as it sits. Add 1 tbsp water as needed to thin batter.
Serve hot with fresh berries or seasonal fruit, margarine and pure maple syrup or agave nectar.
Notes
We used Follow Your Heart Gluten-Free Brioche which is vegan, nut & soy free.
Garbanzo bean flour is also known as chickpea flour, gram flour, besan flour and cici flour.
One of the earliest versions of french toast has been traced back to the Roman Empire. Called Pan Dulcis, Romans would soak bread in a milk mixture, sometimes with eggs, then fry in oil or butter.
In France they call this pain perdu, or "forgotten bread".
In England, french toast is called "Poor Knights of Windsor".
French toast is a.k.a. eggy bread, Bombay toast, German toast, gypsy toast and torrija.
Courses Breakfast & Brunch