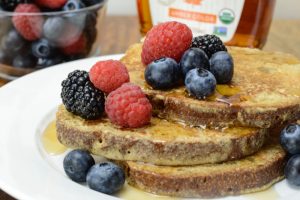 French Toast
Yield 4 Servings
Free of: gluten and top 8 allergens.
French toast is the perfect comfort food for a weekend breakfast or brunch. Choose your favorite toppings to make it your own.
Ingredients
Ingredients
1 tbsp flaxseed meal
3 tbsp lukewarm water
1 cup garbanzo bean flour
1/2 tsp ground cinnamon
1/2 tsp kosher or sea salt
1/2 tsp vanilla extract
1 cup water
8 slices allergen-friendly bread
1 pint fresh berries
4 tbsp dairy-free, soy-free margarine, optional
1/2 cup pure maple syrup or agave nectar
Instructions
Preheat a skillet or nonstick griddle over medium-high heat.
In a small bowl, whisk together the flaxseed meal and water. Let stand for 5 minutes and whisk again; it will be gelatinous. Set aside.
In a medium bowl, combine the flour, cinnamon and salt.
Again whisk the flaxseed mixture and add to the flour mixture along with vanilla.
Whisk in water 1/3 cup at a time. The batter will be thick.
Pour batter into a shallow pan.
Dunk each slice of bread into batter, soaking each side. Gently shake off excess batter and place bread slices onto hot, lightly greased skillet. Cook until golden, about 1 - 2 minutes. Flip bread over and cook until other side is golden, approximately 1 - 2 minutes. Repeat with remaining bread slices. Batter will thicken as it sits. Add 1 tbsp water as needed to thin batter.
Serve hot with fresh berries or seasonal fruit, margarine and pure maple syrup or agave nectar.
Notes
We used Follow Your Heart Gluten-Free Brioche which is vegan, nut & soy free.
Garbanzo bean flour is also known as chickpea flour, gram flour, besan flour and cici flour.
One of the earliest versions of french toast has been traced back to the Roman Empire. Called Pan Dulcis, Romans would soak bread in a milk mixture, sometimes with eggs, then fry in oil or butter.
In France they call this pain perdu, or "forgotten bread".
In England, french toast is called "Poor Knights of Windsor".
French toast is a.k.a. eggy bread, Bombay toast, German toast, gypsy toast and torrija.
Courses Breakfast & Brunch
Recipe by Allergy Chefs at https://www.yourallergychefs.com/french-toast/