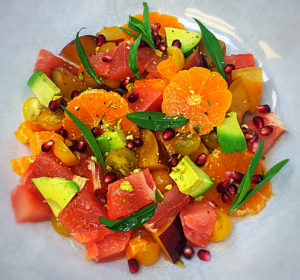 We're excited to share Chef Mark Allison's recipe for his refreshing chopped spring fruit salad, especially with citrus still in abundance.
While Joel was teaching food allergy safety at each of the Johnson & Wales campuses, he had the pleasure of meeting Chef Mark at the Charlotte, North Carolina campus.
We're pleased to introduce you to Chef Mark Allison, the chef that created healthy recipes on the set of films such as Star Wars, Cars 3, The Incredibles 2, and Beauty and the Beast…
Where It All Began
When Mark's father was not working his day job at a factory in Northern England, he loved to tend to the vegetable garden. Mark's mother was – among many other things – a talented cook, and she prepared dinner every night for the family.
Mark left school at the age of 16 to become a chef. After working and traveling throughout Europe during his late teens and early twenties, he returned  to school to complete his education. Chef Allison studied culinary arts, education, and business, eventually earning an MBA from Leicester University.
At 30, Chef Allison became a teacher of culinary arts at Neath Port Talbot College in South Wales. This is where he met the woman who would become his wife and mother of his children, Alison Davies. Yes, Alison kept her last name so she would not become Alison Allison. 🙂
In 1999, their 14-month-old son Matthew was diagnosed with type 1 diabetes. Chef Allison adjusted his family's eating habits to accommodate baby Matthew's dietary needs for blood sugar control – cutting back on meat, dairy, salt, sugar, and processed foods and focusing more on plant-based foods.
Chef Allison joined Johnson & Wales University in 2004 as a teacher and became the dean of the college of culinary arts in Charlotte, North Carolina in 2008.
Unfortunately, Chef Allison also found out in 2008 that his wife had stage-four carcinoid cancer. The prognosis was not good; the doctors said she had just three to four years to live – at most. Chef Allison became even more focused on providing plant-based nutrition for his family, and he carried this philosophy over into his work as well.
Alison Davies passed away on March 19, 2015; almost eight years after doctors gave her a prognosis of just four years to live. Chef Allison believes that their family dedication to plant-based eating helped his wife live as long as she did, as well as living her life vibrantly and happily.
Chef Allison created his blog in memory of his beautiful wife, and he fills it with recipes he enjoys at home with his three sons.
From Johnson & Wales, Chef Allison became the director of culinary nutrition for the Dole Food company, writing healthy recipes for the Dole/Disney partnership on films such as Star Wars, Cars 3, The Incredibles 2 and Beauty and the Beast.
Currently, Chef Allison is the Executive Chef of Culinary Innovation at the Cabarrus Health Alliance. Chef Allison travels across America presenting and teaching preventative health and wellness classes through good food choices and healthy eating practices.
We hope you enjoy Chef Mark's refreshing citrus salad, which takes the mundane salad to new heights that we think everyone will love!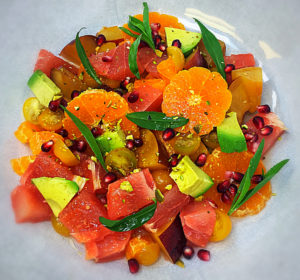 Print
Chopped Spring Fruit Salad
Yield 4 Servings
Free of: gluten and top 8 allergens.
Taking the mundane salad to new heights!
Ingredients
2 oranges, peeled and cut into thick chunks or slices (reserve juices)
1 pink grapefruit, peeled and cut into thick chunks or slices (reserve juices)
1 cup pomegranate seeds
1/2 cup baby yellow tomatoes, halved
1 lime, juice and zest of
2 tbsp citrus juice (from the reserved juices from the cut grapefruit and oranges)
1 avocado, pit removed and cut into chunks (see recipe notes)
1/4 cup raw sunflower seeds (if pistachios are not an issue, substitute unsalted pistachio nuts, slightly crushed)
1/2 cup allergy-friendly yogurt
2 tbsp freshly chopped tarragon leaves
Instructions
Place the chopped oranges and grapefruits, pomegranate seeds, and tomatoes into a large salad bowl.
In a small bowl, add the juice and zest of lime with the citrus juice. Gently toss in the avocado, carefully mixing with the juices to cover the avocado chunks to help prevent discoloration.
Add the avocado to the citrus salad. Sprinkle with pistachios or sunflower seeds.
Whisk together yogurt and chopped tarragon. Drizzle on or serve alongside the salad.
Salad lovers around the world...enjoy!
Notes
How to cut, pit, and dice avocados
Cut the avocado lengthwise around the pit or seed. Open the two halves to expose the pit.
Here are 3 options in removing the pit:
(1) Use a spoon to gently scoop out the pit, or (2) make another cut, lengthwise on the avocado that has the pit, cutting around the pit, making it easier to remove. (3) Probably the most popular method is to gently tap the pit with a knife until the knife edge wedges into the pit, without cutting all the way through. With the edge of the knife, carefully twist the pit out of the avocado and compost or discard the pit. Please keep in mind that this method requires care to avoid knife cuts. 
To make it easier to cut avocado cubes, before removing the skin or peel, take a knife and gently make cuts lengthwise and then crosswise, being careful not to cut through the peel. Using a spoon, scoop out the avocado chunks from the shell.
Courses Soups & Salads