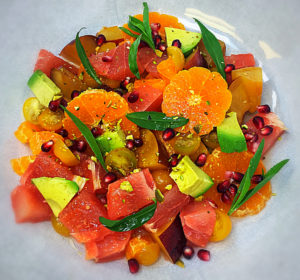 Chopped Spring Fruit Salad
Yield 4 Servings
Free of: gluten and top 8 allergens.
Taking the mundane salad to new heights!
Ingredients
2 oranges, peeled and cut into thick chunks or slices (reserve juices)
1 pink grapefruit, peeled and cut into thick chunks or slices (reserve juices)
1 cup pomegranate seeds
1/2 cup baby yellow tomatoes, halved
1 lime, juice and zest of
2 tbsp citrus juice (from the reserved juices from the cut grapefruit and oranges)
1 avocado, pit removed and cut into chunks (see recipe notes)
1/4 cup raw sunflower seeds (if pistachios are not an issue, substitute unsalted pistachio nuts, slightly crushed)
1/2 cup allergy-friendly yogurt
2 tbsp freshly chopped tarragon leaves
Instructions
Place the chopped oranges and grapefruits, pomegranate seeds, and tomatoes into a large salad bowl.
In a small bowl, add the juice and zest of lime with the citrus juice. Gently toss in the avocado, carefully mixing with the juices to cover the avocado chunks to help prevent discoloration.
Add the avocado to the citrus salad. Sprinkle with pistachios or sunflower seeds.
Whisk together yogurt and chopped tarragon. Drizzle on or serve alongside the salad.
Salad lovers around the world...enjoy!
Notes
How to cut, pit, and dice avocados
Cut the avocado lengthwise around the pit or seed. Open the two halves to expose the pit.
Here are 3 options in removing the pit:
(1) Use a spoon to gently scoop out the pit, or (2) make another cut, lengthwise on the avocado that has the pit, cutting around the pit, making it easier to remove. (3) Probably the most popular method is to gently tap the pit with a knife until the knife edge wedges into the pit, without cutting all the way through. With the edge of the knife, carefully twist the pit out of the avocado and compost or discard the pit. Please keep in mind that this method requires care to avoid knife cuts. 
To make it easier to cut avocado cubes, before removing the skin or peel, take a knife and gently make cuts lengthwise and then crosswise, being careful not to cut through the peel. Using a spoon, scoop out the avocado chunks from the shell.
Courses Soups & Salads
Recipe by Allergy Chefs at https://www.yourallergychefs.com/citrus-salad/