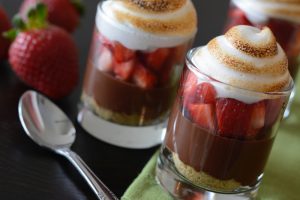 These Chocolate Strawberry Verrines are splendor in a glass.
If you're looking for a fun, hip dessert, look no further. The cookie crumbs, chocolate ganache, strawberries and meringue unite to create this fanciful dessert.
Fresh and fun, they will brighten your table and delight your family and friends.
Whether you call them verrines or dessert shooters, these gorgeous little treats will be a hit for Valentine's Day or any celebration. You can even adapt your favorite desserts to create your own special verrines.
The word verrine comes from verre, French for "glass".
This popular food trend originated in France by chef and pastry chef Philippe Conticini in 1994.
Verrines are appetizers or desserts consisting of a number of components layered artfully in a small glass. The transparency allows you to see each colorful layer.
This relatively new creation has been trendy in America for the past decade and has made a tremendous impact on patisseries around the world.
Being in the pastry field, I am always trying to stay ahead of the trends by reading and studying with great pastry chefs from around the world every chance I get.
I had the privilege of taking many classes from Stéphane Glacier, an MOF (Meilleur Ouvrier de France Pâtissier). He co-authored a beautiful book titled Verrines et Petits-Gâteaux. For a quick explanation of Chef Stéphane's MOF title, MOF competition is held in France every four years. The final competition is narrowed down to 16 French pastry chefs. The blue, white and red striped collar worn on the jackets of the winners is more than the ultimate lifetime recognition for every pastry chef – it is a dream and an obsession.
My First Verrines
At the 2006 Epcot International Food and Wine Festival's, Party for the Senses, I did a trio of desserts called, "Les Verrines", showcasing France's Valrhona Chocolate. It was lots of fun as always and was at the onset here in the U.S. of the mini desserts we call verrines.
The Trend in American Restaurants Started with Seasons 52
Seasons 52, a restaurant chain in the Darden family, focuses on seasonally inspired menus featuring ingredients at their peak of freshness. Founding chef, Clifford Pleau was responsible for putting Mini Indulgences on the menu. This started the mini dessert craze in the restaurant industry.
You may have had Applebee's Dessert Shooters, Olive Garden's Dolcini's or the mini desserts at P.F. Chang's. There are so many more restaurants, fast food locations and coffee shops offering these petit sweet treats.
No doubt we're glad these mini desserts are around. They have a lot going for them. Besides being more affordable, they promote portion control and help prevent overindulgence after a filling meal. Furthermore, they allow guests to satisfy their cravings for something sweet.
Verrine glasses are available online through Amazon and other companies. JB Prince has a wide variety of glasses, including disposables, which are perfect for potlucks. Here are some examples of verrine glasses.
Let's Make Ganache
Classical ganache is the divine blending of pure chocolate and cream. It can also include butter, liqueur or other flavorings. Any bittersweet, semisweet or dark chocolate may be used.
The ganache below is made from Enjoy Life's Mini Chips, which worked like a charm. We made several other batches of ganache with other couvertures, sweet chocolate containing no added fats other than natural cocoa butter. It was definitely worth paying the higher price for the high quality chocolate!
Start by melting coins or finely chopped chocolate in a double boiler, stirring occasionally. Notice the water in the saucepan is only a couple of inches deep. The bowl of chocolate should not be in direct contact with the water. Once you place the bowl on the saucepan, lower the heat so the water is gently simmering.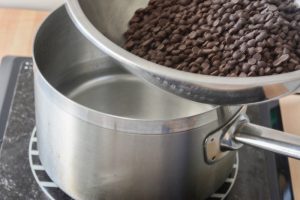 When the chocolate is melted, stir in warmed hemp milk. If the hemp milk is cold, this will cause the chocolate to resolidify and lump. Stir the ganache with a rubber spatula or process with an immersion blender to emulsify the milk and chocolate. Using a whip to whisk the ganache is faster, but the ganache may be grainy and less creamy. However, with the ganache using Enjoy Life mini chips, I finished using the whip just briefly and had great results.
Set ganache aside to cool for approximately one hour, stirring occasionally.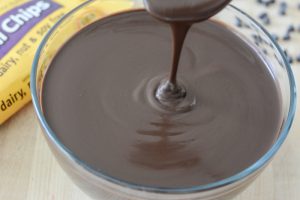 While the ganache is cooling, crush graham or cookie crumbs of choice. Layer crumbs in verrine or shot glasses, followed by the cooled ganache. Place in refrigerator for approximately 30 minutes to firm up ganache before adding strawberries.
Dice strawberries and remove verrines from fridge. Fill glasses almost to the top. It's that easy! Store in refrigerator until about 30 minutes before serving. Now you can allow the ganache to warm up slightly while topping verrines with meringue or whipped topping of your choice.
We love to have parties with verrines as the sweet ending. Sometimes it's hard to decide what to have for dessert. With verrines, you can offer one or several of your favorite desserts.
It's as easy as making your favorite cake and icing. Layer the cake and icing alternately in the mini glasses. Try it with s'mores or key lime pie. Just about whatever you can think of for a dessert can go in a glass.
Enjoy this Chocolate Strawberry Verrine, as elegant as it is easy to prepare!
Tidbits
Water is an enemy of chocolate, causing it to seize up.
Ganache is wonderful and can be used as a filling, icing or glaze-type coating on cakes, pastries, cookies and brownies.
Store leftover ganache in the refrigerator. Ganache can be reheated over a hot water bath, or gently in a microwave at 5 second intervals.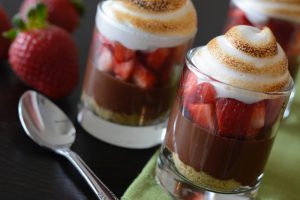 Print
Chocolate Strawberry Terrines
Yield 8 Verrines
Free of: gluten and top 8 allergens.
If you're looking for a fun, hip dessert to serve at your next party, look no further. The cookie crumbs, chocolate ganache, strawberries and meringue unite to create a delightful dessert.
Ingredients
1 cup (6 ounces) semi-sweet chocolate mini chips, such as Enjoy Life (see recipe notes)
1/2 cup alternative milk, such as unsweetened hemp milk
1/2 cup allergy-friendly graham cracker or cookie crumbs (see recipe notes)
1 cup diced fresh strawberries
1/4 cup aquafaba (see recipe notes)
1/8 tsp cream of tartar
1/4 cup granulated sugar
Instructions
For the ganache, place chocolate in a medium stainless steel bowl. Fill a medium saucepan with about 3-inches of water. Bring the water to a boil. Reduce heat to low and place the bowl of chocolate over the saucepan. The bowl should sit nicely in the saucepan without directly touching the water. Gently stir the chocolate until melted, monitoring the water to ensure it's not boiling, but gently simmering. Turn off heat and remove bowl from saucepan.
Heat hemp milk in a small saucepan or microwave just until warm. Stir warm milk into melted chocolate. Gently stir until smooth or combine using an immersion blender. Whisking does the job quicker, but may result in a slightly grainy or less creamy ganache. This ganache with Enjoy Life Mini Chips was finished with the whisk, which helped emulsify the chocolate and milk. Set ganache aside at room temperature for 1 hour to allow it to cool and thicken slightly.
 Place one tablespoon of cookie crumbs in each (3-ounce) verrine or shot glass. Press crumbs down and set aside.
After ganache has cooled and thickened, portion 2 tablespoons of ganache into each shot glass over the crumbs. Place shot glasses in refrigerator to allow ganache to firm up for at least 45 minutes.
Remove shot glasses from refrigerator. Portion 2 tablespoons of dice strawberries in each shot glass over the ganache. Return to the refrigerator. This step can be done several hours in advance. However, the meringue should be prepared within an hour of serving.
For the meringue, place aquafaba and cream of tartar in a medium bowl. Using a hand held mixer, mix for one minute on low speed. Increase speed to medium and whip for 3 minutes. Gradually add sugar, a tablespoon at a time. After all the sugar is incorporated, increase speed to high and whip for 8-10 minutes, until very stiff peaks form. You will only need about 1/4 cup meringue, so there will be a little leftover.
Remove verrines from refrigerator. Top with meringue. Torching is optional. You can also use your favorite topping in place of the meringue. 
Notes
Many makers of fine chocolate (couverture), manufacture their chocolate on equipment shared with allergens. However, if you have a favorite chocolate that meets your dietary needs, use 5 ounces of chocolate to the half cup of hemp milk.
Use your favorite graham cracker or cookies to crush and make crumbs for the base. Enjoy Life has a variety of cookies that would be a perfect match for this dessert. We recently came across Nairn's Gluten Free Oat Grahams at Sprout's. Made in Scotland, their packaging does state: May contain traces of milk, tree nuts, or peanuts. However, if these meet your needs, they are the best grahams around!
Drain a 15-ounce can of low-sodium garbanzo beans (chickpeas), reserving the liquid (aquafaba) for use in this recipe. One can should yield slightly more than 1/2 cup of aquafaba.
Courses Sweets