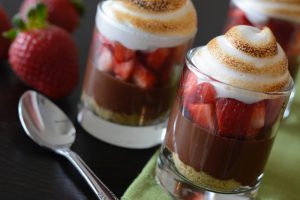 Chocolate Strawberry Terrines
Yield 8 Verrines
Free of: gluten and top 8 allergens.
If you're looking for a fun, hip dessert to serve at your next party, look no further. The cookie crumbs, chocolate ganache, strawberries and meringue unite to create a delightful dessert.
Ingredients
1 cup (6 ounces) semi-sweet chocolate mini chips, such as Enjoy Life (see recipe notes)
1/2 cup alternative milk, such as unsweetened hemp milk
1/2 cup allergy-friendly graham cracker or cookie crumbs (see recipe notes)
1 cup diced fresh strawberries
1/4 cup aquafaba (see recipe notes)
1/8 tsp cream of tartar
1/4 cup granulated sugar
Instructions
For the ganache, place chocolate in a medium stainless steel bowl. Fill a medium saucepan with about 3-inches of water. Bring the water to a boil. Reduce heat to low and place the bowl of chocolate over the saucepan. The bowl should sit nicely in the saucepan without directly touching the water. Gently stir the chocolate until melted, monitoring the water to ensure it's not boiling, but gently simmering. Turn off heat and remove bowl from saucepan.
Heat hemp milk in a small saucepan or microwave just until warm. Stir warm milk into melted chocolate. Gently stir until smooth or combine using an immersion blender. Whisking does the job quicker, but may result in a slightly grainy or less creamy ganache. This ganache with Enjoy Life Mini Chips was finished with the whisk, which helped emulsify the chocolate and milk. Set ganache aside at room temperature for 1 hour to allow it to cool and thicken slightly.
 Place one tablespoon of cookie crumbs in each (3-ounce) verrine or shot glass. Press crumbs down and set aside.
After ganache has cooled and thickened, portion 2 tablespoons of ganache into each shot glass over the crumbs. Place shot glasses in refrigerator to allow ganache to firm up for at least 45 minutes.
Remove shot glasses from refrigerator. Portion 2 tablespoons of dice strawberries in each shot glass over the ganache. Return to the refrigerator. This step can be done several hours in advance. However, the meringue should be prepared within an hour of serving.
For the meringue, place aquafaba and cream of tartar in a medium bowl. Using a hand held mixer, mix for one minute on low speed. Increase speed to medium and whip for 3 minutes. Gradually add sugar, a tablespoon at a time. After all the sugar is incorporated, increase speed to high and whip for 8-10 minutes, until very stiff peaks form. You will only need about 1/4 cup meringue, so there will be a little leftover.
Remove verrines from refrigerator. Top with meringue. Torching is optional. You can also use your favorite topping in place of the meringue. 
Notes
Many makers of fine chocolate (couverture), manufacture their chocolate on equipment shared with allergens. However, if you have a favorite chocolate that meets your dietary needs, use 5 ounces of chocolate to the half cup of hemp milk.
Use your favorite graham cracker or cookies to crush and make crumbs for the base. Enjoy Life has a variety of cookies that would be a perfect match for this dessert. We recently came across Nairn's Gluten Free Oat Grahams at Sprout's. Made in Scotland, their packaging does state: May contain traces of milk, tree nuts, or peanuts. However, if these meet your needs, they are the best grahams around!
Drain a 15-ounce can of low-sodium garbanzo beans (chickpeas), reserving the liquid (aquafaba) for use in this recipe. One can should yield slightly more than 1/2 cup of aquafaba.
Courses Sweets
Recipe by Allergy Chefs at https://www.yourallergychefs.com/chocolate-strawberry-verrines/