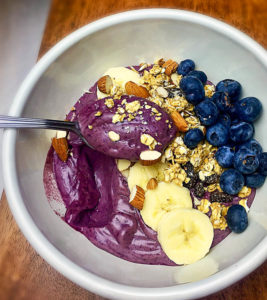 Need a new breakfast idea? This blueberry bowl packs a healthy punch!
Busy with his three boys, recipe development, and food studies with scientists and athletes working on endurance, performance and recovery, we welcome Chef Mark Allison for another exciting week as he shares his journey into healthy eating and the power of plants…
Chef Mark, we have one question we know you get a lot. What do you eat on a daily basis that gives you such good health and energy?
Chef Mark: 
Having been involved with food my entire life, I have to say that answer has evolved for the better over the years. I once had a real sweet tooth, for example, and now I rarely want anything that contains added sugar.
There was a time I ate a lot of processed foods, but now 80 percent of my diet is based on one ingredient, nutrient dense foods.
80:20
The simple rule of thumb for me is the 80:20 rule. 80% of the time I eat one ingredient foods mixed together with other one ingredient foods and 20% of the time prepared foods containing more than one ingredient.
One Ingredient Foods
What do I mean by a one ingredient food? Well, an apple is an apple. There are no added additives, preservatives, colorants, sugar, salt or fat.
The other 20% of the foods I consume might contain more than one ingredient such as bread. However, I buy bread from my local baker, freshly made with a handful of natural ingredients.
The bottom line is that I try my very best to avoid commercially over-processed foods that you find stacked on grocery shelves for myself and my boys.
One Ingredient Focus in Real Life
I'm up at 5 am. The first thing is a glass of water with lemon or lime, and then off to the gym. I've found mornings are my only option for working out. Back home, I shower followed by a giant smoothie of mainly vegetables and fruits to help with recovery and energy. Then I hit the road with the boys, dropping them off at school.
I'm at work by 8 to tackle recipe development, presentations, meetings and food studies with scientists and athletes working on endurance, performance and recovery.
I love one bowl meals for lunch. I'm really into fresh pho or ramen dishes with lots of vegetables and herbs. If I'm not too hungry, I'll snack on hummus or avocado dip with vegetable sticks, roasted kale chips or spiced chickpeas.
Every night of the week, dinner time is my favorite as I get the boys cooking, and we all sit around the kitchen table and eat together – this undoubtedly is the highlight of my day. During the week I leave work at 5 pm most days. Just before I leave I text the boys with the following instructions, "Walk Molly (our dog), empty the dishwasher, set the table, and peel the vegetables. I'll be home around 5:30. Love, dad".
The food changes daily, so I always plan the meals on the weekend, which saves on time, money, and stopping at the grocery store on the way home.
My best advice is to cook at home. That is the only way to know what you are eating and that you are using as many one ingredient items as possible in your recipes. If you are like me, over time you'll discover a whole new way of eating that's healthy and nutrient dense and will make you feel great. If you feel great, you will look great and have a positive attitude.
That's my story, what about yours?
Did You Know?
Research shows that flexitarians – those who make plant foods the star of their diet, with meat, fish, dairy, and eggs playing a supporting role – are healthier than frequent meat eaters in categories such as colon cancer and heart disease risk, and overall mortality.
We're not saying to give up your steak, barbecue chicken, or pork tacos. However, just making a shift to a more plant-based diet can offer significant health benefits.
Chef Joel's Tips
Add more fruits and vegetables to your daily routine.
Redesign your plate. Fill at least half your plate with produce, grains or beans, and downsize your meat serving.
Pick the healthiest meats. Decrease the amount of processed meats you eat, such as bacon, deli meats, hot dogs, and sausage. If you do eat red meat, it's best to stick to small amounts of lean cuts, such as sirloin and top round. Choose meats from grass fed cattle raised on organic pastures.
We hope you enjoy this super berry bowl. It's perfect for breakfast, and we think it makes a great dessert!
Visit Chef Mark's blog, which he created in memory of his beautiful wife Alison Davies, filled with simple, delicious and nutritious recipes he enjoys at home with his three sons.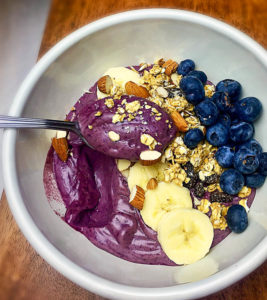 Print
Blueberry Bowl
Yield 1-2 Servings
Free of: gluten and top 8 allergens.
A super smoothie bowl!
Ingredients
1 cup frozen blueberries
1 banana
1 tbsp water
1 tbsp sunflower seed butter (see recipe notes)
1/2 tsp vanilla extract
Toppings, such as seeds, fruit and berries, granola, or coconut
Instructions
Blend all the ingredients on low speed until smooth.
Pour into your breakfast bowl and top with your favorite mix of seeds, fresh fruit and berries, granola or unsweetened shredded coconut. If tree nuts are not an issue, add your favorites.
Notes
If tree nuts are not an issue, you can substitute almond butter for the sunflower seed butter.
Courses Breakfast & Brunch