Skip the store-bought and throw together this easy, homemade granola.
Granola is healthier, tastier and less expensive when made at home.
Have you ever lingered in the granola aisle, unable to find the perfect granola that isn't loaded with refined sugar and hydrogenated oil, and one that is free from allergens?
Look no more!
Countless Eats
Granola is a delicious breakfast treat with pancakes, yogurt, fresh berries, or milk and bananas.
How about granola on ice cream, baked apples, crepes or in muffins? The ideas are endless.
Fuel up your hiking and camping adventures with granola.
We love that we can pack this on-the-go snack and have a safe traveling treat when we're driving or flying.
Time for Granola
Steps for making this granola start by toasting coconut.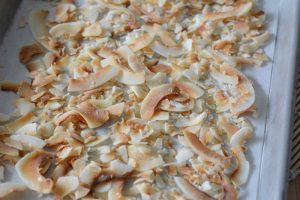 Gluten-free oats, pumpkin seeds, cinnamon and salt are combined in a large bowl. The oil and honey or maple syrup are whisked together and tossed with the oat mixture to coat well.
Spread on a baking sheet, the mixture is baked for about 20 minutes.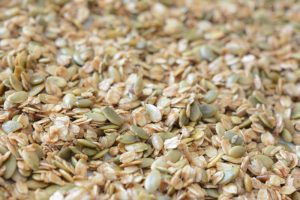 When the oats and seeds are completely cooled, coconut and dried fruit are added for a wonderful treat that can be stored in an airtight container for up to 2 weeks.
Start Your Morning with a Smile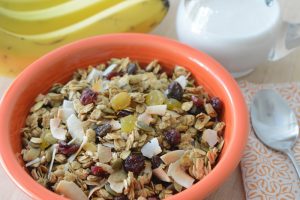 For a quick and easy breakfast, enjoy your granola with fresh bananas and milk or…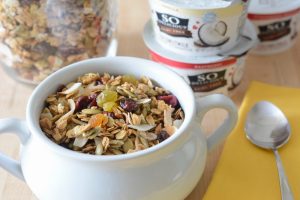 with your favorite dairy free yogurt!
We've made this granola free from the top 8 allergens, but feel free to substitute almonds or cashews for some or all of the pumpkin seeds if they're not an issue.
There's not one diet that fits all. We'd love to hear how you customize your granola.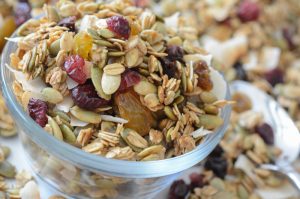 Print
Toasted Coconut and Pumpkin Seed Granola
Yield 5 cups
Free of: gluten and top 8 allergens.
Homemade granola couldn't be easier than with this delicious healthy recipe. This breakfast and snack food can also be used as a topping for various pastries and desserts.
Ingredients
1 cup unsweetened flaked coconut, such as Bob's Red Mill
2 cups gluten-free old fashioned rolled oats, such as Bob's Red Mill
1 cup raw pumpkin seeds
1/4 cup raw sunflower seeds (can replace with pumpkin seeds)
1/4 tsp ground cinnamon
1/4 tsp Kosher salt
2 tbsp grapeseed oil
1/4 cup maple syrup or honey
1/2 cup dried cranberries
1/2 cup golden raisins
Instructions
Preheat oven to 350-degrees F. Line a 12x17-inch baking sheet with parchment paper or a silicone baking mat. Evenly spread coconut flakes on the sheet and toast until lightly browned, approximately 4-6 minutes. Toasting time depends on oven. Remove from oven and set aside to cool, leaving oven on.
In a large bowl, toss together oats, pumpkin seeds, sunflower seeds, cinnamon and salt. 
In a small bowl, whisk together oil and maple syrup or honey. Drizzle into oat mixture and toss until oat mixture is well coated.
Spread mixture onto a lined 12x17-inch baking sheet. Bake until golden brown, approximately 20 minutes, stirring halfway through.
Remove from oven and let cool completely, without stirring.
In a large bowl, add cooled oat mixture, toasted coconut, cranberries and raisins. Toss gently and mix until evenly distributed. Store in an airtight container for up to 2 weeks. 
Notes
We like to store granola in a large mason jar. We found that storing for several days in a ziplock bag will not keep the granola at its peak of freshness.
Courses Breakfast & Brunch