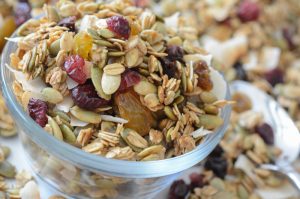 Toasted Coconut and Pumpkin Seed Granola
Yield 5 cups
Free of: gluten and top 8 allergens.
Homemade granola couldn't be easier than with this delicious healthy recipe. This breakfast and snack food can also be used as a topping for various pastries and desserts.
Ingredients
1 cup unsweetened flaked coconut, such as Bob's Red Mill
2 cups gluten-free old fashioned rolled oats, such as Bob's Red Mill
1 cup raw pumpkin seeds
1/4 cup raw sunflower seeds (can replace with pumpkin seeds)
1/4 tsp ground cinnamon
1/4 tsp Kosher salt
2 tbsp grapeseed oil
1/4 cup maple syrup or honey
1/2 cup dried cranberries
1/2 cup golden raisins
Instructions
Preheat oven to 350-degrees F. Line a 12x17-inch baking sheet with parchment paper or a silicone baking mat. Evenly spread coconut flakes on the sheet and toast until lightly browned, approximately 4-6 minutes. Toasting time depends on oven. Remove from oven and set aside to cool, leaving oven on.
In a large bowl, toss together oats, pumpkin seeds, sunflower seeds, cinnamon and salt. 
In a small bowl, whisk together oil and maple syrup or honey. Drizzle into oat mixture and toss until oat mixture is well coated.
Spread mixture onto a lined 12x17-inch baking sheet. Bake until golden brown, approximately 20 minutes, stirring halfway through.
Remove from oven and let cool completely, without stirring.
In a large bowl, add cooled oat mixture, toasted coconut, cranberries and raisins. Toss gently and mix until evenly distributed. Store in an airtight container for up to 2 weeks. 
Notes
We like to store granola in a large mason jar. We found that storing for several days in a ziplock bag will not keep the granola at its peak of freshness.
Courses Breakfast & Brunch
Recipe by Allergy Chefs at https://www.yourallergychefs.com/toasted-coconut-and-pumpkin-seed-granola/