Get ready as sorghum prepares to take us by storm.
This grain which originated in Egypt 4,000 years ago, could be the world's most versatile crop. A staple food in India, Africa, China and other countries for centuries, sorghum is becoming more and more recognized in the United States for its diversity in food.
We love cooking with sorghum and are excited about sharing one of our favorite grains, which packs a healthy punch.
Get hooked on sorghum with this Thai Sorghum Bowl!
Sorghum's Versatility
Sorghum is used around the world in porridges, stews, flatbreads, tortillas and beverages. It's also made into sugars and syrups, and malted like barley in the production of beer. For those popcorn lovers, you can even pop sorghum and make your favorite flavors.
One of the growing commercial uses in the U.S. for sorghum is in gluten-free flours. It best imitates wheat in texture and taste. Flour blends that contain sorghum flour are outperforming the blends from the early days of gluten-free baking. This mighty grain has come center stage in recent years with the increase of celiac disease, gluten sensitivities and those following a gluten-free diet.
Sorghum has a lot more going on than just being gluten-free. This easy to grow, drought tolerant crop is environmentally friendly.
More Beneficial Than Blueberries 
According to a study from the University of Georgia, certain varieties of sorghum bran have greater antioxidant and anti-inflammatory properties than foods such as blueberries and pomegranates. This healthy grain retains the majority of its nutrients since it doesn't have an inedible hull like many other grains.
In addition, sorghum is a great source for protein, iron, vitamins and minerals.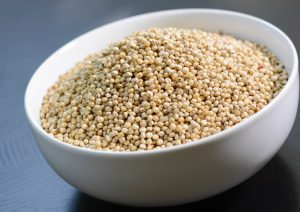 The Oldways Whole Grains Council organized a conference in Chicago in 2016, focusing on whole grains in foodservice. Chef Coleen Connelly from InHarvest did a demo using sorghum. InHarvest supplies top chefs and restaurants worldwide with sustainably sourced whole grains, rice and legumes. Her stir-fried sorghum bowl contained top allergens, including peanut butter, soy sauce and tofu.
We couldn't wait to get home and make this bowl allergy-friendly. We adapted Chef Coleen's Thai sauce and give her the credit for an amazing sauce! The bowl is so good that we make it at least once a month.
Gather your mise en place, and let's talk about cooking sorghum.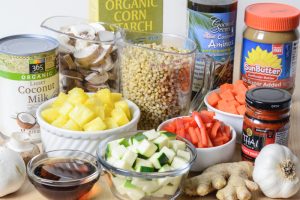 Cooking Sorghum
Different manufacturers give varying ratios of sorghum to water when cooking. We like to use a ratio of one cup whole grain sorghum to four cups of water, because of the long cooking time. Besides, any excess liquid is drained at the end of the cooking process.
Start by rinsing the sorghum and placing in a pot with the water. Avoid using a large pot if cooking small amounts, as water will evaporate quickly. Bring to a boil, reduce heat to a simmer and cook until grains are tender and still chewy. This takes a good hour. Taste at the end of the cooking process to make sure it's done. And finally, drain excess liquid.
One cup of dry whole grain sorghum yields approximately 2-1/2 cups cooked.
Cooking in Bulk
Some manufacturers recommend adding a teaspoon of oil per cup of uncooked sorghum, suggesting the oil will help the grain retain its moisture, especially if you'll be freezing it in batches. We've not tried it, but have always had great success with freezing sorghum without adding oil.
The great thing is that sorghum can be frozen and reheated without losing its great taste and texture. Cook a batch, cool and divide into freezer containers or bags and freeze for later use.
Tidbit
Sorghum can take up to an hour to cook, so cooking and freezing this grain in bulk is almost a necessity to be able to incorporate it easily into a busy weeknight dinner rotation.
What an easy way to add sorghum to your weekly meal plan!
Today, thanks to American farmers, sorghum can be enjoyed in your favorite foods.
Embark on a journey through ancient times. Try sorghum in salads, soups, pilaf, casseroles, stir-fries and in this delicious Thai bowl.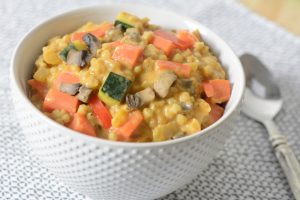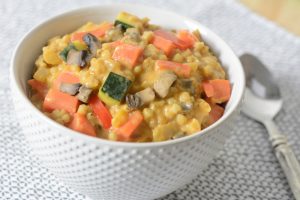 Print
Thai Sorghum Bowl
Yield 4 Servings
Free of: gluten and top 8 allergens.
There's no denying that meals just taste better in a bowl. This amazing Thai sauce was adapted from a recipe from InHarvest Chef, Coleen Connelly.
Ingredients
Sauce 
1 cup canned "light" coconut milk
1 tbsp Thai red curry paste
1/3 cup creamy sunflower butter
1 tbsp coconut aminos (see recipe notes)
3 tbsp pure maple syrup
1 tbsp minced garlic
1 tbsp minced fresh ginger
1 tsp corn starch
Bowl
8 ounces diced white or cremini mushrooms, approximately 2 cups
3/4 cup red bell pepper, cored, thinly sliced and cut crosswise into 1-inch strips
1 cup chopped zucchini
1-1/2 cups diced fresh pineapple (see recipe notes)
3 tbsp water
2 cups cooked sorghum
1 cup diced carrots, steamed (see recipe notes)
Instructions
Whisk all the sauce ingredients together and set aside.
In a medium saucepan, cook the mushrooms over medium heat for approximately 5 minutes, adding a tablespoon of water at the beginning if necessary to prevent mushrooms from sticking.
Add bell pepper, zucchini and pineapple. Add water and cook for 3 minutes. 
Increase heat to medium-high. Add sorghum and sauce. Bring to a simmer. Lower heat to medium-low and simmer for 5 minutes, stirring frequently to prevent bottom from burning.
Add carrots and cook for 2 minutes, just to warm them up.
Serve and enjoy!
Notes
If soy is not an issue, you can use tamari in place of coconut aminos. However, if you haven't tried coconut aminos, check it out. Not only does coconut aminos bring many health benefits, it contains roughly two-thirds less salt than soy sauce.
Sometimes it's hard to find the perfect ripe pineapple. We have tried this with canned crushed pineapple that we drained, reserving the juice. Measure out 1-1/2 cups crushed pineapple. Replace the 3 tablespoons of water with 3 tablespoons of the pineapple juice. 
Peel and trim carrots. Cut each carrot crosswise into approximately 3-inch pieces. Cut each piece in half lengthwise. (If the carrots are extra large, cut in half lengthwise again). Cut sticks crosswise into equal-sized cuts, approximately a quarter of an inch thick. You can cook carrots in a pot of boiling water until tender. Or you can steam in a steamer basket over simmering water with a lid until tender, approximately 5-6 minutes. The carrots should be crisp-tender.  
We love the colors and combination of the vegetables we used, but we change it up seasonally and with what we have onhand. Cauliflower, broccoli and asparagus make great substitutions. 
Courses Mains