Doesn't everyone love a good lasagna? You can freeze it or reheat it and the leftovers will keep you smiling for days.
You probably have a go-to lasagna recipe, but we guarantee this will become one of your favorites.
Going meatless doesn't mean giving up flavor. Kale, artichokes, mushrooms, sweet potato puree, tomato sauce and lots of cheeze put this hearty vegetable lasagna on top.
Check out 7 helpful suggestions for freezing lasagna, baked or unbaked.
This past week we got a question from a reader asking if you can freeze lasagna. We thought it was a great question and since we're making lasagna, why not share the information.
Tidbits and Techniques
When freezing baked lasagna or the leftovers, make sure it has cooled 100%. If not, the texture will be compromised. We chill ours in the fridge for several hours before freezing.
If you decide to freeze the lasagna before baking, assemble according to recipe instructions without baking. For example, if you were freezing this lasagna, you would make the sweet potato puree, steam the kale and cook the mushrooms. If you were using ground meat, you would cook meat according to recipe instructions.
When freezing a lasagna made with ground meat, we would not suggest using a ground meat that has previously been frozen. Instead, use fresh ground meat. For food safety purposes, it's best not to freeze and thaw twice as the risk of food borne illness increases.
Cover the lasagna with several layers of freezer-safe plastic wrap, removing as much air as possible. The excess air condenses and forms ice crystals. We have also found that covering lasagna directly with aluminum foil and freezing has a slight effect on the taste of the lasagna.
To freeze individual portions, double wrap the cooled lasagna in plastic wrap and place in a freezer storage bag.
Label, date and freeze up to 3 months.
To reheat, thaw overnight in refrigerator. Remove plastic wrap from baking dish. Place a piece of parchment paper over the lasagna and cover tightly with aluminum foil. Bake at 350 degrees F for 45 minutes. Uncover and cook an additional 15 minutes, or until cooked through and slightly bubbling.
Mise en Place
The ingredients in this recipe can be prepped a day in advance, with the exception of cooking the noodles. When you're ready to bake the lasagna, just boil the noodles, assemble and bake. It's that easy.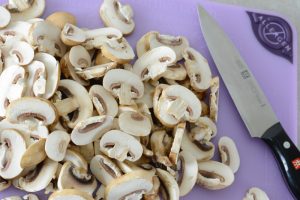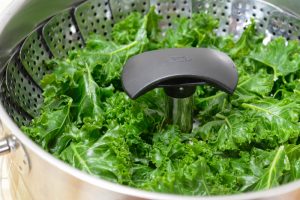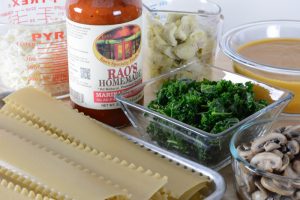 Fresh or Canned
When we developed this recipe, we used fresh sweet potatoes, which we baked and pureed with coconut milk. This is the most time consuming step in the recipe. We tried another batch using canned sweet potato, and guess what? Side by side, no one could tell the difference. The recipe gives instructions for making both ways.

Boiling and Draining the Noodles
Lightly coat a large baking sheet with olive oil. Set aside.
While the noodles are constantly boiling, gently stir often to prevent sticking.
When ready, drain noodles in a colander and rinse under cold water.
Immediately lay out the cooked noodles on baking sheet, gently flipping them over so they are lightly covered with olive oil. This eliminates the frustration of having the noodles stick together and tear while you are assembling.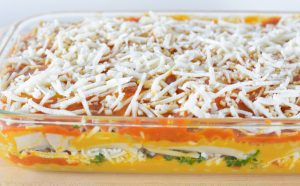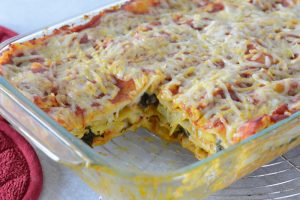 Enjoy this scrumptious lasagna!
And as always, please comment if you have any questions.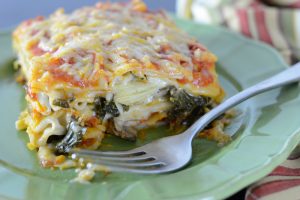 Print
Sweet Potato, Kale, Artichoke & Mushroom Lasagna
Yield 8 Servings
Free of: gluten and top 8 allergens.
Kale, artichokes, mushrooms, sweet potato puree, tomato sauce and lots of cheeze make this hearty vegetable lasagna one that is sure to be a favorite!
Ingredients
16 ounces fresh button or cremini mushrooms, or a combination of both
5 cups firmly packed kale, ribs removed (about 3 ounces)
1 (15-ounce) can sweet potato puree (See Recipe Notes)
3/4 cup lite coconut milk
1/2 tsp kosher or sea salt
14 ounces allergen-free lasagna noodles, such as Tinkyada (See Recipe Notes)
2 (14.1 ounce) cans artichoke hearts, drained and roughly chopped (See Recipe Notes)
24 ounces marinara sauce, such as Rao's
3 cups mozzarella-style cheeze shreds, such as Daiya
Instructions
Clean and slice mushrooms. Heat large saucepan over medium heat, then add mushrooms. To prevent sticking, add a tablespoon of water as needed at the beginning of the cooking process, until mushrooms release their juices. Cook, stirring occasionally, until soft and most of juices have evaporated, about 8 minutes. When mushrooms are cool, place in refrigerator until you are ready to assemble lasagna.
In a medium saucepan, bring about 2 inches water to a boil. Place kale in a steam basket and set in saucepan. Lower heat to a simmer, cover and steam for 4 minutes. Remove steam basket from saucepan and chop kale when cool. Place in refrigerator.
In a small bowl, whisk together the sweet potato puree, coconut milk and salt until smooth. Place in refrigerator.
Steps 1 - 3 can be prepared ahead of time.
When you are ready to assemble the lasagna, lightly coat a large baking sheet with olive oil. Set aside.
Cook noodles according to package directions. Tinkyada noodles will take approximately 10 minutes. The noodles should be slightly undercooked since they will be cooked again in the oven. Drain and rinse under cold water. Lay out noodles on prepared baking sheet to prevent from sticking and tearing during assembly.
Preheat oven to 350 degrees F. 
To assemble, spread 1 cup sweet potato puree on the bottom of a (13x9x2-inch) casserole or lasagna dish. Arrange a layer of noodles lengthwise over puree, overlapping by about 1/2-inch.
Spread 1-1/2 cups marinara sauce over the noodles. Top with half of the mushrooms, half of the kale and 1 cup artichokes. Sprinkle with 1 cup cheese alternative shreds.
Arrange a second layer of noodles in opposite direction to first layer, trimming with shears to fit. Spread with remaining sweet potato puree. Top with remaining mushrooms, kale and artichokes. Sprinkle on 1 cup cheeze alternative shreds.
Arrange third layer of noodles lengthwise. Spread remaining 1-1/2 cups marinara sauce over them. Top with 1 cup mozzarella cheese alternative.
Cover lasagna with parchment paper to prevent cheeze from sticking. Then, wrap tightly with foil and bake 40 minutes. Uncover and bake an additional 15 minutes, or until sides are bubbling and lasagna is done.
Notes
If using fresh sweet potatoes, bake 2 potatoes in an oven preheated at 400 degrees F, until done. Baking time should be approximately 1 hour, but depends on the size of the potatoes. They will cook faster if wrapped in foil. When cooked and cooled, cut in half and scoop out flesh. Mash and measure out 1-1/2 cups and place in medium bowl. Add 1/2 tsp salt and 1 cup lite coconut milk and blend until smooth using a hand held mixer. Using fresh potatoes will need more coconut milk than using canned.
Tinkyada noodles come in a 10-ounce package. There are 13 noodles to a pack. For this dish, we used 17 noodles.
You can use canned artichoke hearts or bottoms. If using frozen, you will need 2 (8.5 ounce) packages, thawed. The amount of chopped artichokes should measure 2 cups. 
Courses Mains