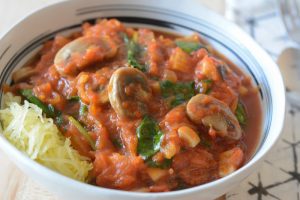 We're not trying to rush fall, but we just finished developing recipes for the fall issue of Allergic Living Magazine. Of course, squash and more squash are the stars.
Spaghetti squash is technically a winter squash, but is readily available now. We had plenty leftover to play with.
We love it. In fact, it's hard to call it our favorite squash with so many good ones, but yes! It's right up there and we couldn't wait until fall to share a super simple recipe we made with just a few ingredients.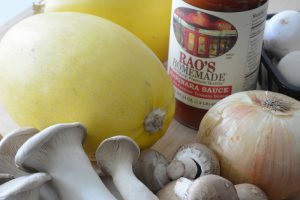 If you have never prepared spaghetti squash before, it's much easier than you might think.
Lengthwise or Horizontal?
Let's look at cutting the squash in half. Some say it should be cut lengthwise for longer "noodles". But some say the best way is to cut it horizontally, for ease. This is a gourd, a bit tough and tricky to cut, so be careful.
We're going lengthwise. First step is to split the squash in half, by cutting from stem to end, without cutting through the stem, which is too tough. When you've cut through the squash, just pull each half apart and one half will pull away from the stem. Scrape out the seeds. Lightly rub olive oil on the inside of the halves and season with salt and pepper.
Place cut side down in a baking dish and bake about 35-40 minutes, until the squash can be easily pierced with a fork. The time depends on the oven and also the size of the squash.
When ready, remove from oven and allow to cool slightly before flipping over.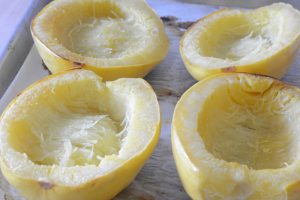 This plant is soooooo…..amazing! Fluff the interiors with a fork and you have "spaghetti" like strands.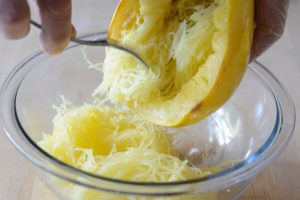 At this point, you can heat up your favorite homemade or purchased marinara sauce to serve over the spaghetti squash noodles. Simple and delicious!
Jazz it Up
Joel's birthday was a couple of weeks ago, and did I get off easy! All he wanted was spaghetti squash marinara with sausage. We used Beyond Sausage, which is plant-based. But, you can use any sausage you like. Another delicious meal in minutes!
The first photo shows marinara with just the veggies served over the spaghetti squash. If we don't have time to make our own marinara, we buy Rao's.
Below, we've added Beyond Sausage, but you can choose your favorite. The spaghetti squash was tossed with hot marinara and veggies.
I'll be honest, I never understood why someone who didn't eat meat would want to eat something that tasted like it. However, it could be reasons for health or the environment. In that case, Beyond Sausage can be an awesome stepping stone for someone going from meat to plant-based eating.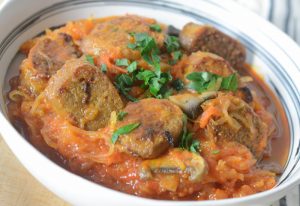 It doesn't get much easier than spaghetti squash, a deliciously healthy low-carb, gluten-free option that is an excellent base for pasta sauces.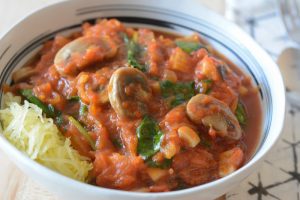 Print
Spaghetti Squash Marinara
Yield 4 Servings
Free of: gluten and top 8 allergens.
It doesn't get much easier than spaghetti squash, a deliciously healthy low-carb, gluten-free option that is an excellent base for marinara.
Ingredients
1 large spaghetti squash, about 2 pounds
2 tbsp olive oil, divided (1 tbsp + 1 tbsp)
1/4 tsp salt, divided (1/8 tsp + 1/8 tsp)
1/8 tsp black pepper
12 ounces button or cremini mushrooms, trimmed and sliced
1 cup thinly sliced yellow onions
1 tsp minced garlic
12 ounces fully-cooked sweet Italian sausage, vegan or not (optional)
1 (24-ounce) jar prepared marinara sauce, such as Rao's
4 cups firmly packed baby spinach
Instructions
Preheat oven to 400-degrees F. Split the squash in half lengthwise and scrape out the seeds. Lightly rub inside halves with olive oil. Season with salt and pepper. Place the halves, cut side down in a baking dish. Bake for 35-40 minutes or until tender but not overcooked. Time may vary, depending on oven and size of squash. Remove from oven and allow to cool slightly. Flip squash over and use a fork to shred into "spaghetti" and transfer to a bowl. Set aside.
Heat a large saucepan over medium heat. Add the mushrooms and 1 tbsp water to prevent mushrooms from sticking. Cook until tender, about 8-10 minutes. Transfer mushrooms to a bowl and set aside.
In the same saucepan over medium heat, cook onions with 1/4 tsp salt for 6 to 8 minutes or until tender, stirring frequently. Add garlic and cook for an additional minute.
Cut sausage into 1/2-inch pieces on the diagonal. Add sausage slices to onions and cook for 2 minutes, stirring occasionally.
Add sauce to onions and sausage and bring to a simmer. Add reserved mushrooms and spinach, stirring to combine.
Measure out 4 cups of spaghetti squash and add to marinara. Stir and heat through, about 3 to 5 minutes.
Serve and enjoy!
Courses Mains