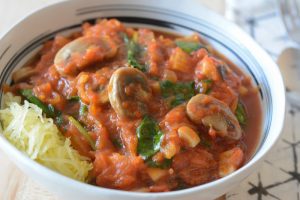 Spaghetti Squash Marinara
Yield 4 Servings
Free of: gluten and top 8 allergens.
It doesn't get much easier than spaghetti squash, a deliciously healthy low-carb, gluten-free option that is an excellent base for marinara.
Ingredients
1 large spaghetti squash, about 2 pounds
2 tbsp olive oil, divided (1 tbsp + 1 tbsp)
1/4 tsp salt, divided (1/8 tsp + 1/8 tsp)
1/8 tsp black pepper
12 ounces button or cremini mushrooms, trimmed and sliced
1 cup thinly sliced yellow onions
1 tsp minced garlic
12 ounces fully-cooked sweet Italian sausage, vegan or not (optional)
1 (24-ounce) jar prepared marinara sauce, such as Rao's
4 cups firmly packed baby spinach
Instructions
Preheat oven to 400-degrees F. Split the squash in half lengthwise and scrape out the seeds. Lightly rub inside halves with olive oil. Season with salt and pepper. Place the halves, cut side down in a baking dish. Bake for 35-40 minutes or until tender but not overcooked. Time may vary, depending on oven and size of squash. Remove from oven and allow to cool slightly. Flip squash over and use a fork to shred into "spaghetti" and transfer to a bowl. Set aside.
Heat a large saucepan over medium heat. Add the mushrooms and 1 tbsp water to prevent mushrooms from sticking. Cook until tender, about 8-10 minutes. Transfer mushrooms to a bowl and set aside.
In the same saucepan over medium heat, cook onions with 1/4 tsp salt for 6 to 8 minutes or until tender, stirring frequently. Add garlic and cook for an additional minute.
Cut sausage into 1/2-inch pieces on the diagonal. Add sausage slices to onions and cook for 2 minutes, stirring occasionally.
Add sauce to onions and sausage and bring to a simmer. Add reserved mushrooms and spinach, stirring to combine.
Measure out 4 cups of spaghetti squash and add to marinara. Stir and heat through, about 3 to 5 minutes.
Serve and enjoy!
Courses Mains
Recipe by Allergy Chefs at https://www.yourallergychefs.com/spaghetti-squash-marinara/