I'll have risotto, please!
Risotto is a dish often associated with high end restaurants. It's so satisfying and easy to prepare that it's become one of our favorite meals to make at home.
We've taken out the butter, heavy cream and cheese and this risotto still rivals that of any restaurant.
We're excited to have our friend, Chef Carlo Persia answer a few questions that will seal the deal on making risotto that is guaranteed to impress. Carlo is a passionate Italian chef who knows, loves and lives food. He was a restaurateur in Italy and is currently Executive Chef of Product Development for a large worldwide corporation.
Let's get the rice advice…
Risotto is more a technique for making a specific type of rice than it is a dish. We've seen risotto recipes that give conflicting information from the temperature of the broth to the frequency of stirring.
Types of Rice
The 3 most popular types of risotto rice are Arborio, Carnaroli and Vialone Nano. There are other harder-to-find types of risotto rice such as Baldo, Calriso and Maratelli. With so many varieties, let's find out Chef Carlo's favorite.
YAC (Your Allergy Chefs): Chef, what is your favorite rice used in making risotto and why?
Chef Carlo: The Vialone Nano rice is my favorite because you can use it in multiple recipes like soup, salad, and of course, a variety of risotto recipes.
Arborio is not as starchy as Carnaroli, but is the most widely available risotto rice. It can easily be overcooked, turning mushy, but with careful attention can make a great risotto. Carnaroli is often referred to as the "king" of risotto rice. Vialone Nano is famous in the Veneto region of Italy and cannot be grown with chemicals. Vialone Nano cooks faster than Carnaroli and yields a very creamy risotto.
We had trouble locating Vialone Nano rice in our local markets, but found it readily available online.
Rinsing the Rice
YAC: Do you rinse your rice?
Chef Carlo: I don't rinse the risotto rice. It has been properly cleaned and dried before packaging.
We want the starches that add thick creaminess to the dish when making risotto. For other types of rice where we want fluffy individual grains and not starch, that's when we rinse the rice. We have seen where some do rinse the rice while keeping the starch. The rice is put in a bowl with a quart of broth. It is then agitated with a spoon for about 20 seconds to release the starch. The rice is then strained over a saucepan where the starchy broth is reserved for making the risotto. We tried this method and found the risotto was toasty and as delicious as always.
Salt
It is important to salt risotto early in the cooking process so the salt penetrates the grains, otherwise you'll end up with unsalted rice in a seasoned liquid. When the rice is added to the pan at the beginning of the cooking process, season with salt. We do a lot of cooking with minimal or no salt, but risotto is one dish that is transformed by the addition of salt. We don't leave it out here.
Can I Skip the Wine?
YAC: Chef, do you add wine to your risotto? If so, why?
Chef Carlo: Not all risotto recipes need wine, but in the recipes that requires so, I add it to give a touch of acidity.
There you have it. Skipping the wine is totally up to you. A little science about wine in risotto making is that it is quickly absorbed by the rice kernels, while the alcohol cooks off. The acidity and taste components of the wine balance the starchy character of the rice. However, replacing the wine with broth in recipes will still produce a delicious dish.
To Stir or Not to Stir
There is a much-misunderstood theory of stirring. Many will tell you it's a must to stir the risotto constantly, while others will say the oppostite.
YAC: Is it necessary to constantly stir during the cooking process?
Chef Carlo: Yes, because if you stir the rice continuously, you can see and control the absorption of the liquid and you can achieve the creaminess you want.
YAC: Chef Carlo, what is your biggest tip to making great risotto?
Chef Carlo: A good boiling broth, the heat of the flame and don't forget, the wooden spoon! These are the first 3 things that I recommend to the ones that are going to make a risotto.
Did you know the gradual addition of hot broth has a double impact on the rice? It draws out the starches stored in the kernels a little at a time. While this is happening, the kernels are slowly absorbing liquid while cooking.
We love wooden spoons because they are so comfortable in your hand, especially when you are constantly stirring, as when making risotto. Unlike a metal spoon, a wooden spoon has no effect on the temperature of the food it comes in contact with. Another plus for wooden spoons…they are ideal for stirring risotto because they are gentle and do not break the grains.
Broth Versus Stock
The difference between a broth and a stock is that a broth is made by simmering meat and/or vegetables. On the other hand, a stock is made by simmering bones, meat and/or vegetables. A stock tends to be more concentrated and is often diluted. Whereas, a broth can be delicious as is.
No matter what ingredients are used from recipe to recipe, every risotto is created in basically the same way. The best thing about risotto is that it can serve as a blank canvas for almost any addition you can imagine.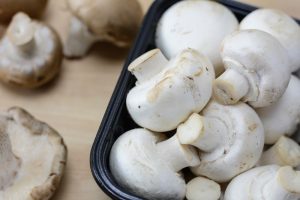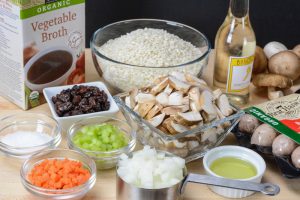 We made this week's recipe vegan by replacing the sausage with peas.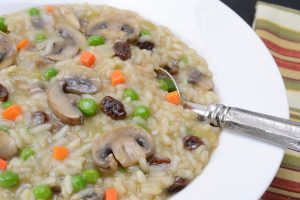 YAC: Chef Carlo, what is your favorite risotto?
Chef Carlo: Absolutely…Pumpkin Risotto with Biscotti Amaretti and Lemon. You can taste the sweetness and crispiness of the biscotti, the saltiness of pumpkin seeds, the acidity of lemon and the creaminess of the pumpkin.
Wow, doesn't that sound like a fabulous fall risotto as we enter the season?
Thanks, Chef Carlo for sharing key pointers for making the best risotto!
We hope everyone enjoys this Sausage, Mushroom and Raisin Risotto. You've got the foundation, so have fun making risotto by substituting your favorite ingredients.
Please comment if you'd like to see Chef Carlo's "Pumpkin Risotto with Biscotti Amaretti and Lemon" transformed into an allergen-friendly recipe.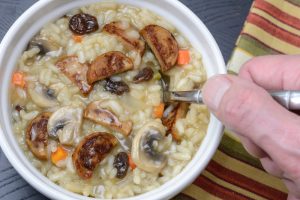 Print
Sausage, Mushroom and Raisin Risotto
Yield 4 Servings
Free of: gluten and top 8 allergens.
Risotto is the classic dish of Northern Italy, where it dominates pasta. With the simple addition of a salad, risotto makes an elegant meal that is easy to prepare. 
Ingredients
6 ounces of your favorite sausage (see Recipe Notes)
8 ounces fresh white button or cremini mushrooms, cleaned and sliced (about 4 cups loosely packed)
3 tbsp oil, divided (1 tbsp + 2 tbsp)
1 quart vegetable broth (or chicken broth)
1 cup water
1/2 cup finely chopped onion
1/4 cup finely chopped carrot
1/4 cup finely chopped celery
1-1/2 cups Arborio rice (do not rinse)
1 tsp salt
1/2 cup dry white wine, such as Pinot Grigio or Sauvignon Blanc
1/3 cup dark raisins
Instructions
Preheat skillet over medium-high heat.
Cut the sausage in half lengthwise and then crosswise into 1/2-inch pieces.
Clean the mushrooms with a damp cloth. Slice. If mushrooms are large, cut slices in half.
Add 1 tbsp oil to the hot skillet. Add the sausage and cook for 1 minute.
Add mushrooms and cook until soft and most of the liquid evaporates, approximately 6-8 minutes. It may be necessary to add 1 tbsp water in the beginning to prevent mushrooms from sticking to the pan. Set aside.
In a medium saucepan, bring broth and water to a simmer. Turn heat to low to keep the broth hot.
Heat remaining 2 tbsp oil in a large heavy duty saucepan, in the 3- to 4-quart range. Add onions, carrots and celery. Saute over medium heat for 4 minutes until vegetables begin to soften, being careful not to brown them.
Add Arborio and salt and stir with a wooden spoon for 3 minutes until all grains are well coated with oil. Set your timer for 18 minutes. This is the approximate time it takes to make a perfect risotto. Add wine and stir until completely absorbed.
Begin to add hot broth, 1/2 cup at a time. Stir well after each addition of the broth and then often. The risotto should be gently simmering throughout the cooking process. Depending on your stove, it will be over medium-high or medium heat. Wait until each addition is absorbed before adding the next half cup. Stir to prevent sticking. 
After approximately 14 minutes, add the raisins. Stir to combine and cook for an additional 4 minutes, adding broth as necessary. At the end of the cooking process, add sausage and mushrooms and heat through. 
Remove from heat and add 1/4 cup broth. You are looking for a creamy texture. Stir and serve immediately as grains will continue to cook.
Notes
Chicken sausage, andouille sausage and sweet Italian sausage are great options.
Make Mine Veggie!
Our veggie version replaces the sausage with peas. Omit the first tbsp oil. After cleaning and slicing the mushrooms, proceed to step five and follow the remainder of the recipe through step nine. In step ten, replace the sausage with 1 cup frozen peas which have been thawed. You can also replace the sausage with a vegan sausage that meets your dietary restrictions. 
Courses Mains