We hope you are all keeping warm. With a colder than normal winter for most of the country and more bitter cold weather predicted, we're in full-blown soup season!
Tomato soup remains one of the top sellers at the supermarket, right up there with chicken noodle. With most canned soups fully charged with sodium, why not make this simple soup from scratch?
Bring on the sweetness…
How Sweet it is!
Roasting brings out the sweetness of tomatoes and intensifies their flavor.
This soup can be made without roasting the tomatoes, but the extra step is well worth the effort.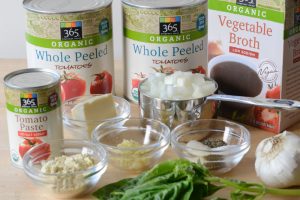 While I was making this recipe using canned tomatoes, Joel made a batch with fresh plum tomatoes. We also like using a combination of vine and plum tomatoes.
In peak season, roasting fresh tomatoes for this recipe is as easy as taking 1-1/2 pounds of tomatoes, hulling, cutting in half and removing seeds. Toss tomatoes with 2 teaspoons olive oil and season with salt and black pepper. Arrange tomatoes on half of a baking pan lined with foil.
On the other half of the baking pan, place 1 large chopped yellow onion and 10 garlic cloves which have been tossed together with 1 teaspoon olive oil and seasoned with salt and pepper.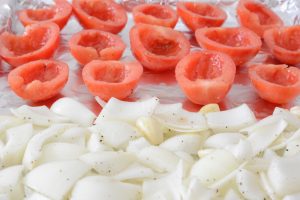 Roast in an oven heated to 425-degrees F for 30 minutes, turning tomatoes and tossing onions half way through.
When done and cool enough to handle, remove skin from tomatoes. In a medium saucepan, place the roasted tomatoes, onions, garlic, 1 (14.5 ounce) can diced tomatoes, 1 tablespoon tomato paste, 1-1/2 cups vegetable broth, 2 teaspoons sugar, 1/2 teaspoon dried basil and 1/4 teaspoon celery seed. Simmer for 15 minutes. Remove from heat and purée using an immersion blender, or allow to cool slightly and purée in a stand blender. This makes 1 quart.
The Benefits Abound
Furthermore, tomatoes are not just sweet, but loaded with countless health benefits. Tomatoes:
are good for your skin
help prevent several types of cancer
are high in lycopene, which has been linked with one type of prostate cancer prevention
help maintain strong bones
provide essential antioxidants
are good for your heart
are good for your eyes
Scientifically speaking, a tomato is a fruit, but falls under the "vegetable" category, according to the Supreme Court.
Did you know that these wonderful tomatoes were believed to be poisonous until the mid 1800s?
Let's warm up with this delicious roasted tomato soup, which is perfect paired with a grilled cheese sandwich!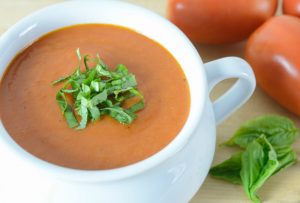 Print
Roasted Tomato Soup
Yield 4 Servings
Free of: gluten and top 8 allergens.
Tomato soup remains one of the top sellers at the supermarket, right up there with chicken noodle. With most canned soups fully charged with sodium, try this delicious and simple soup which is sure to be a favorite!
Ingredients
2 (28-ounce) cans whole tomatoes packed in juice, drained and juice reserved
1 tbsp olive oil
1-1/4 tsp salt, divided
pinch + 1/4 tsp black pepper, divided
1 tbsp dairy-free, soy-free margarine, such as Earth Balance buttery sticks
1 cup diced yellow onion
2 tsp minced garlic
2 tbsp garbanzo bean flour (see recipe note)
1 tbsp tomato paste
1-1/2 cups low-sodium vegetable broth
1 tbsp granulated sugar
Dash (1/8 tsp) celery seed
1/4 cup thinly sliced fresh basil
Instructions
Preheat oven to 425-degrees F. Place a fine mesh strainer over a large bowl. Pour the tomatoes in the strainer, allowing their juices to collect in the bowl. Cut tomatoes in half, removing seeds and allowing juices to drip into bowl. Using the back of a spoon, press juices through strainer. Reserve 3 cups of juice. If you are a little shy, add vegetable broth to make 3 cups.
Toss tomatoes in a medium bowl with olive oil, pinch of salt and pinch of pepper. Spread onto a baking pan lined with foil. Place in oven and roast for 35-40 minutes.
In a large nonreactive saucepan, melt margarine over medium-low heat. Add onions and pinch of salt and cook gently, stirring occasionally, until soft and translucent but not browned, about 10 minutes. Add garlic and cook 1 minute.
Add flour and stir to coat onions; do not allow to brown. Add tomato paste. 
Stir in the roasted tomatoes and their reserved juices, broth, sugar, 1 teaspoon salt, celery seed and 1/4 teaspoon pepper. Increase heat to medium. Bring to a gentle simmer. Cook uncovered, for 20-30 minutes, scraping the bottom of saucepan frequently. The soup will thicken.
Remove from heat and puree using an immersion blender, or allow to cool slightly and puree in batches in a stand blender.
Serve, garnished with basil.
Notes
Garbanzo bean flour is also known as chickpea flour, cici flour, besan flour and gram flour.
Courses Soups & Salads