One of Joel's favorite memories while growing up in Wisconsin during the winter was playing in the snow for hours and then coming home to his mom making hot chocolate from scratch.
There's no better way to warm up on a cold winter's day or to enjoy a moment of mindfulness than by sipping a mug of hot chocolate.
Here's a tribute to where it all began. Cheers!
The Beginning
It all started in Mexico around 1900 BCE, when the Olmecs domesticated cacao and a new beverage was born. The Mayans and Aztecs adapted the brew and typically made it with chiles, served lukewarm and frothy.
Though their version is much different from the hot chocolate we know today, some of the basic ingredients are the same. Today's typical Mexican chocolate is made with roasted and ground cacao nibs, sugar and cinnamon. Chiles and nuts are sometimes added to this rather granular drink.
The Chocolate
Two of our favorite chocolates are Taza and Ibarra.
Taza has a variety of Mexican style chocolate discs that are certified Gluten Free and USDA Organic. Their website states they are also dairy free, soy free, vegan and have several varieties that do not contain nuts.
If you like your chocolate sweet, give Ibarra a try. Ibarra does contain soy lecithin and their packaging states the product contains soy and is manufactured in equipment that process milk. According to Food Allergy Research & Education (FARE), studies show that most people with soy allergy can safely eat soy lecithin. However, if you are allergic to soy, it's best to check with your doctor to make sure it's safe for you.
If you have trouble finding a chocolate free from the top 8 allergens, Enjoy Life's Semi Sweet Mini Chips make a good cup of hot cocoa. Any semi sweet or bitter high quality chocolate that meets your dietary needs will also work in this recipe.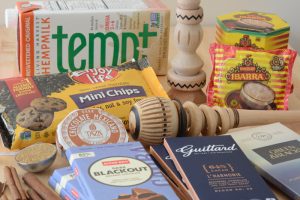 The Froth
We know from history that frothiness has been a part of hot chocolate from the beginning. A molinillo is traditionally a hand carved wooden whisk. This ancient tool is held between the palms of the hands and quickly rotated by rubbing the palms together. The rings at the bottom spin around, helping to whip the beverage into a frothy foam.
Of course, you don't need to run out and buy a molinillo if you don't already have one. A wire whisk will do the trick.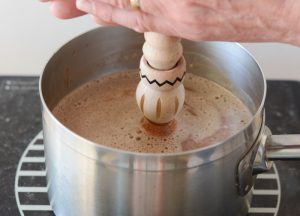 The Marshmallow Meringue
With a nice froth to show off, it might seem like a shame to cover it. But, we're talking double goodness. Marshmallows and froth equal delicious hot chocolate.
Making this marshmallow fluff is like making French meringue (also called common meringue), minus the egg whites. The standard ratio of ingredients for French meringue is equal parts fine granulated sugar to egg whites. Egg whites can only hold a limited amount of sugar before sacrificing volume, so equal parts are safe amounts.
To make an allergy-friendly meringue, we're whipping equal parts of aquafaba (liquid from a can of garbanzo beans) and fine granulated sugar. The procedure is the same for that of French meringue, with the exception of the mixing time being longer with the aquafaba.
Using a hand held mixer on low speed, whip the aquafaba and cream of tartar. After a minute or so, increase the speed to medium and whip for 3 minutes. We suggest using a hand held mixer because the amount being mixed is too small for a stand mixer.
Gradually add the sugar a tablespoon at a time while the mixer is running. Continue to beat on high speed for 8 minutes until stiff peaks form. When you lift the beaters the meringue should look glossy and hold a stiff peak.
With all the meringue I've made in my pastry career, I love meringue made with aquafaba. Not just because it's allergy-friendly, but also because it's much more forgiving. It's so much easier to over mix  a meringue made with egg whites, not to mention just a trace of fat on the bowl or a bit of yolks will prevent the egg white meringue from whipping up.
On March 6, 2015, Goose Wohlt posted on Facebook, "What F.A.T. Vegans Eat." His post with 4 pictures reads, "dead simple delicious two ingredient whole food meringues…one can chickpea brine mixed w half cup sugar. Perfect-O".
We are so thankful for Goose Wohlt and the inspiration that led him to come up with what he named "aquafaba", the latin words for water and bean.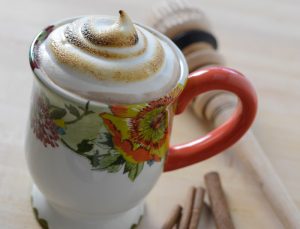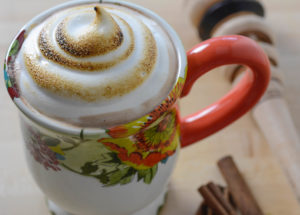 Print
Mexican Hot Chocolate with Marshmallow Meringue
Yield 4 Servings
Free of: gluten and top 8 allergens.
There's no better way to warm up on a cold winter's day or to enjoy a moment of mindfulness than by sipping a mug of this delicious Mexican Hot Chocolate.
Ingredients
Marshmallow Meringue
1/4 cup aquafaba (see recipe notes)
1/8 tsp cream of tartar
1/4 cup fine granulated sugar
Hot Chocolate
8 ounces Mexican chocolate (see recipe notes)
4 cups allergy-friendly milk (see recipe notes)
2 tbsp light brown sugar
1/4 tsp cayenne pepper, optional
2 (2-inch) cinnamon sticks or 1/2 tsp ground cinnamon
Instructions
To make the meringue, using a hand held mixer on low speed, mix aquafaba and cream of tartar for one minute. Increase to medium speed and mix for 3 minutes.
While mixing, gradually add sugar a tablespoon at a time. When all the sugar is incorporated, increase to high speed and mix for 8 minutes until stiff peaks form. When you lift the beaters, the meringue should look glossy and hold a stiff peak. This will make approximately 1-1/2 cups of marshmallow meringue. Store in refrigerator while making hot chocolate. Use as soon as possible within a couple of hours.
To make the hot chocolate, finely chop or grate chocolate. Set aside.
In a medium saucepan, heat milk, sugar and cayenne (if using) over medium heat until milk just comes to a gentle simmer. Add the cinnamon sticks. Turn off heat and steep for 10-15 minutes. (If using ground cinnamon, add with the milk, sugar and cayenne, bringing to a gentle simmer. Turn off heat and proceed to step 6.)
Remove cinnamon sticks. Place saucepan over medium heat and bring back to a simmer.
Remove saucepan from heat and add chocolate. Mix well and continuously to prevent chocolate from sticking to bottom of pan.
Using a molinillo or a standard wire whisk, whip until airy and frothy, about 2 minutes.
To serve, fill mugs with hot chocolate. Top with marshmallow meringue and serve immediately. You can torch meringue, but it's not necessary.
Notes
Aquafaba is the liquid from canned garbanzo beans. Drain a 15-ounce can of garbanzo beans with "no salt added", reserving the liquid (aquafaba) for use in this recipe. One can yields slightly more than 1/2 cup aquafaba.
You can substitute 1 cup Enjoy Life Semi Sweet Mini Chips for Mexican chocolate.
Tablets by different manufacturers vary in weight. Tazo tablets are 1.35 ounces or 2.7 ounces. Ibarra tablets weigh 3.17 ounces.
Hot chocolate made with milk has a creamier mouth feel, while one made with water is traditional and maximizes the pure flavor of the chocolate. We prefer using milk and suggest if you are not using Mexican chocolate that you do use an alternative milk.
Unsweetened hemp milk or "lite" coconut milk both make great hot chocolate. If soy or almond is not an issue, they are also popular alternative milks for hot chocolate.
Courses Beverages
">