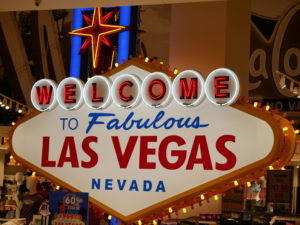 This past weekend we dined our way around Las Vegas seeking out the most allergy-friendly restaurants. We were very excited about the awareness all the restaurants we visited had around food allergies.
It wasn't that long ago, while working at Walt Disney World and on a benchmarking trip to Las Vegas, most restaurants plain and simply said they could not accommodate food allergies. We visited some of those same restaurants again and were excited to see that they now acknowledge guests with food allergies.
Eating out with food allergies can be all too stressful. Check out our Vegas adventure and our one "outstanding" find, as we save the best for last…
Our first step was to compile a list of questions to ask each restaurant. Check out our post, "7 Questions To Ask That Could Save Your Life When Dining Out".
Before the trip we contacted many restaurants by phone and email. We like talking to someone on the phone so we can ask specific questions and get a feeling of their knowledge and understanding of food allergies. Once we got to Las Vegas, we also stopped by dozens of restaurants in person.
Let's get eating, or not!
A trip to Vegas would not be complete without dining off the strip at Thailicious Authentic Thai & Vegan with our good friends from Hawaii, Dave and Beth who now live in Las Vegas. They are regulars and Beth is extremely allergic to shrimp and has other intolerances. Thailicious serves many guests with food allergies, using clean and sanitized pans for their dishes. Along with their regular menu, they also have a large vegan menu. Their vegan option of the green papaya salad rocks and is better than any non-vegan green papaya salad I can remember, and there are options for the peanuts if they are an issue. I had 2 orders of their veggie fresh rolls…I could eat them all day long! The soups, curries, and appetizers flowed.
Yes, we trust this restaurant to keep us safe!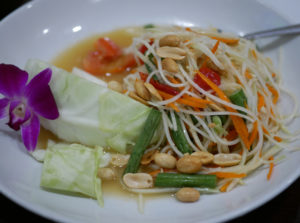 Carmine's in the Forum Shops at Caesar's Palace
We were impressed by the fact that Carmine's has 4 dietary menus; Dairy & Egg Free, Wheat & Gluten, Vegetarian & Vegan, and Garlic. So impressed, we decided to have lunch. I ordered the Country Style Pasta, gluten-free and without sausage. When I asked the server if a meat stock was used, she said, "We'll since you don't want sausage, I would think they wouldn't put in any stock". Really??? Joel ordered gluten-free pasta with marinara. When his dish arrived, it was with linguine that was not gluten-free. Can you believe that our server got an attitude about the mix up? Well, besides the bad service, the fact that we were served wheat when it was made clear we had a wheat allergy, and the restaurant's disclaimer that their "busy" kitchen is not allergen-free is a good reason not to dine here.
Trevi in the Forum Shops at Caesar's Palace
After dining at Carmine's, we came across Trevi, a Landry restaurant. Landry's Inc. has been a leader in the food allergy industry. We were sorry we didn't find this spot first. We'll definitely check them out on our next trip. They have a great gluten-sensitive and vegan menu and will work with your food allergies.
Gordon Ramsay Pub & Grill at Caesar's Palace
They work with guests with food allergies and have a gluten-free menu. Their Kale Salad with butternut squash, dried cranberries, and honey mustard vinaigrette was calling. We'll be back to try it.
Mesa Grill by Bobby Flay at Caesar's Palace
The host was just as friendly as she could be. She spent a good 15 minutes going through every menu item to let us know the ingredients in each. There really weren't any safe options for us here.
There's a lot of talk about Eataly at Park MGM. I suggest if you have food allergies ignore the hype. We dined at La Pizza & La Pasta. Our server was very attentive and asked about our food allergies. Options were limited with only 2 being gluten-free, low-gluten pizza crust (baked in the same oven as all the pizzas) and gluten-free casarecca pasta. As attentive as he seemed, we ordered Barbabietola (roasted beets & ricotta with a citrus vinaigrette) without the ricotta cheese as we again mentioned our milk allergy. Can you believe that it was delivered to the table with the ricotta cheese? Really??? 
Eataly is a no-go!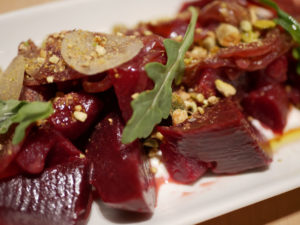 Joel was craving tapas, so we checked out Julian Serrano at Aria. The host assured us that the servers are trained, and they talk to the chef. They did provide a verbal disclaimer saying they can't guarantee there is no cross contact. Our allergies were documented. They modified the patatas bravas, which were just okay. If you're craving patatas bravas, check out our recipe…much better!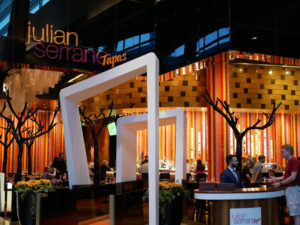 The host said they accommodate guests with food allergies most of the time. She shared with us their "Allergy Alert Card". The card was magenta in color. The 8 allergens listed on their card were gluten, fish, nuts, oats, dairy, eggs, soybean, and shellfish. They have no gluten-free pasta or bread and are limited on soy-free options. We opted not to dine here.
Border Grill at Mandalay Bay
The dining operator for Mandalay Bay said that allergies require a 24-hour notice to the restaurant. She gave us the direct number for Border Grill. We spoke to the General Manager, Yancy who said they could certainly accommodate us. They will fry chips or fried items in a separate pot with new oil. They change gloves for allergies and use clean and sanitized boards and utensils. He shared that they recently fed 16 kids with food allergies and appeared in their magazine. We give Border Grill a thumbs up!
The host said they absolutely accommodate guests as long as the chef knows. We have dined here before, but on this trip our evening plans were already booked, however we will give Aureole's another try.
II Fornaio at the Venetian
The host had to ask the server if they can accommodate food allergies. She was able to find out that servers are required to take training on food allergies. Since the host had no idea if they serve guests with food allergies. We'll skip it.
Yardbird Southern Table & Bar at the Venetian
Host advised that the servers and bussers have had training, but they don't train locally.??? We'll pass.
The host said they accommodate guests with any food allergies. The server will let the host know who will let the kitchen and manager know. Reservations made in advance will be notated of the allergy/allergies. Bouchon has always been a favorite of ours.
Burger Bar at Mandalay Bay
Burger Bar accommodates guests with food allergies and the host said they "tend" to be very careful about them. She shared that there is no specific training for the staff on food allergies.??? Our gut quickly said no!
Robert Irvine's Public House at Tropicana Las Vegas
The host said they don't prepare food for guests with food allergies often. She also said that there is no food allergy training in place. We love that Robert Irvine works out and is into health and wellness, however, we'll pass.
Saving the Best for Last!
Our Number 1 Choice for dining in Las Vegas with Food Allergies:
South Point Hotel Casino & Spa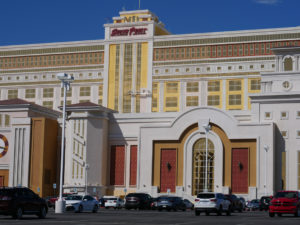 The safest place we found in Las Vegas was South Point Hotel Casino & Spa, thanks to Asst. Executive Chef Keith Norman. Chef Keith is committed to serving guests with food allergies and provides ongoing training to all staff members in every food establishment on property.
Stay at South Point and you need not worry about dining out. Your options are In-Room Dining, Baja Miguel's, Garden Buffet, Del Mar Deli, Steak 'n Shake, Don Vito's, Zenshin Asian Restaurant, Big Sur Oyster Bar, Primarily Prime Rib, Silverado Steak House, Coronado Café, Kate's Korner Ice Cream Parlor, and Michael's Gourmet Room. Oh, the movie theatre and bowling alley on property are also onboard to assist guests with food allergies.
You will find this Allergy Awareness card on every podium of every restaurant at South Point. The hosts know just as much about food allergies and the menus as do the servers, bussers, managers, cooks, and chef.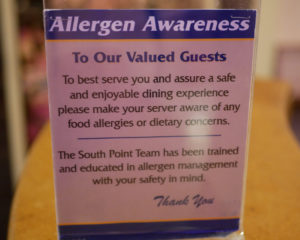 Servers in all restaurants fill out an Allergen Alert slip when taking your order. The allergens are input in their POS (point of sale) system and are printed on the ticket. Your bill also notates your allergies. Not to mention, everyone is notified of your allergies from the host to manager and chef, to the busser and server.
Big Sur Oyster Bar at South Point
When we ordered our salads, out came the purple cutting board and tools used for food allergies. The cook changed his gloves to new purple gloves. He didn't grab a bowl from the stack, but had bowls set aside for guests with food allergies that were individually wrapped in plastic.
Baja Miguel's at South Point
Without even asking, Lose (the host) brought us avocado slices to make our own guacamole since their guacamole comes in prepared and contains gluten. They brought special tortilla chips for Joel that were gluten-free. Since the gluten-free chips were fried in soybean oil, they brought me wedges of warm corn tortillas. Lose also said she had the kitchen making special beans for me without the pork lard. Now, we didn't even ask for any of this.
Our server, Alex gave us several blank "Allergen Alert" cards. He told us we could fill them out and give them to other places we wanted to dine at. Going above and beyond, it is clear that Alex, Lose and the entire culinary team at South Point care about the safety of their guests.
Garden Buffet at South Point
Oh, yes! We had to check out the buffet. We arrived 40 minutes before the buffet opened to be first in line. The host immediately contacted the chef, who greeted us and walked us through the entire buffet, letting us know about each item and what was safe to eat. The chef also said they can prepare some items safely in the back.
Have you gone to Walt Disney World or Disney Land because you know it's a safe place for guests with food allergies? Well, plan a trip to Las Vegas and know that South Point has joined the ranks of Disney for food allergen safety!
Chef Joel's Tips
When dining out, choose a dish that is prepared to order, with a clean and sanitized pan and cooking utensils. Batch foods like soups or stews that have been cooking for a while have a greater chance of being contaminated by cross contact.
If your allergy is severe, do not eat at buffets. There's just too much of a chance for cross contact. However, if you want to dine at South Point's Garden Buffet, be the first in line when the buffet opens. After walking the line with the chef, be one of the first to get your food. It won't take long for cross contact issues to occur. A guest drips blue cheese salad dressing into the balsamic vinegar. Another guest uses the spoon for crab salad, and then gets some plain beets with the same spoon, leaving the spoon with crab in the beets. You get the idea, right?
Even if you've done your due diligence and make dining plans, but all of a sudden have a gut feeling of uncertainty, that's okay. Always listen to your gut.
Carrying a "chef card" that outlines the foods you must avoid is a great way to communicate your food allergies to a chef or manager at restaurants. FARE provides an interactive PDF of chef card templates in English and a number of foreign languages to use while dining out and traveling.
It's always stressed to ask for the manager or chef. That is very important and you need to do that. However, we like to first talk to the host. If the host has no knowledge of the establishment's allergy policy, we avoid that restaurant. As first point of contact for the guests, we believe the hosts should know the policies.
The best time to dine at any restaurant is during the first hour of a service period. The staff is more alert and attentive and the kitchen is much cleaner.