This creamy coconut tapioca is so easy to prepare with just 4 ingredients.
The pearls are made of cassava flour and yield a unique and fun bubbly texture in this simple, yet fabulous dessert.
Whether you enjoy it plain, jazz it up with diced mango, or make it chocolate, get ready to tantalize your taste buds.
It's pudding time!
I have quite a history with tapioca. It all started many years ago when my mom was in the hospital having my youngest brother. My dad who never cooked and was lost in the kitchen, thought he would make us kids a tasty treat.
Out came the red box of "minute tapioca!" My dad made tapioca pudding. All 5 of us kids indulged and got horribly sick and to this day, remember that dreadful tapioca. As far as I know, that was my dad's first and last stint in the kitchen. Needless to say, it wasn't until much later in life that I gave tapioca another try.
If you've ever been to Hawaii, you may have eaten at a Ba-Le sandwich shop. Ba-Le is a Vietnamese cafe chain in Hawaii that serves a variety of tapioca puddings, pho, banh-mi and other sandwiches. Well, their tapioca pudding is sooooo good! Among the flavors are mango, chocolate, sweet potato, strawberry, and taro.
Ba-Le's tapioca definitely made us fans!
Instant?
Instant tapioca is great for thickening fruit fillings in pies. However, the best tapioca for puddings are the small tapioca pearls found in Asian markets and in many grocery stores.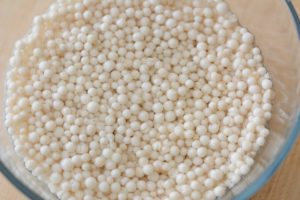 soaking tapioca pearls
To Soak or Not to Soak Pearls
There are a couple of ways to make a great tapioca pudding. We'll show you both.
Soaking the pearls in water for an hour (as shown above), draining and then cooking with coconut milk and sugar until the pearls are translucent is one way, which lends to a much firmer tapioca.
For tapioca pudding that is not as firm, simmer tapioca pearls (without soaking) in water until the pearls are clear, about 15 minutes. Strain through a fine mesh strainer and add to simmering coconut milk. Cook for 5 minutes. Add sugar and cook for another 5 minutes.
Oh, and add a little dark rum for a real tropical treat, if desired.
Tapioca is great topped with fresh diced mango.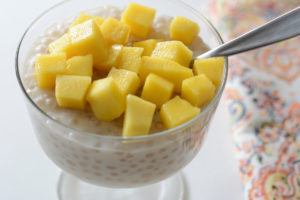 For chocolate tapioca (our favorite), add Enjoy Life Mini Semi-Sweet chocolate chips at the end of the cooking process and stir until melted.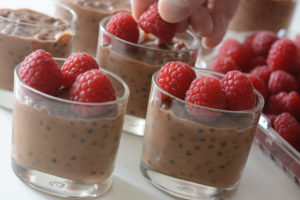 Keep this recipe in your back pocket for your next party. It will definitely be a hit!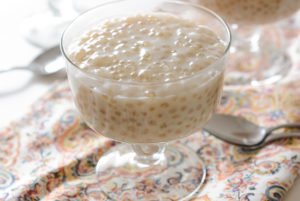 Print
Creamy Coconut Tapioca
Yield 4 Servings
Free of: gluten and top 8 allergens.
This creamy coconut tapioca is so easy to prepare, with just 4 ingredients.
Ingredients
4 cups water
1/2 cup small tapioca pearls
1/2 cup light brown sugar or organic cane sugar
1 vanilla bean, cut in half lengthwise (optional)
2 cups full fat unsweetened coconut milk
1 tbsp dark rum (optional)
Instructions
In a 2-quart saucepan, bring water to a boil over high heat. Add tapioca. Reduce heat to medium-low and gently simmer until pearls are clear, about 15 minutes. Stir often so tapioca doesn't stick to the bottom of the pan. Strain through a fine mesh strainer or chinois, discarding the liquid. Be sure the strainer has a very fine mesh or the pearls will slip through the strainer.  Set aside the tapioca pearls.
If using vanilla bean, place brown sugar in a small bowl. Scrape vanilla bean seeds from the pod and rub together with sugar. Set aside.
In the 2-quart saucepan, add coconut milk and vanilla bean pod (if using). Bring to a boil over medium-high heat. Add tapioca. Reduce heat to medium-low and gently simmer for 5 minutes, stirring often.
Add brown sugar and cook for another 5 minutes. Remove from heat.
For a real tropical treat, add rum and stir to combine.
Portion into a dish or 4 individual containers. Cool slightly and place in refrigerator for several hours or overnight. 
Notes
Variations
Mango Tapioca: Top chilled tapioca with 1 cup diced mango. 
Chocolate Tapioca: During the last minute of cooking, add 1/2 cup allergy-friendly chocolate chips, such as Enjoy Life Semi-Sweet Mini Chips. Stir until melted and chocolate is combined. Garnish chilled tapioca with fresh raspberries or diced strawberries.
Courses Sweets