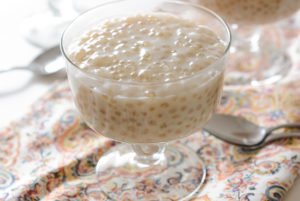 Creamy Coconut Tapioca
Yield 4 Servings
Free of: gluten and top 8 allergens.
This creamy coconut tapioca is so easy to prepare, with just 4 ingredients.
Ingredients
4 cups water
1/2 cup small tapioca pearls
1/2 cup light brown sugar or organic cane sugar
1 vanilla bean, cut in half lengthwise (optional)
2 cups full fat unsweetened coconut milk
1 tbsp dark rum (optional)
Instructions
In a 2-quart saucepan, bring water to a boil over high heat. Add tapioca. Reduce heat to medium-low and gently simmer until pearls are clear, about 15 minutes. Stir often so tapioca doesn't stick to the bottom of the pan. Strain through a fine mesh strainer or chinois, discarding the liquid. Be sure the strainer has a very fine mesh or the pearls will slip through the strainer.  Set aside the tapioca pearls.
If using vanilla bean, place brown sugar in a small bowl. Scrape vanilla bean seeds from the pod and rub together with sugar. Set aside.
In the 2-quart saucepan, add coconut milk and vanilla bean pod (if using). Bring to a boil over medium-high heat. Add tapioca. Reduce heat to medium-low and gently simmer for 5 minutes, stirring often.
Add brown sugar and cook for another 5 minutes. Remove from heat.
For a real tropical treat, add rum and stir to combine.
Portion into a dish or 4 individual containers. Cool slightly and place in refrigerator for several hours or overnight. 
Notes
Variations
Mango Tapioca: Top chilled tapioca with 1 cup diced mango. 
Chocolate Tapioca: During the last minute of cooking, add 1/2 cup allergy-friendly chocolate chips, such as Enjoy Life Semi-Sweet Mini Chips. Stir until melted and chocolate is combined. Garnish chilled tapioca with fresh raspberries or diced strawberries.
Courses Sweets
Recipe by Allergy Chefs at https://www.yourallergychefs.com/creamy-coconut-tapioca/