This week we're grilling up chickpea melts, but we're not leaving out the notorious tuna melt.
Why both? Well, we're not here to tell you not to eat certain foods, rather to share our love of plants with options for delicious foods you could be eating with plants at the center of your plate.
Not only that, our chickpea melt is a perfect substitution for those with fish allergy or any of the top 8 food allergens.
Besides, we think you'll enjoy our plant-based version of a tuna melt even more than the classic. It's amazing how this sandwich looks and tastes like the real thing.
We invite you to make and compare for yourself, and let us know what you think.
There are many variations of a plant-based tuna salad. Some are made with hearts of palm, while others contain chickpeas or jackfruit. Ingredients can range from miso paste, tahini, to kelp granules and nutritional yeast.
For this recipe, we've chosen our favorite ingredients and ones that should be easy to find.
The first step in making the salad is to slightly mash the chickpeas. This can be done by pulsing in a food processor, or you can also mash with a fork, leaving a few beans whole.
A chunky texture is desired, as shown below.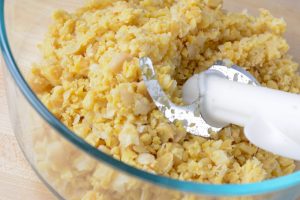 The chickpeas are transferred to a bowl, and the rest is easy. Tahini, agave nectar, mustard, lemon juice, onion, celery, pickles, capers, salt, pepper, dill and mayonnaise are added and mixed in.
Below we have a comparison of chickpea salad and tuna salad, using the same basic recipe.
So what do you think? They look pretty darn similar, don't they?
Who knew mashed up chickpeas could look and taste just like tuna?
Carb Busters
When you feel like ditching the carbs or wondering what to do with leftovers, there is so much you can do with this delicious salad.
This chickpea salad is perfect for:
filling a lettuce wrap
stuffing an avocado
topping a mixed green salad
a healthy snack with veggie sticks for dipping
a chickpea salad melt in a tomato
Yum!
Join us in making the healthiest and tastiest tuno around.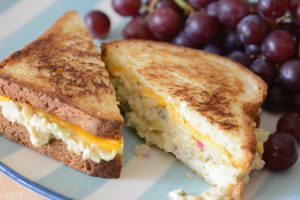 Print
Chickpea Melt
Yield 4 Sandwiches
Free of: gluten and top 8 allergens.
Craving an incredible sandwich? This chickpea melt, filled with a creamy salad and grilled to cheesy perfection, is the healthiest and tastiest "tuno" around!
Ingredients
1 (15-ounce) can chickpeas, rinsed and drained (see recipe notes)
1 tbsp tahini
2 tsp agave nectar
2 tsp Dijon mustard
1 tsp fresh lemon juice
2 tbsp diced red onion, soaked in cold water for 10 minutes & drained (see recipe notes)
1/4 cup diced celery
1/4 cup diced dill pickle
1 tsp capers, drained and rough chopped
1/2 tsp sea salt
1/8 tsp black pepper
1 tsp fresh dill or tarragon, chopped
6 tbsp vegan mayonnaise, such as Follow Your Heart Soy-Free Vegenaise or Just Mayo, divided (3 tbsp + 3 tbsp)
8 slices allergy-friendly bread
8 slices dairy free cheese alternative, such as Follow Your Heart American Style Slices
Instructions
Pulse the chickpeas in a food processor to obtain a chunky texture. You can also mash with a fork, leaving a few beans whole. Transfer chickpeas to a medium bowl.
Add tahini, agave nectar, mustard, lemon juice, onion, celery, pickle, capers, salt, pepper and dill. Mix to incorporate. 
Add the first 3 tbsp mayonnaise; taste and adjust the seasoning. Set chickpea salad aside.
Preheat a skillet over medium-low heat.
Top each of 4 bread slices with 1/4 of chickpea mixture and 2 slices of cheese alternative. Cover with remaining bread slices. Spread outside of sandwiches lightly with remaining mayonnaise.
Cook in skillet 3 to 4 minutes on each side or until golden brown on both sides. 
Notes
To make it tuna, substitute 2 (5-ounce) cans of wild-caught tuna in water for the chickpeas. Omit the tahini and agave nectar. Increase the mayonnaise from 3 to 4 tbsp.
Onions are soaked in cold water to mellow their flavor. The cold water keeps the onion super crunchy, while the sulfur compounds that give onion its pungent, harsh flavor will dissipate in the water.
Courses Mains