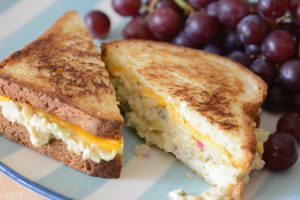 Chickpea Melt
Yield 4 Sandwiches
Free of: gluten and top 8 allergens.
Craving an incredible sandwich? This chickpea melt, filled with a creamy salad and grilled to cheesy perfection, is the healthiest and tastiest "tuno" around!
Ingredients
1 (15-ounce) can chickpeas, rinsed and drained (see recipe notes)
1 tbsp tahini
2 tsp agave nectar
2 tsp Dijon mustard
1 tsp fresh lemon juice
2 tbsp diced red onion, soaked in cold water for 10 minutes & drained (see recipe notes)
1/4 cup diced celery
1/4 cup diced dill pickle
1 tsp capers, drained and rough chopped
1/2 tsp sea salt
1/8 tsp black pepper
1 tsp fresh dill or tarragon, chopped
6 tbsp vegan mayonnaise, such as Follow Your Heart Soy-Free Vegenaise or Just Mayo, divided (3 tbsp + 3 tbsp)
8 slices allergy-friendly bread
8 slices dairy free cheese alternative, such as Follow Your Heart American Style Slices
Instructions
Pulse the chickpeas in a food processor to obtain a chunky texture. You can also mash with a fork, leaving a few beans whole. Transfer chickpeas to a medium bowl.
Add tahini, agave nectar, mustard, lemon juice, onion, celery, pickle, capers, salt, pepper and dill. Mix to incorporate. 
Add the first 3 tbsp mayonnaise; taste and adjust the seasoning. Set chickpea salad aside.
Preheat a skillet over medium-low heat.
Top each of 4 bread slices with 1/4 of chickpea mixture and 2 slices of cheese alternative. Cover with remaining bread slices. Spread outside of sandwiches lightly with remaining mayonnaise.
Cook in skillet 3 to 4 minutes on each side or until golden brown on both sides. 
Notes
To make it tuna, substitute 2 (5-ounce) cans of wild-caught tuna in water for the chickpeas. Omit the tahini and agave nectar. Increase the mayonnaise from 3 to 4 tbsp.
Onions are soaked in cold water to mellow their flavor. The cold water keeps the onion super crunchy, while the sulfur compounds that give onion its pungent, harsh flavor will dissipate in the water.
Courses Mains
Recipe by Allergy Chefs at https://www.yourallergychefs.com/chickpea-melt/