It's time to celebrate and we're going big with one of summer's favorite stone fruits, CHERRIES!!! What doesn't go better with cherries than light and fluffy dumplings? Cherries and Dumplings, this is one of Joel's favorite desserts that we've also made as a soup.
Why are we celebrating? Joel just finished an amazing 3-month strength and conditioning program called CozmoSize.
It's been a grueling workout program that has pushed him beyond his limits of strength and dedication, let alone, getting up before the crack of dawn. Joel's trainer Matt, powerful in every way, has been a positive influence on how Joel looks at exercise, and now pushes the limits of his strength.
Don't miss this awesome quote from Socrates regarding physical training…
"No man has the right to be an amateur in the matter of physical training. It is a shame for a man to grow old without ever seeing the beauty and strength of which his body is capable."
-Socrates  
469 – 399 BC
Wow, thanks Matt for sharing, and what a great time of the year! With all the stone fruit, berries and melons, desserts have never had it so good.
Cherries & Dumplings are actually easy to prepare. The only challenge is pitting the cherries if you don't have a cherry pitter. Once you have it down, you can cruise into making this dish. Just be prepared to pit more cherries than you need. Unsuspecting culprits will come around and start snacking on them…HELLO, JOEL…
As you can see, the ingredients are minimal. For the dumplings, flour, sugar, baking powder, xanthan gum and salt are whisked together. Melted vegan butter or margarine and hemp milk are added and mixed to a soft, sticky dough.
The cherry filling is super simple. Water, sugar, lemon juice, and a little cornstarch are mixed together and put in a dutch oven or heatproof casserole dish and brought to a boil. Cherries are added and the temperature is reduced to medium-low.
Dumplings are dropped by the spoonfuls over the cherries and then sprinkled with cinnamon sugar. The cherries simmer with the cinnamon dumplings that soak up the sweet syrup as they cook.
Cooking the dumplings with a lid steams the dumplings and keeps them moist.
We hope you celebrate cherries with us and enjoy this simple and delicious dessert, Cherries and Dumplings!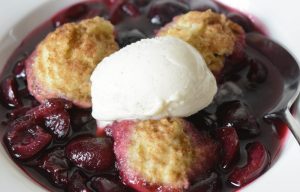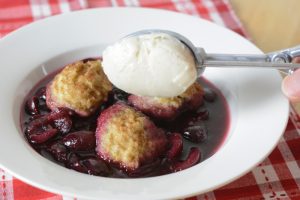 Print
Cherries and Dumplings
Yield 6 Servings
Free of: gluten and top 8 allergens.
Ingredients
Filling
1 cup water
1/4 cup organic cane sugar
1 tbsp fresh lemon juice
2 tsp cornstarch
4 cups sweet or Bing cherries, pitted and halved
Dumplings
1 cup allergy-friendly gluten-free flour blend
2 tbsp plus 1 tsp organic cane sugar, divided
2 tsp baking powder
1/2 tsp xanthan gum (omit if flour blend contains xanthan)
1/8 tsp salt
2 tbsp allergy-friendly margarine, such as Earth Balance, melted
1/2 cup unsweetened hemp milk (see recipe notes)
1/4 tsp ground cinnamon
Vanilla non-dairy frozen dessert
Instructions
For the cherry filling, place water, sugar, lemon juice, and cornstarch in a dutch oven, heatproof casserole dish or skillet. Mix well. Set aside while you prepare the dumplings.
For the dumplings, place the flour and 2 tablespoons of sugar in a medium bowl. Sift the baking powder into the flour and add xanthan gum and salt. Whisk ingredients to combine.
Add the margarine and milk. Gently mix to form a soft, sticky dough without overmixing. Set aside.
In a small bowl, combine remaining 1 teaspoon sugar with cinnamon. Set aside. 
Over medium-high heat, bring the liquid for the cherries to a boil, stirring to dissolve sugar. Add the cherries. Reduce the heat to a simmer. Drop spoonfuls of dough over simmering fruit. Sprinkle dumplings with cinnamon sugar.
Tightly cover the casserole dish or skillet with a lid or foil. Simmer very gently over medium-low heat, without stirring for about 10-15 minutes, until the dumplings are cooked and they are dry to the touch.
Serve warm with your favorite ice cream if desired.
Notes
You can substitute your favorite milk in place of the hemp milk. Unsweetened rice milk is also a great alternative.
Courses Sweets