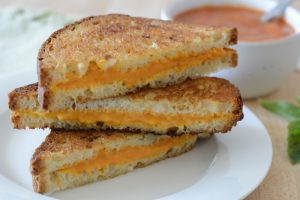 Cheezy Grilled Cheese
Yield 8-10 Sandwiches
Free of: gluten and top 8 allergens.
Grilled cheese sandwiches remain an all-time favorite for kids and adults alike. Try this cheezy wonder with a healthy twist.
Ingredients
1 pound baked sweet potatoes
1/4 cup low-sodium vegetable broth
8 ounces cheddar-style cheeze shreds, such as Daiya (approximately 2 cups)
5 tbsp allergy-friendly mayonnaise (see recipe note)
16 - 20 slices allergy-friendly bread
Instructions
Cut cooled sweet potatoes in half. Scoop out flesh, mash and measure 1-1/2 cups and place in food processor or blender. Add broth and cheeze shreds and blend for 30 seconds to 1 minute. Scrape down as needed. There will still be small pieces of cheeze in the filling. Set aside.
Preheat cast iron, nonstick skillet or electric griddle over medium-low heat.
Line up bread on your work surface, reserving top slices. Evenly spread a heaping 1/4 cup filling on each slice. Top each with a slice of the remaining bread. Generously spread top with allergy-friendly mayo or margarine, such as Earth Balance soy-free buttery sticks.
Gently place sandwich, mayo-side-down onto hot skillet bottom and press slightly. Grill until golden brown, approximately 3 - 4 minutes. Spread top side with mayo and flip over; continue grilling until cheeze is melted and bread is crisp and golden, approximately 3 - 4 minutes. Repeat with remaining sandwiches.
Notes
Follow Your Heart makes a Soy-Free Vegenaise free from the top 8 allergens. If you have trouble sourcing it, Just Mayo is also an allergy-friendly mayo.
The filling can be made in advance and refrigerated.
Courses Kids Kuisine, Mains
Recipe by Allergy Chefs at https://www.yourallergychefs.com/cheezy-grilled-cheese/