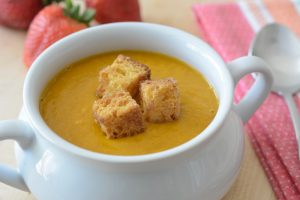 Carrot and Strawberry Soup is fresh, delicious…and easy to make.
This one-pot meal is packed with personality! The bright flavor from the strawberries and the sweetness of the carrots really shine. It's like sunshine in a bowl.
Even though it's summer and the temperature here in Santa Clarita hit 117-degrees yesterday, this warm soup is sooooo refreshing! Besides, the warmth of the soup opens up the channels of the body and stimulates digestion.
So don't miss making this soup, for more reasons than just being delicious!
While carrots and strawberries are a year-round supermarket staple, they do have their seasons.
Great Places for Strawberries
We've been fortunate to live in places where strawberries rule. Florida's strawberry season is generally from December through March, where Plant City strawberries are considered by some to be the best around.
Oregon's strawberries are the nation's reddest, sweetest, and most fragile. Having 2 seasons, May through June and then again August through September, the latter season have more flavor cause they generally get more sunshine. Hood strawberries fly off the shelves of grocery stores and farmers markets nearly as soon as they're stocked. It's true. They're amazing, and there are other Oregon strawberries worth celebrating, including Tillamook.
California accounts for 80% of the total U.S. strawberry production. The season here starts in April and winds down by the end of October, though the peak season is coming to an end.
Because we love strawberries, we chose them to enhance our carrot soup. Sounds crazy, I know. We also chose ingredients that complement both strawberries and carrots, like ginger, basil, cinnamon, and coconut.
This soup is "souper" simple. Sauté onions and celery in a little oil for 5 minutes. Add garlic, curry powder, basil, and ginger. After a minute, add carrots, vegetable broth, strawberries and a cinnamon stick.
The soup will seem like it needs more liquid, but don't worry, the strawberries will begin to release their juices. Simmer for about 20 minutes, until the carrots are tender. Remove cinnamon stick and in batches, puree soup in a high speed blender until smooth.
Return the soup to the saucepan. Add coconut milk and cook just until heated through.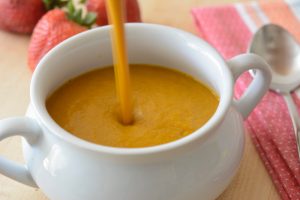 Cinnamon croutons are a great addition to the soup, but are totally optional. There will be some leftover, which is a good thing, because they are great on ice cream and on salads…or as a snack on their own!
We thought about serving this soup cold, but we ate it all before we could chill it. If you make it and try it cold, let us know what you think.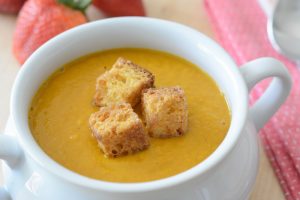 Did you know?
For the third year running, strawberries top the Environmental Working Group's (EWG) Dirty Dozen™ list for produce containing the most pesticide residues. This red, juicy fruit has a soft, seedy skin, allowing for easier absorption of pesticides.
Use EWG's Shopper's Guide to Pesticides in Produce™ to reduce your exposures as much as possible, but eating conventionally-grown produce is far better than not eating fruits and vegetables at all.
We hope you love this Carrot and Strawberry Soup as much as we do. Carrots and strawberries are powerful health-promoting foods, and they blend well with both sweet and savory flavors.
Enjoy!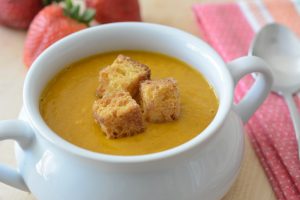 Print
Carrot and Strawberry Soup with Cinnamon Croutons
Yield 4 Servings
Free of: gluten and top 8 allergens.
This one-pot meal is packed with personality! Carrot and Strawberry Soup is fresh, delicious...and easy to make.
Ingredients
Cinnamon Croutons
1/2 pound allergy-friendly, gluten-free bread (see recipe notes)
2 tbsp organic cane sugar
3/4 tsp ground cinnamon
1/8 tsp ground ginger
1 1/2 tbsp allergy-friendly margarine, melted, such as Earth Balance
Soup
1 tbsp grapeseed oil
1/2 cup chopped yellow onion
1/2 cup chopped celery
2 tsp chopped garlic
2 tsp curry powder
1/2 tsp dried basil
1/2 tsp minced fresh ginger
1 pound carrots, peeled and trimmed, cut into 1/4-inch coins (about 3 1/2 cups)
2 cups vegetable broth
1 pint strawberries, rinsed, hulled, and halved
1 (2 1/2-inch) cinnamon stick
1 cup coconut milk
Toasted sunflower seeds, optional garnish
Instructions
For the croutons, preheat oven to 300-degrees F. Line a baking sheet with parchment paper. Set aside.
Cut bread into 1/2 to 3/4-inch cubes. Place in a large bowl.
In a small bowl, combine sugar, cinnamon, and ginger.
Drizzle the bread cubes with margarine and gently toss to coat. Sprinkle cinnamon sugar over bread cubes. Again toss gently to evenly coat.
Spread croutons on prepared baking sheet, giving them lots of room so they are not touching and can toast evenly.
Bake until golden brown, dry and crisp, about 40 minutes, tossing croutons halfway through.
Remove from oven and cool completely. Store, covered at room temperature. You will have more than you need for this recipe.
For the soup, in a large saucepan, heat oil over medium heat. Add onion and celery and cook for 5 minutes.
Add garlic, curry, basil, and ginger. Cook, stirring about 1 minute.
Add carrots, broth, strawberries, and cinnamon stick. The soup will appear dry. However, when simmering begins, the strawberries will give off liquid. When soup comes to a simmer, reduce heat to medium-low and simmer gently until carrots are tender, about 20 minutes. Remove cinnamon stick.
In batches, transfer soup to a high speed blender and puree until smooth. Return soup to saucepan over medium heat. Add coconut milk. Cook just until heated through.
Ladle into bowls and garnish with croutons and sunflower seeds, if desired.
Notes
For the croutons, use your favorite baguette, artisan rolls or sliced bread. Some allergy-friendly breads are fragile and crumble easily. Therefore, be sure to toss gently with margarine and cinnamon sugar.
You can use olive oil in place of margarine when making the croutons.
Courses Soups & Salads