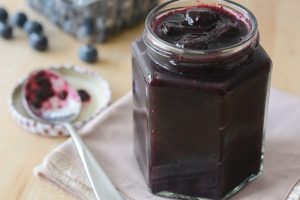 There's something special about homemade blueberry jam made with love.
Most commercially prepared jams are loaded with sugar that hides the natural sweet tartness of the blueberries. Making this homemade jam is as easy as can be and has none of the refined sugars or preservatives that the store bought stuff contains.
Jam is traditionally crushed fruit with sugar and pectin. Instead of pectin, which requires lots of sugar to set, we're using chia seeds to thicken our blueberry jam.
Chia seeds are magic. When soaked in liquid, they absorb about 12-times their weight and develop a gel-like coating. We love using them in all kinds of foods from overnight oats to sauces and baked goods.
Cha-cha-chia!
You don't have to add loads of sugar to make a good jam. Come see…no pectin or canning required!
We have always loved traditional canning, a great way to preserve the season's best!
With blueberries in their prime, it's time to enjoy them in jam.
Blueberries are cooked with a little pure maple syrup for about 5 minutes. Chia seeds, lemon juice and a touch of cinnamon are added, and the jam is cooked for about 15 minutes. Once thick, the jam is removed from the heat and vanilla extract is added.
Don't worry if the jam looks a little runny when it's hot. The chia seeds will plump up as the jam cools, thickening it considerably.
What Color Seeds are Best? 
Chia seeds are categorized as white or black. Though there is no nutritional difference between white and black chia seeds, they're isolated purely for aesthetic preferences.
We're not processing the jam the traditional way, using a boiling water bath to make the jam shelf stable, and there's no fussing with having to seal the jars.
This quick and easy jam will hold for 2 weeks in an air-tight container in the fridge.
2 weeks…our jam never lasts that long.
Lip-Smacking Good!
This blueberry jam is so good on pancakes, ice cream, in thumbprint cookies and tarts, and of course on toast or biscuits! Try scooping atop a batch of overnight oats.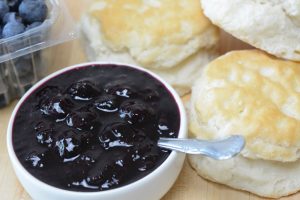 Thanks to chia seeds, we're also pumping up the jam with a hearty dose of Omega 3, fiber, and protein. And blueberries have been shown to protect against heart disease and cancer, and can also help maintain bone strength, mental health, diabetes management, skin health, and healthy blood pressure.
Who knew blueberry jam could be so healthy!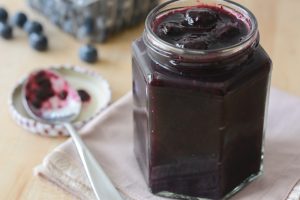 Print
Blueberry Jam
Yield 1 3/4 cups
Free of: gluten and top 8 allergens.
This delicious jam highlights the natural sweet tartness of blueberries with no refined sugar.
Ingredients
3 cups fresh blueberries
3 tbsp pure maple syrup
2 tbsp chia seeds, white or black (see recipe notes)
1 tbsp fresh lemon juice
1/8 tsp ground cinnamon
1/2 tsp pure vanilla extract
Instructions
In a medium saucepan over medium-high heat, combine the blueberries and maple syrup. When blueberries come to a simmer, reduce heat to medium-low and gently simmer, covered for about 5 minutes, stirring often.
Remove the lid and stir in the chia seeds, lemon juice, and cinnamon. Continue cooking, uncovered, about 15 minutes. The jam will continue to thicken as it cools so don't let it reduce too much.
Once the jam is thick, remove from heat and stir in vanilla extract.
When the jam is completely cool, place in an air-tight container and store in the fridge for up to 2 weeks. It can also be stored in the freezer for up to 3 months.
Notes
There is no nutritional difference between white and black chia seeds. They are isolated purely for consumers' aesthetic preferences.
Courses Sauces & Condiments